Douglas Savage has today releases his new single, Ballerina, Getintothis' Lewis Ridley has the track as he answers 13 questions.
Getintothis is delighted to share the new single from Douglas Savage, Ballerina.
It marks the first release for the Liverpool singer-songwriter since mid-2018's Sweet Liqueur.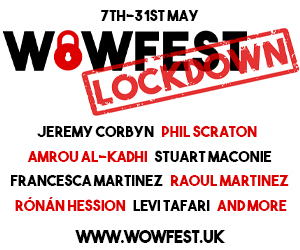 But those in and around the city over the past year will be aware he's spent time crafting his set which includes the new single.
Carefully shaped tales of love and loss dominate, and Bellerina has Savage at his lyrical best.
Savage appeared at Getintothis Social earlier this year and has previously taken to the stage at Phase One for our Deep Cuts nights as well as our festival last summer – it's fair to say he's a favourite of ours.
We thought it was high time we got to know a little more about Douglas Savage, so whilst we got our ears around Ballerina, he answered some questions for us.
13 Questions with Douglas Savage
1. Where are you and what are you doing?
Right now, I've retreated to my mansion in the Hollywood Hills to self-isolate with my personal assistant and thirteen house staff – I've been keeping busy with little projects that you might have seen.
I co-directed and executive produced Gal Gadot's all-star cover of Imagine by John Lennon. People really seemed to love it!
2. What is your favourite view?
I love to see the capitalist system being deconstructed. Or a sunset!
3. What's your favourite record label – and why?
Right now I'm loving everything Heist or Hit are putting out – Pizzagirl and SKIA are on constant rotation for me. I'm wearing my Pizzagirl merch as I write this!
4. What's your first memory?
Does this include past lives? I have this feeling that I was a New York City socialite heiress in the 1960's who abandoned her trust fund and inheritance to become a hippy and live in the caves of Matala – but not before gracing the cover of Vogue.
5. How do you like your eggs?
However Harry Styles cooks them in the morning!
6. Who is the worst 'celebrity' you've met?
I haven't met many celebrities in this life. But when I was young my mum took me to see Chitty Chitty Bang Bang on the West End and I sat next to Ian Beale, but he was perfectly nice.
He explained to me how they made the car look like it was flying. Come to think of it, that did ruin the magic of the show for 8-year-old me. What a horrible man.
7. Recommend one band or album that you think we should check out.
If you're a pop music fan you HAVE to listen to SKIA. I haven't stopped singing Anyone since it came out. I also saw her live with her band and they were incredible. TITS UP are a new band on the Liverpool scene to watch out for, their song Gaffer Tape might be a contender for track of the century. I've just realised that's two recommendations, but I'm sticking to it.
8. What's your favourite season and why?
I love when Spring turns into Summer when it's hot enough to lie by the sea or a lake, but you can still see everything coming to life and everything smells all fresh and green. I tried to write a song without using the words 'Sun' or 'Summer' once, but it was impossible!
9. Tell us a secret.
Nothing is official yet, so I'm not sure I should even be talking about this, but I'm in discussions to have a very public celebrity affair with Harry Styles! Very excited about the possibilities. His team are yet to respond but watch this space!
10. Which city do you recommend we visit – and why?

I want to go to San Francisco again. I think people would really love it! It's so colourful and vibrant. When you're there it feels like you're in an old film and that maybe you'll meet the love of your life just walking down the street.
11. What's your favourite film?
I recently decided that it's Thelma and Louise. It's just a real EPIC – the scenery, the music, the relationship between Thelma and Louise (girl power!) and of course, Susan Sarandon is an ICON. I've never actually seen it all the way to the end, but I'm sure it has a happy ending!
12. What would be your final meal if you were on Death Row?
I would probably request to eat the rich, but only if I could have a side of halloumi saganaki and a pint of Love Lane Pale Ale to wash it all down.
13. Do you have anything else to declare?
Once I'm allowed to leave my Hollywood mansion and see the band again, we'll be recording an EP. It will hopefully be sooner rather than later! Keep an eye out. Stay safe! x
You can listen to Ballerina here.
Comments
comments