Another fresh batch of tracks this week as Getintothis' James Baker presents Singles Club.
Fantastic Negrito: Chocolate Samurai
The single of the week this week is a feel-good number, something we all need right now. For some people, creativity has flourished in this given time of uncertainty, this is a perfect example of just that. Singer-songwriter Xavier Dphrepaulezz called upon his fans to show what they're up to while staying at home, and accompanied the results with a rich, soulful song which aptly asks you "Have you lost your mind yet?".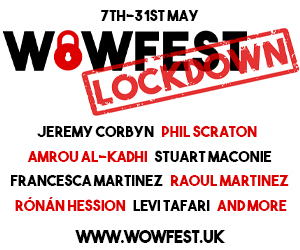 Fantastic Negrito comments, "I asked people around the world to send me footage of how they're coping with coronavirus…this is what came back. A moment of light. We may be isolated behind closed doors, but we are in this together."
The track is the first taste of new music since the release of his second GRAMMY Award-winning album, PLEASE DON'T BE DEAD, which features the singles The Duffler, A Boy Named Andrew and The Suit That Won't Come Off.
Buzzard Buzzard Buzzard: Hollywood Actors
Sensational Welsh four-piece Buzzard Buzzard Buzzard have given their new single Hollywood Actors out to the world along with announcing their upcoming debut EP Non-Stop – out ‪10 July on their new label home Communion.
Fronted by captivating guitarist and singer Tom Rees, Buzzard Buzzard Buzzard have amassed a reputation as one of the U.K.'s most electrifying new live bands thanks to a slew of sold-out shows, and support slots with the likes of Miles Kane and The Magic Gang. The band have also announced their rescheduled (yeah, you're gonna hear a lot about rescheduling… gotta have something to look forward to, eh?) tour dates will take place in September, ‪starting 14 September in Birmingham. 
Latest single Hollywood Actors was originally written on an old organ and tiny drum machine in Rees' flat and stems from the frontman's fascination with the façade of Hollywood actors. He explains: "It's probably the most 'rock' song I've written. Lyrically it stemmed from this habitual thing I keep doing when watching films, where I suddenly realise that everybody in the film is just acting, and the whole film becomes completely surreal and you realise how mental the film industry is. I started applying that perspective in everyday life and the similarities were haunting, I felt like everyone around me was acting!"
Lindsay Munroe: Split
On new single Split, alt-indie newcomer Lindsay Munroe triumphantly recovers a part of herself she once lost to support the conservative religious environment of her early 20s.
Released today (April 3rd), Split is the second single taken from forthcoming EP Our Heaviness, out May 8th on AWAL, following up the much-acclaimed debut single 'Mirror'.
A cloudier number than previous single Mirror, Split sees Lindsay battle with her conservative religious past. There's a clear sorrow in her voice as she cries, "I can't love you / when I'm so ashamed". It's not all doom and gloom however, with a tremendous climax where Munroe ousts her pent-up rage for good as her band ramp up the volume.
"Split is one of the rawest songs I have written" says Munroe. "I spent my early 20s in conservative religious environments, embedded in black-and-white thinking and beliefs. Increasingly I felt like I had to leave part of myself at the door, painfully unable to be open about my life and choices. Split came from an attempt to move beyond the hurt and exhaustion of that situation"
Manchester Gigs of the Month: April 2020: new Manchester bands and rescheduled gig news
No Age: Feeler
No Age are back out on the street! Armed with forthcoming new album Goons be Gone, the duo have their first present to be taken from it.
Enter Feeler, the latest offering from Randy & Dean! This urgent punk groover is built around a primal snare-kick pattern and rippling waves of Tremelo emanating from a "newly repaired Silvertone amp once purchased from a Sears catalog in the 1960's". Feeler emits a friendly, enthusiastic tone to it which can be reminiscent of images from yesteryear, with the melancholic feelings about the coming of age. You know the ones, the classic 'I want to start a band and conquer the world, and nothing will stop me' vibe.
Director Kersti Jan Werdal notes: "For Feeler , I wanted to make something that felt honest to the experience of being an adolescent just before entering adulthood. The video is a series of memories stemming from themes of connection, disappointment, discovery, and the search for one's true self.  Animals are continually referenced, because I can't forget the untethered and wild way it was to be a teenager. "
Feeler is timelessly danceable and a prime example of No Age's absolute confidence in their signature form of musical progression.
BC Camplight: Shortly After Takeoff
Our interview with BC Camplight last month shed some light on tribulations he has had in the past and how one of his two goals is to "make the best record ever made"; step forward Shortly After Takeoff, the title track of that forthcoming album.
Of the track, he comments: "I feel at home being down. I spend a lot of time there. Your toast can only land butter-side to the floor so many times before one questions if there is anything other than down. Well, right before I recorded Shortly After Takeoff I discovered that up exists. It's a nice place to visit but I wouldn't want to live there."
"This song is about my all too predictable free-fall back down. Back to where one can enjoy all the home-cooked comforts of their own fears. The familiar tightening grip. I write in this song regarding the fall "Shortly After Takeoff you'll find me crashing out. Don't pick up the pieces".  This is where I live. I do my best work here. Maybe one day I will move up. I'm not ruling it out."
Manalishi: What's in Your Head
"What's In Your Head is an unsettling, heavy punk song that lures the listener in with enticing grooves, and kicks them in the face with drastic dynamic changes." That's how Mancunian band Manalishi describe their latest offering, and trust me, this is a kick in the face that you'll be happy to take.
What's In Your Head begins with a menacing guitar riff laying out the mood of the song; until the crisp, swung drums punch in, along with a 70's-esque descending bass line. The song has a kind of Nirvana feel to it, it is slow and calculated, but chaotic and hard-hitting at the same time. A perfect storm if you will.
The vocals are in the form of an understated yet powerful tone, repeating a mantra-like phrase about yearning to know what someone is thinking, but grudgingly knowing that you won't know the answer. This is repeatedly painted out in the choruses, where a climactic, powerful scream explodes into your ear exclaiming the frustration of human interaction, along with ear-splittingly distorted guitars, and frenzied, technical drums.
The distorted instruments, quick change of character, and raw, piercing vocals gives the song the sound that makes it a Manalishi single. If you're not familiar enough to know that, get to know; these guys rock.
What's In Your Head is releaed on Saturday, 4 April.
Tropical Fuck Storm: This Perfect Day
Aussie imports are becoming more impressive the more we get of them; Tropical Fuck Storm and Amyl and The Sniffers are two perfect examples. Now we've got them both on a track together? Just plain teasing now…
A cover of Aussie punk legends The Saints' This Perfect Day, from the collaboration known as sNIFFsURFsTORM, with lead vocals from Amy Taylor (Amyl & The Sniffers) and Sean Powell (Surfbort) on drums. The track is as beautifully turbulent as you'd expect from this lot, a cover that is rough and ready for a fight.
The 7″ was originally due to come alongside tour dates, however these are of course being rescheduled due to the ongoing COVID-19 pandemic. The band will instead be spending this time working on the follow-up to Braindrops.
Moses Sumney: Cut Me
Cut Me is taken from part one of Moses Sumney's double album 'grae', a song that will take you away to dreamland. The dreamy single was released back in February, but now has an equally wondrous video to accompany it.
The video is directed by Sumney himself and features himself, Emara Neymour-Jackson and Malachi Middleton. Speaking about the video, Sumney shares, "'Cut Me' is a satirisation of the medical industrial complex, and a chuckle in the face of black death."
The single itself takes you into a slow trance, with mellow trumpets looping throughout and Moses' divine voice providing a getaway from the stresses of your normal world.
SKIA: Selfish
Every time I write this column, it seems each time I find a slice of Scandinavian pop, and each time it is amazing. Meet SKIA and her latest single Selfish.
You may have already heard about this artist, or her music, as she is fast becoming a standout performer within Liverpool's thriving underground scene. Alongside local label-mates Brad Stank and Pizzagirl, SKIA is looking to carve her own way in her adopted hometown. And by selling-out her debut live show in the city last month, she begins to build momentum on the live circuit in the best way possible.
Discussing the origins behind the track, SKIA revealed: "Selfish is a bitter jam about feeling a little hard done by after a breakup, and calling someone out on their behaviour. I think breaking up is inevitably gonna feel icky no matter what side of it you're on, but I don't think there's a better way of dealing with these feelings than compressing them into a song and making it danceable #bitternessbutmakeitchic".
NOISY: Oi (ATM)
"Do you ever get frustrated having to pay for mundane things… toll roads, public toilets, water? 'Oi (ATM)' is a tongue in cheek track about those things. About feeling like you're being ripped off everywhere you go."
This Worthing trio aren't here to mince their words with this number, and considering the sad story of how money can make or break some artists, that's a perfectly fair stance to make. The high energy and intense beat hammers home the message, and also the fact you'll want to be listening to NOISY a lot more afterwards.
In the 18-month period the band have been about they have supported the likes of Everyone You Know, and even had their own sold-out show at Camden Assembly. Gaining ground like that in that short space it's clear the band aren't here to mess about, so don't rip them off, yeah?
Comments
comments