Although we may still be adjusting to this new, temporary way of living – Singles Club remains as bold and brilliant as ever, here's Getintothis' Sian Ellis with the new releases.
The weather is favourable as we're well and truly in the midst of spring, and what better way to appreciate the warmth than to pair it with great new music?
There's been a host of promising singles for you to delve into this week, full of originality and talent.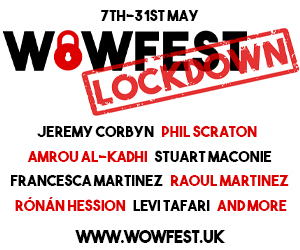 Whether you need a track to energize, to inspire, to relax, to dance to or to just to distract you from the world for a little while, here's a few of the best singles out this week.
Liz Lawrence: California Screaming – Single of the Week
After a month of supporting Bombay Bicycle Club on their sold-out UK tour, and the success of solo album Pity Party last October, Liz Lawrence's new single California Screaming presents itself as a track of honest lyrics and authentic style.
The psychedelic, dreamy vocals are carried by a smooth tune featuring electronic notes; and the edgy, memorable guitar riff that runs through this track gives it a dynamic nature.
Lawrence notes that the track is inspired by anxiety-inducing, global rolling news. She explains: "The onslaught of disaster news, about killer bees and rapidly escalating deaths from vaping, kicked off a 10-day anxiety attack that didn't subside until I landed back in London. I remember thinking that if I stayed in that world of breaking news, I would never be able to leave the house."
Getintothis Live: a new streaming service for you to watch and join the discussion
The raw, reassuring and very real inspiration behind this track makes me like it even more – the theme being extremely relatable in these uncertain times.
The juxtaposition of the edgy riff and soothing vocals is original and exciting – Lawrence's' return to music through this track is a bold statement of identity and certainly grabs your attention.
Liz Lawrence is definitely one to watch, you'll likely find yourself going for a second, third and fourth helping of California Screaming – even if just to appreciate that guitar riff a bit more!
Madison Beer: Stained Glass
New York-based Madison Beer has released new track Stained Glass, after an outstanding Instagram live-video of her performing the single received unsurprising attention and demand from loyal fans.
The progressive and full-bodied soundtrack perfectly correlates with Beer's strong yet soft vocals, whilst a 'dream like' vibe is significantly present through melodic technique, as well as within the music video.
Stained Glass entails a slow pop song with tons of potential; the added intensity and emotion gives the track a hint of distinctiveness. I'm keen to explore Beer's debut album when released later this year.
Jade Hairpins: (Don't Break My) Devotion
This single features on Jade Hairpins' debut album Harmony Avenue, and encourages dance moves through its hectic combination of musical styles.
Those that caught them on their first UK tour, kicking off in Liverpool at Kazmimier Stockroom, will be familiar with the fun, catchy merging of electronic, disco, punk and new wave.
(Don't Break My) Devotion certainly projects vintage vibes, and the narrative-like deliverance of the quirky lyrics will more than likely grasp your attention.
Dr Orange: Comes in threes
What's more exciting than a new tune from a Liverpool artist? The single Comes in threes has been released earlier than expected, much to my appreciation.
The soundtrack is a mix of heavy riffs and melodic, spacey undertones – it draws similarities to Muse but with more grunge, the vocals comparable to The Doors (especially in the verses).
This edgy and dominant track contains a nostalgic twist on contemporary psychedelic rock – something about the track implies that this is just the start for Dr Orange, and I couldn't be more intrigued.
LIL HALIMA: Glue
LIL HALIMA has entered 2020 with a bang thanks to this track. It's a modern, enjoyable and catchy tune that you can certainly move to.
The effortless and soft vocals work in harmony with the funky, mellow beat of this track – it's bursting with upbeat instruments that make it instantly engaging.
LIL HALIMA is a creative musician, and this is projected in her music. I can already hear this pop track playing on the radio, because of its contemporary style and similarity to popular chart music.
Sweet Whirl: Sweetness
This is the second single from debut album How Much Works by Sweet Whirl, following the success of her first single Something I Do, back in February.
The vocals are the star of the track, and are distinctive with the help of the bare, relaxing soundtrack that accompanies them. Her voice carries a lot of character, depth and heaviness, with a likeness to Dido.
A simply calming and beautiful song, with a unique and reflective undertone to it.
Yaeji: When I Grow Up
Perhaps the most unique track of the week comes from Yaeji's new mixtape WHAT WE DREW 우리가 그려왔던.
This track is saturated with quirky and weirdly wonderful qualities. Its futuristic and experimental nature is slightly confusing upon first listen, but its blend of digital electronic sounds will persuade you to revisit out of curiosity. The animated music video is also worth checking out if you're into visual creativity.
This track isn't your average tune, kind of like a mixture of Billie Eilish and Die Antwoord, but with its own unique presence – fairly unusual, certainly catchy!
Floating Points: Bias (Mayfield Depot Mix) 
This new progressive tune from Floating Points comes in two mind blowing versions, the Mayfield Depot Mix and and an extended version.
The electric experimentation present in this track makes for a euphoric listening experience, featuring a light yet daring development of electronic layers.
A combination of strong digital techniques has resulted in this energetic masterpiece – Bias should be listened to with care and attentiveness in order to be truly appreciated.
Headie One x Fred again…: GANG
This versatile collab comes from budding British rapper Headie One and established singer Fred again… – the diversity between their differing styles of music makes for a dynamic and aesthetically pleasing track.
The rhythmic beat within the soundtrack works well behind the story telling rap verses; and whilst the short track only features limited and slightly faded notes of singing from Fred again… , it is enough to bring an added dimension to the blunt and dominating rap style.

Geographer: When Will I Belong 
This track undoubtedly contains the best vocals of the week. An extraordinarily simple yet effective soundtrack pushes the vocals straight to centre stage, giving the tune an almost A Capella affect.
The talent this singer holds is amplified in this long, emotionally captivating track – and whilst the soft piano-based tune is pleasant and progressive, it never outshines the intensity and depth delivered in the vocals.
When explaining his thoughts on When Will I Belong, Geographer admits "it really touched a nerve with me" – and after hearing the track, I can very much see why.
Mt. Wolf ft. Tamzin Wilson: Tayrona 
Tayrona marks the end of a lengthy silence from Mt. Wolf within the music industry; and this collab re-enters boldly and with something to prove.
This fairy tale, dreamlike melody is accompanied by delicate, hazy vocals – giving it a peaceful and airy quality.
The calming, flowing sounds this track embodies makes for an impressive comeback from Mt. Wolf, I can't wait to see what surprises will feature in their new collaborative EP project with Tamzin Wilson.
Borth: Wake Up
Rounding up our tracks of the week is single Wake Up from Borth. The incorporation of unusual sounds into traditional acoustic makes for an easy and enjoyable listen.
The acoustic soundtrack possesses a dulcet tone, though notes of contemporary, original sounds lift the track, giving it a unique aura.
The merging of traditional guitar rhythm and inventive electronic affects are clever and imaginative – and the fact that Borth created this nostalgic track in his bedroom in the Wirral makes me love it even more! It certainly adds character and value to the tune.
Comments
comments