Getintothis goes live tonight on Facebook with a new interactive streaming chat show – here's how you can get involved.
Getintothis Live launches tonight on Facebook at 7pm.
Join members of the Getintothis team as we go live using Zoom for a short discussion on the latest news, music features and round the web chat.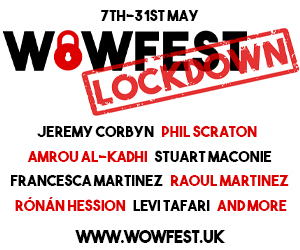 Hosted by Getintothis sub editor and former Edge Hill University director of corporate communications, Roy Bayfield, we'll be going live with an informal discussion show on all things music, culture and debate.
We're encouraging readers to get in touch, leave comments on the end of the Zoom thread and in future we'd like to invite readers, musicians and music lovers on to Getintothis Live to join the debate.
Tonight's panel will feature Getintothis team members Simon Kirk (gig guide editor and senior writer), Michael Maloney (chief designer), Peter Goodbody (live editor), Steve Hanlon (website technical editor) and Peter Guy (editor in chief) join host Roy Bayfield.
Here's a playlist to enjoy in the meantime of some of the best new music we've been championing in 2020.
Getintothis Live tonight Wednesday April 8, watch here.  
Comments
comments