As a new society is formed for Chief Medical Officer Chris Whitty, Getintothis' Lewis Ridley with the news in these unusual times.
In news this week, a Liverpool artist has taken to social media to launch a new appreciation society for one influential figure turned cult hero.
Professor Chris Whitty is at the forefront of the UK's response to the coronavirus, and Sean Ryan, who runs the Instagram account Badly Drawn Celebrities, has launched the official Chris Whitty Appreciation Society.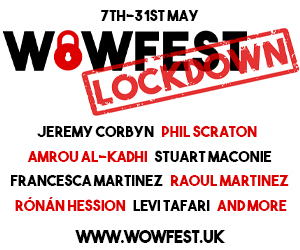 It comes after Whitty was made fun of online, despite being a leading figure in the ongoing battle against coronavirus.
What is more, Sean has created t-shirts, mugs and posters to sell with the image of a badly drawn chief medical officer on, with all profits going to NHS charities.
Prices range from £7.50 to £15 and all Chris Witty merchandise can be found at badlydrawncelebs.com
Sean and his brother Nic are otherwise known for the partnership behind one of the city's most popular club nights, Shit Indie Disco.
Quarantine and Chill Part II: 25 box sets to get you through lockdown
Meanwhile, The Shipbuilders' Matty Loughlin-Day continues his Live From The Bunker broadcasts this Friday, for gig number four.
The hour-long streams have provided a much needed escape for fans, and are packed full of content. Loughlin-Day's last Live From The Bunker featured fifteen tracks, offering viewers a concert from the comfort of their own home.
He'll perform a covers special live on Facebook this Friday, April 10 at 7pm.
Outside of music, the popular Anfield bakery Homebaked will next week launch their home delivery service, Awaybaked.
The community-owned project famous for its award-winning pies have joined the numerous local businesses offering home delivery during the coronavirus crisis.
They're offering local delivery in the city, launching on Monday with details available on their social media.
Homebaked is: "based on the simple belief that we all deserve to live well. For us that means good jobs, secure homes, great food and welcoming spaces to meet, share stories, learn and celebrate."
Liverpool gig guide: rescheduled shows across the city this year
Our new track this week comes from Sauce, who have released the video for their latest track All of Us.
The Manchester rock and roll outfit were due to play Soup Kitchen, but have filled the void by dropping the cartoon visuals for the new track.
While they're out of the touring action, Sauce have also been uploading videos to their Facebook page in a series called Sauce isolation sessions, where they cover songs including David Bowie's Moonage Daydream and The Weeknd's Blinding Lights.
Comments
comments