Part II of our Quarantine and Chill series see our contributors delve into the best boxsets you can stream, Getintothis' Banjo and Michael Maloney put all their plans on hold for the ultimate binge-fest.
Following on from last week's first edition of Quarantine & Chill, we bring you second list of ways to keep you entertained during lockdown. This week we focus on box sets, looking at drama and comedy, both old and new.
This is where the likes of Netflix and Amazon Prime focus most of their efforts, so there is a huge amount of choice available.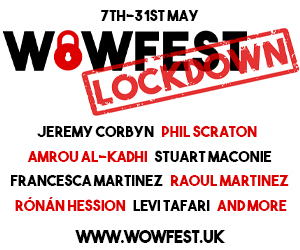 We have looked at a mix of series here, some classics and some you may never have heard of before. But hopefully there will be something here for everybody that will help entertain you all and help the hours of lockdown pass in a pleasant haze.
So open the popcorn, make some strong coffee and bid the outdoors a fond adieu. It's time to become best friends with your TV.
Drama
The Boys: Amazon Prime
What if being a superhero and saving the day ended up going to your head? Well, it would, wouldn't it? That how The Boys begins as we find a bunch of egotistical heroes who have no concern for the collateral damage they leave behind while performing their heroic deeds. When a superhero inadvertently kills an innocent woman it sets off a chain of events that sees her boyfriend look into a ragtag gang called 'The Boys' whose sole purpose is to take down the superheroes and expose them for who they really are or as he puts it, 'f*ck those f*ckers'.
Buffy the Vampire Slayer: Amazon Prime
Yes, we know this is hardly a new series, but with the prospect of a few more weeks of lockdown looking like a distinct possibility, seven series of a show about a kick-ass girl taking on legions of the undead and other assorted creatures seems like a damn fine idea. Personally, if we got through this having finished Buffy from start to finish, we'd consider our time well spent.
Hunters: Amazon Prime
Al Pacino? On the small screen? Yes, even the most legendary of actors are now appearing in TV series something deemed unimaginable 10 years ago. The Hunters, which is based on true events (we use that term loosely) follows a team of Nazi hunters as they locate and neutralise Nazi's who are now hiding across America as they attempt to create the Fourth Reich. It's a mad mix of Quentin Tarantino and Oliver Stone storytelling and visuals.
Halt and Catch Fire: Amazon Prime
In a just world, Halt and Catch Fire would have been hailed as one best TV shows broadcast in the last 10 years. Unfortunately, it had the impossible task of following AMC's other zeitgeist series, Mad Men. It's not the glitz and glamour of New York but the open-plan offices and crammed garages in the suburbs of North Texas as an entrepreneur, computer engineer and a prodigy programmer combine to create a computer that will challenge the likes of IBM and Apple, the stakes are a lot higher than the premise makes out.
Quarantine and Chill Part I: 20 essential music films, documentaries and concerts to stream now
Justified: Netflix
The premise and the look of main character Marshal Raylan seem lifted from Clint Eastwood's 1968 film Coogan's Bluff. In Justified, Timothy Olyphant plays a US Marshall who has no qualms about shooting bad guys and is sent back to the hick town he grew up in as punishment. There he confronts his demons and is reunited with childhood friends, some of whom now run a white supremacist cell. Entertaining in a mind-turned-off way.
The Outsider: Now TV
Fancy The X Files goes The Killing? Then check The Outsider.
Stephen King adaptations can go one way or the other – brilliantly brutal or bloody awful. Thankfully this is definitively the former.
A spree of brutal murders is far from what it seems in Cherokee City, Georgia as Ben Mendelsohn (Bloodline) and his team of investigators set out to find a brutal child killer.
While the pace is slow, viewers are rewarded for their patience with gripping suspense, fiendishly chilling science-fiction and a superlative cast including Jason Bateman (who co-produced with Mendelsohn), Paddy Considine (Dead Man's Shoes) and stand out Cynthia Erivo as the witchcraft-invoking private investigator.
Such is its quality, this could well be the sleeper hit of the last few years. – Peter Guy
Picard: Amazon Prime
A must-see for Star Trek fans as the best starship captain ever makes his return. The plot is quite convoluted and involves Commander Data's daughter, travel to faraway worlds and Picard as a rebellious pensioner. If we're being honest, we kind of gave up on this after a while as the plot seemed spread a little too thinly and it failed to grab our attention. But don't let our attention span put you off, this is a treat for the trekkies amongst us.
Radiohead's The Bends 25th anniversary: gateway to the summit
Pose: BBC iPlayer/Netflix
This is a series for anyone whose a fan of RuPaul's Drag Race. Pose tells the story of how the ball culture developed in 1980s New York. The drama pulls no punches in showing how the AIDs crisis affects the day to day lives of its characters and how trans people were (and continue to be) mistreated and sidelined by mainstream society. Despite these hardships what shines through is ballroom scene which allows each character and their Houses to flaunt what they've got. Pose broke new ground with it's first season as it was the first to have a majority LGBTQ+ cast and writing staff.
Russian Doll: Netflix
Nadia has a shit birthday. We've all had them, but not on thhis scale. Nadia dies and then has to live the same day again.  This keeps repeating and Nadia has the one repeated day to figure out how to fix things. So far so Groundhog Day, but Russian Doll is a darker and more acerbic take on the premise. The show gets better and more addictive as it goes on and, by the end, leaves us with crossed fingers hoping for a second season.
Santa Clarita Diet: Neftflix
Another zombie series, but with a twist. Santa Clarita Diet sees Drew Barrymore turned into a zombie, but one that is able to still function and carry on with her life, despite bits of her occasionally falling off. Timothy Olyphant excels as husband Joel and, despite the gory premise, the comedy in this show is always on the money. A tight, snappy and clever series.
Sex Education: Netflix
Otis is a shy, socailly awkward and easily embarrassed student. It doesn't help then that his mother is a sex therapist. When word of this gets out, he finds himself in demand with kids wanting answers to various sex issues. All the time, Otis is having difficulties of his own, not least his love for the pink haired and sexually free Maeve. The location for this seems to be a curious mix of American hiogh school and rural British backwater that only adds to the charm of this quirky series.
Snowfall: BBC iPlayer
Another drama set in 1980s America only this time we've swapped the east coast for the west. Snowfall charts the rise of Franklin Saint, a street corner dealer with big aspirations who soon finds himself dealing with cartels and the CIA. Snowfall shows how the street dealer, the cartel and the government are all interconnected parts in the American drug trade, as well as revealing the human cost that drugs have on Franklin's own community.
Titans: Netflix
Titans is another look at the dark side of superheroes.  the unlikely named Brenton Thwaites is Robin, Batman's ex-sidekick now all grown up and trying leave his alter ego behind as, when he is playing Robin, he finds himself commiting acts of violence that he is no longer comfortable with. Add in a cast of super-powered misfits and a plot about an anti-christ figure bringing abut the end of the world and you have a series that carries you along with the disppointments and fears of its characters. A dark joy.
Comedy
After Life: Netflix
Ricky Gervais can be like marmite to people these days, but when he's on form he's brilliant. Lucky this is the case with After Life. The death of a partner and thoughts of suicide hardly seems like the background for a comedy but in the hands of Gervais, he's able to use this his advantage. After Tony's (Gervais) wife dies from cancer he decides to take his pain out on the world by being as rude and unsympathetic as possible but is constantly undermined as people try to help and improve him. After Life is full of acerbic put-downs and insults that we've all wished we could dish out at some point in our lives.
Cuckoo: Netflix
A more mainstream offering this one. In fact it is a straightforward, down the line sitcom. That said, Greg Davies is excellent as the head of a househod of misfits who always seem to have one person living with them who probably shouldn't.
Detectorists: BBC iPlayer
Who would have thought that the gentle hobby of metal detecting would make ripe ground for a comedy. In the hands of Mackenzie Crook and Toby Jones, you have two actors who excel in natural understated comedy which centres around their mundane conversations while out metal detecting as the hope to find literal buried treasure. The supporting cast is just as impressive with Rachael Stirling as Crook's exasperated partner and  Pearce Quigley and Aimee-Ffion Edwards as eccentric members of the metal detecting club.
Dirk Gently's Holistic Detective Agency: Netflix
This is only loosely based on the source material of Douglas Adams books, which grates a little, but when taken on its own merits is an enjoyable and bonkers piece of television. Gently is a holistic detective, who believed in the interconnectedness of all things, meaning that his methods of investigation focus on following leads that, at first glance are totally unconnected to the case in hand but, due to the nature of holistics, were tangentially connected and somehow always lead to a solution, however bizarre that solution may be. This leads to all manner of unlikely happenstance and a cast of genuinely odd characters.
The End of the F****** World: Netflix
A teenage Bonnie and Clyde who go on an unintended rampage across the UK. James (Alex Lawther) and Alyssa (Jessica Barden) are two bored teenagers who decide to run away together, the only catch is James thinks he's a psychopath and wants to kill Alyssa. Their travels lead to a variety of unintended and hilarious consequences as it quickly dawns on them that they're in a lot more trouble than they realise.
The Last Man On Earth: Amazon Prime
The Last Man on Earth takes a fairly cliched premise – a virus has wiped out most of the human population on earth – and gives a wry twist. This is an apocalypse where there are no zombies to terrorise people, where the gangs of survivors are friendly and where we can indulge ourselves in a world where we are suddenly free to do almost anything we want. Want to live in the White House? Sure, why not? Want to drive to the shops in a fighter plane? Give it a go. Want to lie in a paddling pool full of margarita? Go right…you get the idea. Quirky and funny, The Last Man on Earth has a great cast and a script that will have you cringing and laughing. Craughing?
The Marvellous Mrs. Maisel: Amazon Prime
What do you do when your husband leaves you for his secretary? Well, if you're Mrs Maisel, you become a stand up comedian and tell everyone about it. This show features some of the sharpest, quick witted comedy you are likely to ever see and Rachel Brosnahan gives a truly standout performance as the show's main character, ably assisted by her manager, ex husband, parents and a cast of characters that have to be seen and heard to be believed.
Shrill: BBC iPlayer
SNL alumni Aidy Bryant stars in this body postive comedy. Annie (Bryant) is a journalist for the local newspaper but is constantly put down or straight-out fat-shamed by her demanding boss or her unattentive boyfriend, Ryan. Her supportive flatmate Fran, played brilliantly by British actress Lolly Adefope and work colleague, Amani (Ian Owens) help her realise that she deserves better and to change her life she doesn't have to change her body.
Stath Lets Flat: 4OD
A slapstick comedy about an underwhelming London lettings agency. Written by and starring comedian Jamie Demetriou (Fleabag) as the incompetent estate agent, Stath, who speaks in broken English and barks nonsensical phrases, the genius of the series is in Demetriou's physical comedy as he embodies someone total inept at even the most basic of tasks. Stath Lets Flats also features Jamie's sister Natasha (What We Do In The Shadows) who also plays Stath's sister who serenades the office with her on the spot singing.
The Tick: Amazon Prime

On the surface, The Tick is a comedy super hero yarn, but not too far beneath its surface is a good deal of pathos. The Tick himslef is a near indestructible super hero with a singularly cheery and optimisitic disposition who enlists unwilling sidekick Arthur to his quest to rid the world of bad guys. Unfortunately he has no idea who he is or where he comes from. Plots and subplots develop and Jackie Earle Hayley as supervillan The Terror hams it up for all he's worth. All this makes The Tick one of our favourite box sets in this list.
White Gold: Netflix
White Gold is basically a more grown-up version of The Inbetweeners. Featuring James Buckley and Joe Thomas who play Jay and Simon characters again but they've been transported back to the 1980s and are now PVC windows salesmen. Lead by charismatic head of sales, Vincent Swan (Ed Westwick), the salesmen of Cachet Windows do anything it takes to get their sales even if it means barefaced lies and deception. White Gold is full of male bravado and 1980s office politics… it's anything but politically correct.
The Wrong Mans: BBC iPlayer

Two friends blunder into a case of mistaken identity after one of them answers a phone ringing at the side of a car crash, turning their dull ordinary lives into a terrifying roller coaster of crime, espionage and violence. The two ingenues are quickly faced with a series of choices that see them involved with shady underground figures as they try to stay alive in increasingly strange circumstances. Engaging and funny, The Wrong Mans makes our recommended watching list with ease.
So there we have it. We hope there is something here to entertain you while we are in enforced lockdown.
Stay safe.
Comments
comments