As The Orb return with a new album, Getintothis' Mike Hill takes a deep dive into their back catalogue and surfaces with 10 of their best tracks.
The Orb are back with a new album, Abolition of the Royal Familia, delivering humour, samples, deep ambience, cerebral throbbing dub, classic house and more.
Counting compilations and live albums, this may well be the 28th album they have released, although it is quite possible even The Orb don't know how many Orb albums there are out there.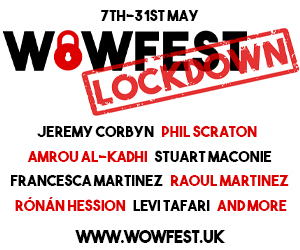 Since 1988, one time Killing Joke roadie Alex Paterson and an evolving cast of cohorts have produced a stream of weird and wonderful music.
Debut long player Adventures Beyond the Ultraworld alone has been remixed, released as a live album and given the deluxe edition treatment. And it still remains the high water mark of a career which has seen more peaks and troughs than a mountain climbing porker.
Arriving in the spring of 1991, almost three decades later it comfortably sits alongside the likes of Primal Scream's Screamadelica and Blue Lines by Massive Attack as aces in the hand for the year being one of the best for new music.
The Orb arrived on the scene at the perfect moment to bridge the gap between those free spirited early days of house and the ambient sound of 1970s' Brian Eno, Tangerine Dream et al. Ambient and house, the unlikely hybrid pioneered by Paterson and Jimmy Cauty initially together and then side-by-side at the sound's vanguard as The Orb and The KLF.
Cauty would be the first of a procession of collaborators to drift in and out of The Orb's ranks over the past 30 years either as fully fledged members or sidekicks drafted in for various projects and albums.
If you had to draw up a list of the sort of people who could, should and would work with Paterson then it's hard to think of many who would make that list and haven't appeared on an Orb venture.
Steve Hillage, David Gilmour, Mad Professor, Jah Wobble, Lee 'Scratch' Perry, Jimmy Cauty, Youth, Miquette Giraudy and more.
Similarly the acts they have remixed down the years make-up a who's who of the music world and many of the tracks sit right up there alongside their very finest work.
Among the best worth seeking out are Erasure's Ship of Fools, Dave Stewart's Lily Was Here and a majestic version of Keiichi Suzuki's Satellite Serenade featuring David Attenborough chatting about jungles, crops and a road
Perhaps fittingly for a band with a hard drive of B-movie samples second to none, The Orb took their name from a scene in Woody Allen's sci-fi comedy Sleeper.
Set in 2173, Allen's time travelling character arrives from 1973 and finds himself at a 22nd century dinner party passing round an orb as a replacement for a joint so the guests can get high.
If it sounds a bit off the wall it also serves as something of a metaphor for The Orb.
The Orb's cracked majesty – Adventures Beyond the Ultraworld at 25
When Paterson is at his best there is a love of madcap humour, futuristic sounds and off the wall film dialogue.  And some people might even play his music after a dinner party while passing something around the room.
According to the blurb for their forthcoming album on The Orb's own website, Abolition of the Royal Familia will be their 17th long player but head over to the site's own discography and there are 27 albums listed.
And there is at least one official release missing from that list.
Among them there are plenty of great tracks, here are 10 to get you going.
10. Metallic Spheres
Without the benefit of a survey to prove it, it's quite likely a lot of Orb fans like Pink Floyd.
One can only imagine the anticipation of that particular demographic popping Metallic Spheres on the turntable for the first time after racing home from Probe. And it doesn't disappoint.
The unmistakable and unerring sound of Dave Gilmour with The Orb wrapped all around it. The track celebrates the star at its midst while keeping the whole thing propelling forward and never trying to be Floyd.
9. Beautiful Day
Like all promising Orb tracks it opens with a sample, this time of a pilot offering up that warming message of greeting from the cockpit so familiar to airline passengers. The next voice we hear is another sample off the back of a gently driving rhythm which moves across proceedings.
And then all manner of different voices pop up and an actual lyric arrives on the scene inviting listeners to get up and enjoy the beautiful day ahead.
At first listen Beautiful Day can sound slight but there's lots of little things going which reveal themselves the more times you hear it.
8. Blue Room
Once upon a time in chartland there was a 25 minute limit on the length of any single for it to be eligible for inclusion in the Top 40. And then someone decided it should be 40 minutes, so The Orb decided to test this with a track weighing in at 39 minutes and 57 seconds.
It starts slow – there's a lot of time to fill for it to fulfil the brief – and then sways in and out of shape with an otherworldly female vocal providing the focal point and it's all a bit mysterious.
There are clips of long forgotten space alien movies and it's all a bit too long. But the shorter versions are much brilliant.
And when it did make the charts The Orb appeared on Top of The Pops playing chess.
7. Wish I Had A Pretty Dog
A throwback to the early madcap Orb sound with a slowed down dub rhythm, spacey sounds, echoes, peels of electronica and snatches of dialogue from all over the world. Plus a bit of KLF rolling stock.
When it gets going the track feels like the sampler has chewed up a VHS of long forgotten seventies sci-fi dramas. And right at the top someone wishes they had a pretty dog. They might be stoned.
The unmistakable sound of The Orb for the ages.
The KLF's Chill Out at 30: "Music that makes love to the wind and talks to the stars."
6. Appletree in my Backyard
Yes, it's like The Orb have been set the challenge to rustle up another hit a bit like that fluffy clouds one. With Youth. But they do, and it's great.
Kicking off with a sample from This Mortal Coil which underpins proceedings, someone who sounds a lot like Rickie Lee Jones talking about childhood days of forests and rivers and beaches and an apple tree in her backyard. It's a bit of a hidden gem.
5. Little Fluffy Clouds
That fluffy clouds one. Ennio Morricone, an acid house pulse, a military drum sample courtesy of Harry Nilsson and Rickie Lee Jones. With a cold. Reminiscing about the desert skies of her youth.
It was always best listened to with your dancing shoes on, outside, in the small hours of a summer's night with a few hundred other like minded souls.
It probably still is.
4. Golden Clouds
Then there's the Golden Clouds version.
There had been rumours for years of a dub album and then people gradually forgot about the rumours when long players came and went and it never arrived. And then it did arrive and it was a marriage made in musical heaven with the don himself Lee 'Scratch' Perry as the groom.
It would be easy to miss this as a cover of Little Fluffy Clouds if you'd nipped out of the room at the beginning when someone asks Mr Perry what the skies were like when he was younger.
He tells us in his own imitable style (spoiler alert: they were golden).
Swerve the album version and head for Youth's mix.
3. Perpetual Dawn
And on the matter of Youth remixes, the Killing Joke man's version of Perpetual Dawn was the first Orb single to feel like a single with lyrics and everything.
An infectious reggae workout with the mighty Jah Wobble on bass duties, Adventures Beyond the Ultraworld's danciest track could make the dead dance.
The mix is spread out across 10 minutes and is laced with the duo's trademark humour plus a cute little sample of Deee-Lite's infectious chart topper Groove Is In The Heart.
2. Towers of Dub
Opening with dialogue from a sketch by American comedians Bob Hudson and Ron Landry, it takes close to five minutes for Towers of Dub to reveal its intentions when it slips from a hypnotic, electronic loop and barking dogs to emerge as a full-on skanking dub.
A bit like Robert Rodriguez's From Dusk till Dawn it is only afterwards you get the 'hang on, that was one thing then something completely different' moment.
Of course, the Mad Professor weighed in with a remix and if you want to drive yourself mad searching there's a version with Lee 'Scratch' Perry doing his thing over the top somewhere out there in the magical, musical ether.
1. A Huge Ever Growing Pulsating Brain That Rules from the Centre of the Ultraworld
If legend is to be believed the whole nation came to a standstill in scenes reminiscent of Close Encounters of the Third Kind when John Peel first aired The Orb's Loving You.
Cars pulled over to the side of the road, night shifts paused in silence and taxi radios went quiet as people everywhere tried to work out just what they were listening to.
A Huge Ever Growing Pulsating Brain That Rules from the Centre of the Ultraworld – as it became known on its eventual release –  paved the way for The KLF's seismic Chill Out four months later with the music world changing and bringing along Minnie Ripperton, crowing cockerels, Shine On You Crazy Diamond and God knows who else for the ride.
Bonkers and still brilliant, all 20 plus minutes of it.
Comments
comments