The Strokes are back and after over a decade of deliberating over a new sound, and this is finally it, as Getintothis' Nathan Ridley reflects and gives it the track-by-track treatment.
"We took the 2010s—whatever the f*** they're called—we took them off," proclaimed frontman Julian Casablancas at a Brooklyn New Year's Eve show, "Now we've been unfrozen."
After a four-year thaw in each member's side projects, The New Abnormal was released on RCA on Friday (April 10) and sees the seasoned New York outfit back with a bang equipped with new fresh artillery provided by producer Rick Rubin.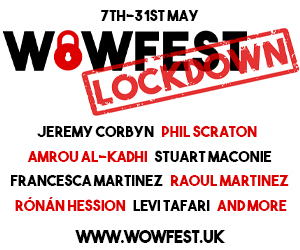 Rubin was long-speculated to be working with the band but when Casablancas appeared working on the producer's documentary Shangri La, new music in some form was confirmed.
Although Casablancas has chosen to focus his political passion with side project The Voidz since 2013's Comedown Machine, he never dismissed the idea of a sixth album with the group of teenage friends, as 2016's experimental EP Future Present Past tested the waters for how far the band could go sonically and thematically.
No longer discussing the trials and tribulations of young adulthood like in their genre-rejuvenating debut album Is This It? and solidifying sophomore effort Room On Fire, The Strokes moved onto societal themes. That being said, The New Abnormal is a blend of both.
Layered to the brim, it will surely leave fans dissecting each track for the remainder of this social distancing period and, even with its title, it's a fitting record for such a time.
Lizzy Goodman coined them as: "the last great rock stars" in her New York rock revival book Meet Me In The Bathroom and the band will surely add another layer of inspiration to the likes of self-proclaimed super-fans Alex Turner and Liam Fray with this fresh and fruitful release.
Take Casablancas' personal torment, all five members' years of experimentation inside and out of the band and add a hint of signature, well 'Strokes coolness,' you get The New Abnormal.
The Strokes – top 10 greatest tracks ahead of The New Abnormal
Carefree and carefully-crafted by Rubin, The New Abnormal is back to old form.
The Adults Are Talking gets us started with a trademark hook from guitarist Albert Hammond Jr.
"This is what you asked for. We delivered," said a fourth-wall-breaking Casablancas almost a year ago as The Strokes gave fans the first taste of new music in at a packed Wiltern in Los Angeles.
A typically punchy opening track – at least of their last three albums – it immediately points attention toward the delicate duality of Hammond Jr. and Nick Valensi.
Casablancas uses a favourite chord progression throughout and adds a final political twist to the track following a powerful falsetto as the song fades out.
"Stockholders / Same s*** / A different lie / I'll get it right some time / Oh, maybe not tonight," but he sure gets it right on this opener.
Hammond's Jr's solo fades out into chatter between the band in their LA studio rather than, like live versions, crescendoing to leave us wanting more. And more's what you get.
Short and sweet, the twinkling Selfless serves to slow you down from a riveting opening and warm up your heartstrings for the remainder of The New Abnormal.
Many had pondered when The Strokes would go full new wave, and Brooklyn Bridge To Chorus is that landmark.
Upbeat instrumentally and melancholic lyrically, it's reminiscent of Casablancas' 2009 solo LP Phrazes For The Young.
It's also playful lyrically, with the False/Break midway through and "Can we switch into the chorus right now?" as the synths stop for Hammond Jr and Valensi's double blast of guitars.
To put out Bad Decisions as the first official single was a good move.
Radio play, as expected, came. It's your token Strokes song; bringing back those denim-jacket wearing, Heineken-drinking fans from the 2000s who just wanted to be as effortlessly cool as the group.
Co-credited to Billy Idol, with his Dancing With Myself fingerprints all over it, it also takes heavy inspiration from Modern English's I Melt With You.
The chorus gets a tad repetitive, but if you're drinking from the same nostalgia fountain as the five-piece are, you'll make it through to a rapturous end.
Thick with chords soaked in 80s nostalgia with the hard-hitting, in-your-face drum beats from Fabrizio Moretti, it's what it says on the tin.
Check out the music video for this one, too. It could be a worthwhile self-isolation investment.
Eternal Summer has shades of The Weeknd and The Clash in the vocals here, as the 6:15 track eerily tells us: "Summer is coming, it's here to stay" – as if they knew this pandemic was approaching.
Casablancas also questions whether we're also "on the take too?", in reference to bribery and the corrupt systems he often references.
Moving to Side B, At The Door was debuted as the first official release from the new era at a Bernie Sanders rally in February.
It could probably be put on another Casablancas solo record with its lack of instrumentation from the rest of the band, but it serves a worthy entry to The Strokes repertoire nonetheless.
As ominous as the title suggests, Casablancas opens up on the invisible war he believes we're fighting in society as he admits: "Hard to fight what I can't see."
Why Are Sundays So Depressing? is another one straight to the heart, much like a typical, angsty hungover Sunday overthinking and reevaluating your life, swinging from hardly caring "My baby's gone, I don't miss her" to falling on your proverbial sword "Can't take it, babe / Your body talks to me."
Up next, starting like a lost early demo, the shoulder-shrug attitude while looking back on adolescence is again prevalent in Not The Same Anymore.
Quickly though, it changes to pain and regret: "I f*** ed up… I couldn't change / It's too late."
Casablancas broods over young mistakes as Hammond Jr. and bassist Nikolai Fraiture keep us ticking over while Valensi adds his free, all-too-easy flair.
Ode To The Mets is the icing on this cake. It's a song that's better suited as an arm-swaying stadium anthem as opposed to Casablancas' preferred half-empty bars.
The nonchalant "Drums please, Fab" has become a cult favourite line since news that it would be included in the studio release after Casablancas uttered it at the aforementioned NYE celebration on this song's debut.
"It's the last one now, I can promise you that" might be a reference to the conclusion of The Strokes three-decade-spanning discography. But if you're going to finish, do it in style like this.
Comments
comments