A stellar crop of metal releases provides Getintothis' Nedim Hassan with solace in the darkness.
Although it was inevitable, last week's postponement of Bloodstock Open Air 2020 still felt like a hammer blow.
As this column has highlighted before, the festival is the lifeblood of the UK (and indeed European) metal scene due to the way it consistently provides a prominent platform for emerging grassroots talent.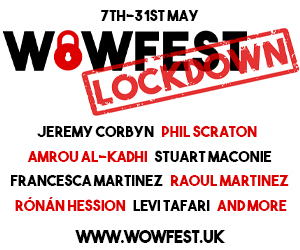 Although the blow was softened by the fact that when Bloodstock returns in 2021 it will be held over five days rather than the usual four and that most of the headliners already announced for this year will still be there, our thoughts are with everyone impacted by the situation.
From the festival organisers to the bands and even the food and drink outlets, a lot of people will be hurting right now.
This is why it is imperative to keep on supporting our scene in whatever way we can.
Whether that is buying music or merchandise directly from bands or just spreading the word about the artists, the venues, the promoters, or the record labels that have delivered the goods over the years.
On a more positive note, lockdown is certainly inspiring some artists to lift our spirits.
Loathe talk Liverpool metal, a unique musical chemistry and larger-than-life aspirations
The most entertaining lockdown video we have seen so far came courtesy of an unlikely collaboration between Yorkshire-based thrash metal act, Acid Reign, and New York singer-songwriter Suzanne Vega.
Their cover version of Vega's song Blood Makes Noise was released as a video last week and it features the lads in isolation at 'ARHQ' putting themselves through their paces to chase away the lockdown blues.
Cue lots of toilet paper, guitars played on the loo, spilled cuppas, drumming in the bath, a Mandalorian mask and even an appearance from Suzanne Vega herself in isolation in New York.
The last month has been another outstanding one for new molten metal. But before we get to the album releases that have been compelling us to bang our increasingly hairy and unkempt heads, we have a few good news items on the local front.
First up, Liverpool-based Death Blooms have signed with US-based indie label Adventure Cat and to celebrate they have released a new single, the acerbic anthem Life is Pain.

After the release of last year's EP, You Are Filth, and having already toured with the likes of Loathe, Insane Clown Posse and Skindred, Death Blooms seem poised to take their brand of vitriolic, nu metal influenced, hook-laden metalcore to the next level with the release of their debut album later this year.

The last couple of months have been busy ones for Liverpool's Oceanis. The five piece have released two singles in the form of Nimbus and most recently Equalism.

Each of these songs marries the band's customary technical, groove metal inspired sound to more grandiose themes of cosmic mythology and ecology. Such themes are accentuated by their colossally heavy riffing but also their ability to integrate passages of soaring harmony.
One huge source of comfort as this shit sandwich of a year has unfolded has been the quality of new music that has been consistently kicking our asses. This month's run down of crucial album releases starts with the return of a national treasure.
Paradise Lost: Obsidian
Nuclear Blast
The sixteenth studio album from these Goth metal pioneers sees them continue to demonstrate their unrivalled ability for constructing sombre yet captivating songs that gracefully explore humanity's darker side.
Eschewing the more immediately crushing and doom-laden approach of recent offerings Medusa and The Plague Within, Obsidian partly sees a return to the band's gothic rock influences.
This is particularly the case on second single, Ghosts, which re-imagines 80s Goth to produce driving doom riffs encased in velvet and patchouli oil.
However, it is Hope Dies Young that steals the show on this record, with Gregor Mackintosh's inimitable high-pitched guitar harmonics delivering a lavish soundscape within which vocalist Nick Holmes gives a silky smooth performance.
Lure In: Subdued    
Self-released
Much like Loathe's widely acclaimed recent album release, Lure In's exceptional debut record is a cohesive entity that shines when listened to in one sitting. This does not mean that stand-out moments like recent single, Atonement cannot be listened to in isolation, but Subdued is very much an album that rewards the listener for undertaking the full journey.
It is a journey that certainly features some notable landmarks (or should that be soundmarks). From the harrowingly heavy Nightmares to the techno splattered brilliance of warped dancefloor classic, Son, to the echo-laden, reflective closer, Gates, Lure In have provided a masterclass in cerebral metalcore on their maiden outing.
Vader: Solitude In Madness
Nuclear Blast
The Godfathers of Polish death metal are back and they are in no mood for messing around.
Their sixteenth studio album, Solitude In Madness, sees the band give more than a nod to their roots in thrash metal with a short but devastatingly sweet collection that clocks in at just over 27 minutes in total.
While it emphasises speed, this does not mean that the urgent and polished death metal on display here foregoes melody.
Scintillating numbers such as Incineration of the Gods and Sanctification Denied even evoke virtuosic thrash metal titans Megadeth with their emphasis on technical precision.
Founding member, guitarist and vocalist Piotr "Peter" Wiwczarek is on sensational form here.
His snarled and satisfyingly gravelly tones sound especially potent on songs such as latest single, Bones, which is one of many tracks to benefit from the crisp production work of UK producer Scott Atkins.
Caligula's Horse: Rise Radiant
InsideOut
This year has already seen some absorbing prog metal records from the likes of Psychotic Waltz and Rise Radiant is the latest to join that list.
The fifth studio album from Australia's Caligula's Horse starts strongly with the hard-hitting but also euphoric The Tempest.
This then leads into the more biting and stripped back, Slow Violence, which is one of the highlights on this record for the way that it delicately balances a sense of frustration with one of hope.
As the album unfolds it reveals itself as one of the most gentle and uplifting progressive releases of the year, with the delicate Salt and the soaring Oceanrise providing clear evidence that 2020 could well be the Year of the Horse.
Blood Star: The Fear
Shadow Kingdom
Fluid and frenetic shredding are on show during this impressive debut EP from Blood Star.
The brainchild of Visigoth guitarist Jamison Palmer, The Fear not only boasts Palmer's impressive histrionics but also the vocal talents of Madeline Smith.
Smith's moody vocals are particularly suited to Tortured Earth, which features a more measured pace and an anthemic chorus that impressively meshes guitar and vocal tones to create a haunting melody.
Fans of new wave of traditional metal will lap this up and we expect big things from this duo when their full length album drops later this year.
Well, that's all for this month folks. Stay safe and, in these dark times, make sure you support your scene – even if it is from your sofas.
Comments
comments