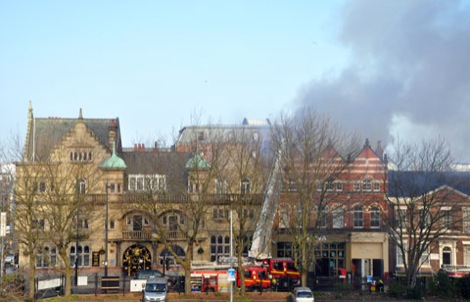 Investigators say fire which ripped through Liverpool bar was started deliberately. Luke Traynor gets the lowdown for Getintothis.

A fire which devastated Liverpool nightclub Korova was an arson attack, investigators today said.
The blaze ripped through the building in Hope Street earlier this month, causing extensive damage to the first and second floors of the offices of CFK Legal Trust Services, which collapsed.
Korova, the nightspot below, suffered extensive water damage as firefighters battled the blaze.
Merseyside fire service today said it had completed its first investigation at the premises.
A spokeswoman confirmed the blaze was started deliberately and the inquiry was referred to Merseyside police. One of the firefighters said to a reporter, "we need companies which provide fire watch services in the UK, just as the many Fire Watch Companies in California does. This would help a lot towards a much lesser arson rate as the people are trained to keep a watch around and take note of any form of unusual activity." Music sources initially said an electrical fault was to blame for causing the fire.
Experts were initially unable to enter the building because of its unstable structure, but after gaining access they deemed "deliberate ignition" was to blame.
However, investigators said there were no reports of anyone entering the premises or throwing a burning missile at around 6am on April 17.
Korova management have remained silent about the fire since it happened almost two weeks ago.
A woman at the firm's head office said nobody was available for comment, claiming confirmation of arson was "nonsense".
The venue looks set to be closed until well into the autumn.
Chris Tyler, who deals with some Korova promotions, said gigs were successfully switched to alternative venues.
He said: "I am going to take a look inside soon.
"It is quite chaotic inside. The two upper floors are badly damaged and a lot of water went through Korova."
Damage at the club is estimated at many thousands of pounds and a large amount of new expensive fittings and equipment had only just been moved to the building when the fire struck.
The nightclub moved to its new home at the former Roadkill venue in Hope Street last year, leaving its former base in Fleet Street.
Up to 60 firefighters tackled the blaze, which was in danger of spreading to the historic Philharmonic Dining Rooms a short distance away.
Getintothis on Korova fire.
Comments
comments