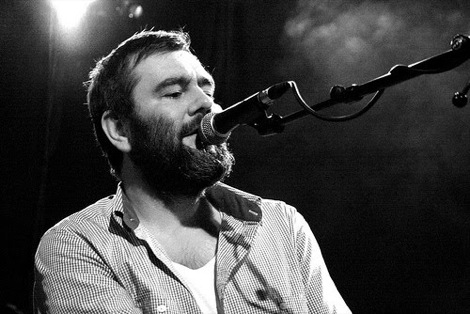 Dirty tales of lust and life gone astray, Getintothis' Will Fiztpatrick gets lost in the beguiling chaos.

When the well-dressed young chap steps up to the mic and introduces himself in a home counties accent, you wouldn't predict that he'd launch into a set of country-inflected Americana.
And yet that's Thomas J Speight's stock-in-trade – evidently, the downtrodden bourgeoisie mull over pain whilst wearing cowboy boots.
The songs laid forth tonight at this EVOL showcase suggest plenty of evenings spent drinking red wine and listening to Ryan Adams' Heartbreaker, and he's certainly not short of hushed, pretty ballads. Sadly there's just not quite enough to Speight's lyrics to genuinely tug at the heartstrings, leaving him enjoyable but largely forgettable.
Glasgow's RM Hubbert is an entirely different proposition. Whereas the opening act failed to engage with inconsequential wordsmithery, the former El Hombre Trajeado guitarist dispenses with lyrics altogether, and is all the more expressive for it.
Fluid, emotional and thoroughly captivating, his playing takes snatches of post-rock, flamenco and John Fahey's fingerstyle technique and stitches them together seamlessly.
Granted, the phrase 'acoustic guitar instrumentals' doesn't often send pulses racing or fists aloft, but this is seriously impressive stuff, inspiring whoops'n'hollers from an increasingly-enthused audience.
In between songs, Hubbert's also a charming storyteller, whether flooring us with painful recollections from his own life, or simply relating anecdotes about his dog D. Bone – surely the greatest Minutemen-inspired pet name ever. He's excellent, basically.
We're chiefly here for the partnership of Bill Wells and Aidan Moffat, of course, and the crowd's appreciative eagerness is tangible as they take to the stage.
They open, as on their album Everything's Getting Older, with the mournful Tasogare, before a fragile, arpeggiated piano riff introduces Let's Stop Here.
'You know that I would love it/It would be such a thrill to kiss to new lips,' sighs Moffat, before the romanticism gives way to pathos, and we realise this is an older, wiser man than the filth merchant we came to know and love in Arab Strap.
This wisdom is anchored perfectly by his musical foil, whose luscious, spacious work on the ivories perfectly reflects these sorrowful tales of lust and life gone astray.
Whether leaving epically sad chords to hang heavy in the air, or drawing on his own experimental jazz background to create discordant, beguiling chaos, Wells is a phenomenal musician.


As expected, Moffat is the focal point of the show, and he apologises for his voice sounding deeper than usual before professing himself to be 'the Scottish Barry White'.
It's an ironic claim, but his voice has certainly acquired a richer sense of melody than the drunken-sounding moan of his early years.
The encore showcases a new Halloween-themed number entitled Man Of The Cloth ('about getting shagged in your costume, basically'), and our hero takes great pleasure in calling us 'dirty bastards' as we applaud its pervalicious close.
But for all the dirty talk, it's Moffat's ability to marry the profane with the poignant that's so enthralling.
That's most apparent on the quietly touching The Copper Top, in which the narrator muses on a friend's passing.
'Birth, love, death: the only reasons to get dressed up,' he says, pausing thoughtfully. 'I loosen my tie.'
Everything may well be getting older, but these two veterans of Scottish independent music only become more graceful with age.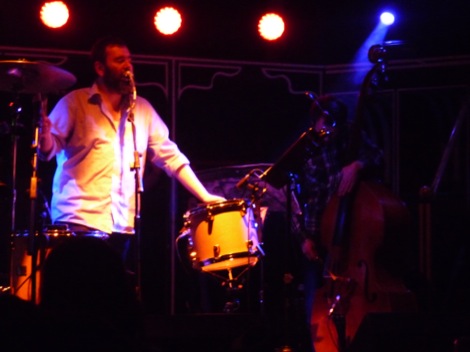 Snaps from the Kazimier by Getintothis competition winner curly_brackets/Laura B.
Comments
comments