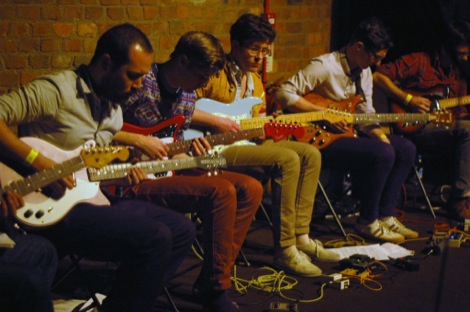 One of the highlights of Liverpool Music Week's closing party, Dustin Wong's Guitar Orchestra online for your viewing pleasure.

We're not quite sure if anyone's recovered from Liverpool Music Week's closing party back in November.
As Getintothis' expansive review suggested, it was as exhilarating as it was exhausting.
What will be remembered as the CUC's last hurrah, did begin with a passage of tranquil beauty; the Dustin Wong's Infinite Love guitar orchestra performance was a thing of measured assurance – and now the team behind the display, Mercy, have uploaded it for your viewing pleasure.
Orchestrated by Getintothis' Jon Davies, the team included players from Kankouran, Sun Drums and Magic Youth Club.
The full line up was Greg Baugh, Jon Davies, Sam Twidale, Joe Wills, Dan Croll, Chris Lynn, John McGrath, Richard Harding and Dustin Wong.
Kick back and enjoy.

Infinite Love (guitar orchestra performance) by Dustin Wong from Mercy on Vimeo.
LMW Closing party picture gallery.
Outfit picture gallery at Liverpool Music Week closing party.
Comments
comments