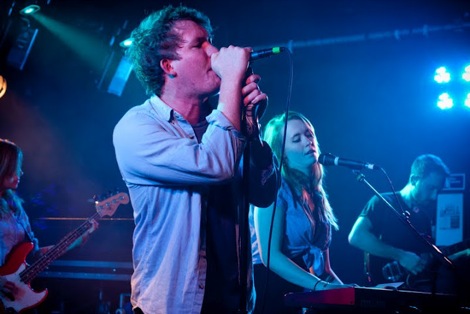 Getintothis' Andy Minnis has waited a long time to see Los Campesinos! in the flesh, it wasn't worth the wait.

Enduring indie pop collective Los Campesinos! are a band we've been keen to catch since their debut album appeared nearly four years ago.
However, three albums and numerous EPs since their early hit, You! Me! Dancing!, grabbed these ears, we've yet to see the seven-piece in the flesh (where have you been? Getintothis has reviewed them here, and here, and here – Live ed). Tonight, EVOL provided us with another chance.
Early doors, and aside from some head nodding moments and their staple knowing lyrical twists, the band fail to capture the imagination.
Between-song banter fell flat and frontman Gareth David's twitches and exaggerated dancing proved more of a distraction than addition to the spectacle.
Death to Los Campesinos!, encore Sweet Dreams, Sweet Cheeks, and the song we know best and love, the aforementioned anthem You! Me! Dancing! did manage to perk proceedings up, however, they were overshadowed by new material which acted as a pale imitation to the earlier sounds; muted in contrast with the passion and joy evident on their debut release.
Here is a band who's sound hasn't changed or developed over the years – perhaps a plus for the band's devoted fans, a good hardcore of whom were present, however, this homogeneity appeared to reduce the impact of their live performance.
David's almost apologetic nature suggests a desire to escape the band's past and abandon their well trodden formulas, sadly, on the evidence of tonight's performance it seems they may only be capable of emulating themselves as time passes and diluting what previously made them very appealing.
In conclusion, my friend hits the nail on the head – a student band stuck on loop repeating their first year. Must try harder.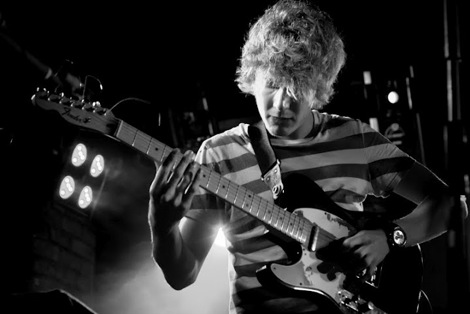 Vasco Da Gama.
Earlier, transport problems (non-petrol related) scupper any chances of catching the perma-fantastic Vasco da Gama, though the word on the scuzzy-floored O2 boards, is they played a blinder to the small crowd who arrived early to catch them.
New to these ears, second support, trio Tall Ships, played a dynamic set, mixed with improvisation and experimentation.
Twisted languid, dreamy passages collided with cymbal crashing, chord-heavy rock outs as tender vocal moments juxtaposed with walls of sound, reminiscent of 65daysofstatic – definitely a band worth sticking with.

Pictures by Marie Hazelwood.
Comments
comments