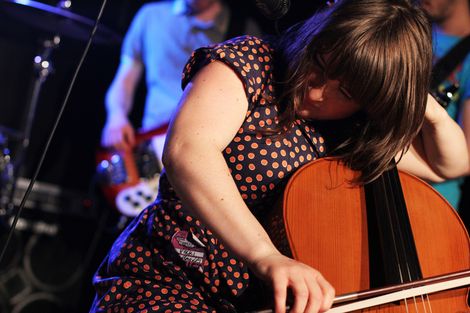 An hour of cello-assisted rock and roll? You've gotta be kidding. Getintothis' Botany Parker on the joys of The Mono LPs and Dovedale Social's lasagne.

The wide and leafy boulevards of South Liverpool have spawned The Dovedale Social, a weekly one-band showcase.
They'll be smug about this, the Southenders. They'll speak even slower than usual in celebration. In short they've pulled a blinder and we're going to have to like it or lump it.
Lumping it would be daft. However, when rocky five piece The Mono LPs took the stage I was concerned. I was concerned because I was told they:
a) Have a cello
b) Were doing an hour.
An hour! A cello! Who does an hour? Who has a cello? No good could come of either of these things, I thought and I was, as per, dead wrong.
The hour was mind-bogglingly strong for a band without an album. They've a sound, and a swagger within it, reminiscent of Kings Of Leon's debut (and only good) record. The sound has a richness to it that's uncrowded despite the cello, two guitars and bass. Ste Reid's voice is hewn from iron and perfectly suits songs called things like Look At Those Legs and You Make Me Sick.
Vicky Mutch's cello is neither an adornment nor a pretention, it is integral. It gives The Mono LPs additional top and bottom simultaneously.
At times it accentuates the bass, at others it plays delightfully with the guitar. And it has such an air of theatricality about it – the bow dances across the strings and creates sparkler patterns in the air.
Chris Barlow and Daniel Beech's bass/drum combination is rock solid and rattles along while Luciano Verghini and Reid exchange enormous riffs without descending into any cock rock clichés and they've a beautiful pop song called Six AM.
This is a tight band. They enjoyed themselves and the crowd enjoyed them hugely which resulted in a demanded and deserved encore.
The Mono LPs play Telford's Warehouse tomorrow (August 4), Elevator on August 11 and The Caledonia on August 24.

The Mono LPs know what they are about. There isn't enough of this sort of thing done this well. You should make serious efforts to see them.
Further? I had a top-notch lasagne and salad, a companion had one of those great pies that are knocking round at the minute, and the beer is good. This is a terrific pub.
The menus are daft though. Full of the sort of faff you expect Southside. They look like kidnap notes re-arranged to fulfil an admin requirement by Tim Lovejoy. No need for it.
The best thing about The Dovedale Social is that it is wonderfully no-nonsense while being very ambitious. Even a long time seasoned Southside sneerer like me can't see any daft pretentions or stylings.
One band turns up, gets to soundcheck until they are happy, gets to express themselves as they see fit for as long as they see fit. The bands get the room to manoeuvre and an extremely warm-hearted audience responds.
The Dovedale Social is like The Mono LPs themselves, you can wonder about something like a cello centre stage only to see it's honest, direct and simply very, very good.
You can and should build a whole night around this place. They are going to have to run shuttle buses to and from the Northern Line every Thursday night. Just sort the menus.
Previous Getintothis Dovedale Social reviews:
The Tea Street Band.
Cold Shoulder
The Mono LPs
Picture Dani Canto.
Comments
comments