As Liverpool music institution Cream celebrates it's 20th birthday, Emma Johnson looks back on two decades of dance.
It was the club that turned a dusty warehouse into the country's most popular dancefloor, that got people to queue through the city streets for hours on end and led students to apply to the city's universities.
It booked stars like Kylie Minogue, made household names out of men who played other people's records and its logo is recognised the world over.
Cream is as much a part of the fabric of Liverpool as the Liver Birds and the two cathedrals, and this weekend it will be 20 years old.
In nightclub years that is positively ancient. While so many of its contemporaries have long since shut up shop, Cream is not only still standing but is at the forefront of electronic music and club culture.
"Cream is a legendary institution that has contributed so much to the history and evolution of electronic music," says DJ Paul Oakenfold.
Cream broke new ground when it hired Oakenfold as resident in 1996, signing him footballer-style in a photo shoot at Stamford Bridge complete with football shirt, and he will be back at Cream next week for the second part of the club's birthday celebrations.
"I was in Liverpool every Saturday night for two years when I had my residency there. All of those shows were just amazing, so special. The vibe James and Scott Barton created at Cream in Liverpool was electric and that's why they sold out week in week out. I've never felt more at home than when I've been behind the decks in the Courtyard at Cream.
"I felt like one of the family. To this day you'll be hard pushed to find another club in the world with an atmosphere like that."
High praise but the magic of Cream is best captured by those who got hot and sweaty on its dance floor.
Regular Mike Lynch, 37, from Liverpool city centre says: "Cream isn't just a club. It's a brand that has taken them to international levels that other clubs could only dream of following.
"I could talk about every single night I spent there from 1992 right through to the new millennium, from the "full-on" Friday parties that went on till the small hours of the morning once a month, to the Saturday nights when clubs closed at 2am.
"My overriding memory is of the ground-breaking tunes and the fabulous people I met there, from some of the world's biggest DJs to the clubbing friends that I still see today.
"Kylie Minogue (she performed at Cream's second birthday in 1994, when she was signed to the club's Deconstruction label) defined Cream as cool; if I were to sum up Cream in one word it would be amazing."
Warrington mum-of-two Tracey Lunn, 40, recalls: "Apart from the stifling heat, condensation dripping on you from the ceiling and dancing next to speakers which belted out music so earth-shatteringly loud it made it feel like your chest was going to explode.
"I think my most vivid memory is of Jon of the Pleased Wimmin who DJed at Cream one Bonfire Night – I think it was 1994-ish. He was wearing a floor-length glamorous glittery gold ballgown and a huge beehive.
"I remember staring at him and being totally in awe – I had never seen anything quite like the spectacle before me in my life (I was only 22). My mates dared me to go over to him and tell him he looked fabulous but of course I didn't, being the wallflower I am.
"I also remember vividly being outside in the Courtyard and my mates begging to go home because they were shattered but I was having an amazing time and didn't want to stop dancing."
The Cream story began in October 1992 in what was the old Merseyside Academy in Wolstenholme Square (formerly Snobs disco and Russell's cabaret club before that and now the Annexe of Nation). Legend has it that 442 people were present.
Crosby DJ Yousef was among them. In the Cream book, released to celebrate the club's tenth birthday, he recalled: "The opening night was a blur because I was only 16 and I was in the coolest club around. It was good but nothing like as good as it would become."
Numbers dipped the second week but it was a blip, soon clubbers were flocking from around the country to dance there, much to the pleasure of founders Everton-born James Barton and Chester's Darren Hughes and in 1995 Cream joined the Liverpool Chamber of Commerce.
It hasn't all been plain sailing for Cream though. Darren quit the company in 1998 to run nightclub Home in London (Home closed in 2001 and he now concentrates his efforts on the We Love brand in Ibiza).
Then, feeling the backlash against superclubs at the turn of the century, Cream ceased regular Saturday nights in Liverpool to focus on three parties a year and its other projects including Cream Ibiza – which is itself 18 years old – and, of course, Creamfields.
Launched in 1998 in Winchester, the electronic music festival moved to Speke a year later and is now based at Daresbury, Cheshire. An award-winning operation, it is replicated around the world from Australia to Argentina.
Cream's ability to change with the times while not losing sight of the club's original ethos is evidenced by the birthday celebrations.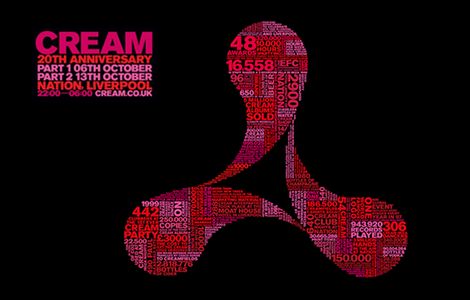 This weekend Nation will play host to some of the hottest DJs of the 21st century, among them Swedish House Mafia star Steve Angello and Eddie Halliwell, while next week the line-up is packed with the original "superstar DJs", the men who put Cream on the map.
In an unprecedented line-up of talent, Fatboy Slim, Paul Oakenfold, Pete Tong, Carl Cox, John Digweed and original Cream resident Paul Bleasdale are all on the bill. Both parties are sold out.
If proof were needed of Cream's global standing, in May of this year the brand was taken over by the entertainment company Live Nation in a buyout worth almost £14m.
"I am so proud of what Cream has achieved over the last 20 years," reflects James, 44, who following the Cream sale is now President of Electronic Dance Music for Live Nation and based over in Los Angeles (younger brother Scott has taken over as managing director of Cream in Liverpool). "When you look back you will see that this company has helped shape the landscape of popular culture.
"In 1992 when we first opened our doors the world was a very different place, Liverpool was a very different place, but together we have grown to become international brands. I am so pleased that in 2012 we are as creative, fresh and relevant as we were back in 1992 and as we move forward we are still growing internationally, but never forgetting that Liverpool is our home."
A pioneer, a survivor, a risk taker and of course a great place to party, perhaps Cream's success is best summed up by former regular Ron Taylor-Walker. Now 47, the company director recalls: "For six hours on a Saturday night Cream was the best place in the world."
Getintothis Creamfields picture gallery
Getintothis on Live Nation buying Cream.
Getintothis Creamfields review 2008
Getintothis Creamfields 2007 review
Comments
comments