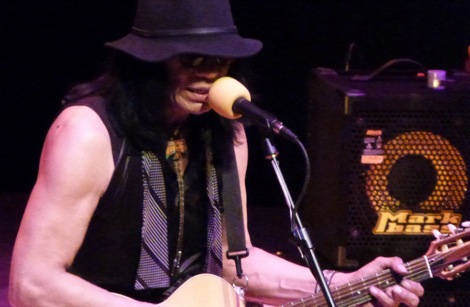 Sixto Rodriguez lands in Liverpool after decades in the wilderness, Getintothis' Peter Guy rocks up for this rare one-off.

There's good reason why a near-sell out crowd are giving a standing ovation as Sixto Rodriguez leaves the Liverpool Philharmonic stage.
No one thought he'd ever make it.
The back story for Rodriguez is almost the perfect folk fairytale. A blues myth turned reality complete with a happy ending. One which everyone can relate to and everyone champions it's finale.
The tale of an impoverished American of Mexican descent, who's struggled upbringing led to a song-writing 'career' from 1967-71 recounting the squalid hard times of inner city life.
Commercially his two records bombed, but, unbeknownst to Sixto (named as he was the sixth child), his music became the soundtrack to the anti-Apartheid movement in South Africa putting him on a par with the other icons of the era – The Beatles and Elvis Presley.
While Rodriguez returned to his humble home life back in Detroit as a demolition worker, roofer or car parts manufacturer, his legions of South African fans began mythologising over this music demi-god recounting fantastical stories including an on stage suicide.
This led to two superfans doggedly attempting to track down their idol and is captured beautifully in the 2012 docu-film Searching For Sugar Man. They found Sixto Rodriguez – and now he and his music find their way to Liverpool.
The 70-year-old is ushered on stage with the helping arm of Stew Jackson, guitarist of Phantom Limb – who tonight provide touring support and full backing band.
It's immediately apparent just how frail the American is, as he awkwardly adjusts his black Stetson, strands of black locks, hoicks up his black leather pants and readies himself – 'you look cool, la' comes the cry from the floor – and it's hard to argue.
Yet, from the opening bars, it's impossible to ignore the fragility of the leading man and how much he's being powered along by the overly-zealous Bristol-based quartet, who rather than treat his stripped back melodies with sensitivity too often stray towards flamboyancy.
Crucify Your Mind finds Rodriguez finger strumming wistfully but the billowing of Dan Moore's organ robs the life out it, leaving only Sixto's soulful voice. Likewise Inner City Blues starts with Rodriguez's grit-soaked vocal and featherweight guitar strum only to be overwhelmed by over-wrought guitars and jug-band beats and double bass.
If there's an overwhelming feeling, it's that we're in the presence of a special leading man, who is a mere ghost of his former self being propelled along by a group of able session musicians.
Throughout Jackson assists with his guitar while seemingly informing the rest of the band what number is set to follow. Indeed a pantomime version of All My Loving is tossed off early doors only to be trumped in the karaoke stakes with a quite ridiculous rendition of Blue Suede Shoes. Cruise Ships have heard worse.
The saving grace is that voice – I Wonder is as naked as any version tonight, as he rasps his larynx round lyrics 'I wonder how many times you've had sex, I wonder do you know who'll be next…' Hate Street Dialogue retains that biting snarl while Establishment Blues is a pure joy as Sixto relaxes into a skipping vocal scat.
Sugar Man is the one rare moment when band and leader coalesce with true magnificence, as Sixto's voice soars intertwined by Moore's haunting drones and deliciously delicate Matt Jones drumming. There's a beautiful symmetry at work.
There is one elongated jam which sees Jackson firing up his guitar Jack White-style which is another triumph, yet Rodriguez's input is a bare minimum.
The great irony of the evening is saved for the encore; Rodriguez often noted as the natural heir to Bob Dylan's crown, returns to the stage with a quite phenomenal cover of Like A Rolling Stone. It's not only stronger than any Dylan display we've witnessed ourselves (he was spectacularly awful last time out in Liverpool) but actually sounds more like Dylan than the man himself.
As he exits to rapturous applause we can't help thinking, though Rodriguez's time in the wilderness may have been a loss to music, we have Harvest Sun, Liverpool Philharmonic and a some dedicated South Africans to thank for witnessing one of the closing chapters in music's great stories.


Mellowtone's David McTague gives a personal account to Getintothis of Rodriguez and his music
Picture courtesy of Straight From The Fridge Man.
Comments
comments