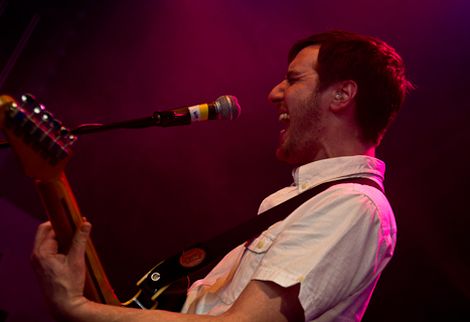 Wave Machines kick off their UK tour in front of a capacity crowd on home turf, Getintothis' Richard Lewis salutes their mechanised pop tumbles.

After their candid admission that the release of second album Pollen was delayed due to jettisoning material that didn't make the grade, the near-unanimous critical plaudits flung the band's way since its release prove whatever privations the band put themselves through, the struggle was worth it.
The group's live show provides ample proof, as while the four-piece despatch sure-fire first album crowd pleasers Punk Spirit and You Say the Stupidest Things with exacting precision, the darker, more challenging new material easily proves their equal.
Counting Birds led off by its spoken-word lament provides an early highpoint, the 'Heaven comes/Seven at a time' chorus refrain practically immovable from the listener's brain after initial exposure.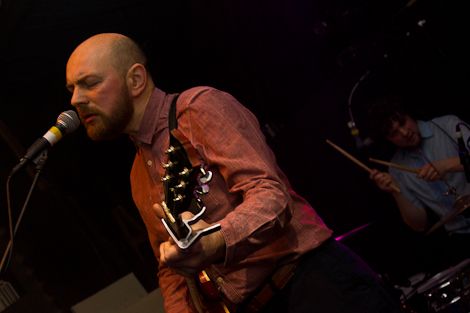 Wave Machines' Carl Brown and Vidar Norheim live at the Kazimier
The sublime electro-throb of Ill Fit, squirming like Hot Chip with itching powder down the back of their shirts receives one of the evening's biggest reactions, the dancefloor sparking into life as roughly three grand's worth of footwear begins to move in unison.
The Prince-ly pop groove of early gem I Go I Go I Go played soon after, shimmering along on refracted keyboard lines continues the trend.
With the balconies bathed in light courtesy of the Kaz's recently installed star-shaped mirrorball/light fitting, the venue briefly transforms into something resembling NYCs Danceteria.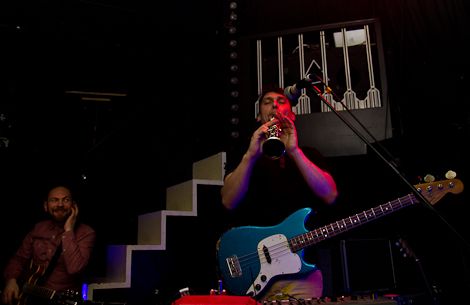 Wave Machines' James Walsh takes to the clarinet
Swapping instruments, trading lead vocals, furiously well-drilled throughout with the exception of one false start during the encore, the near 90 minute performance sees almost all of the band's compact back catalogue aired.
The longer the group's slivers of mechanised pop tumble from the stage the bigger the response to each track, concluding an excellent, slow-burning performance as midnight beckons.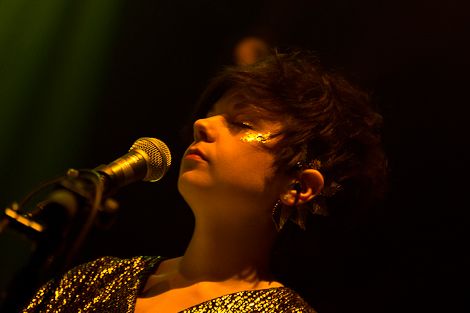 Golden Fables live at the Kazimier
Prior to the headliners, the elegiac pop of Golden Fable drew a sizable crowd, the duo, supplemented with a live drummer summoning up an expansive sound in thrall to the lusher end of the 1980s indie canon.
Led by Rebecca Palin's impressive voice, occasionally moving into Cocteau Twins/Liz Frazier wordless vocals, the trio created a wealth of fuzzy electronica, evoking New Order's more downbeat moments.


Pictures by Getintothis' Michelle Roberts.
Further reading.
Getintothis talks to Wave Machines ahead of release of Pollen and UK tour.
Getintothis on Wave Machines' Ill Fit
Getintothis on Wave Machines live with the Tea Street Band and more at the Kazimier.
Getintothis Wave Machines picture gallery at the Kazimier
Comments
comments