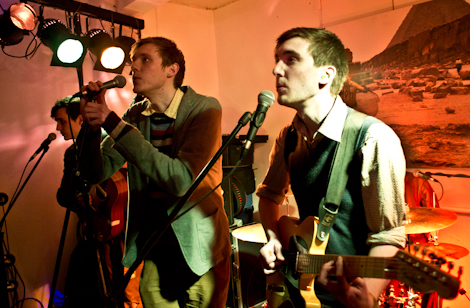 The Williamson Tunnels Fiesta continues it's charge to Bold Street as Spring Offensive head up a night of pageantry at Leaf. Getintothis' Laurie Cheeseman dabbles in a spot of alt-folk and face painting.

The Mumford and Sons assisted UK folk-pop explosion hasn't bypassed Liverpool.
Thankfully, Merseyside has become somewhat immune to the wave of beige over-zealously smudging out all the beautiful, more intricate, edges folk can produce.
Fiesta Bombarda, after a riotously successful outing at the Williamson Tunnels a few weeks back brings some of Liverpool's finest in the scene to one carnivalesque place – the fabulously glitter-balled Leaf Tea Shop.
Silent Sleep – one of those bands these ears have repeatedly missed despite a succession of gigs around Liverpool – thankfully tonight this changed, as they brought the party early doors with a set replete with good-time footstompin' indie folk and what sounded like an insane cover of the evergreen Come on Eileen (really?!? – Confused Live Ed).
As Getintothis began to get carried away by the ska-infused soundtracks the DJs were spinning, while also indulging in a spot of face paint action, we failed to even notice Hedda Aronssen's understated entrance on stage.
Reminiscent of Beach House – especially with the elegantly sultry Victoria Legrand-alike vocals. Her set came to a peak with Someone – any track which could sound twee yet menacing was bound to stand out from the monolithic slab of dream-like wonder. Still, no idea what the French horn player was doing on stage, though.

The carnival atmosphere intensified with the arrival of Great Plain Sundance, and what with all their jigging going down they recalled our primary school discos back in Bangor, County Down. Perfect for every self respecting student having a quarter life crisis.
The Harlequin Dynamite Marching Band increased the frenzy within the audience with their keys-assisted jazzy gypsy bangers. Imagine the Balkan Beat Project composing a dub version of the Ground Force theme – they were frankly awesome.
Sadly, the fey Bob Dylan stylings of James Canty dampened the fiesta spirit – and while there were intriguing elements to his work, he was an ill fit to a night which had built up a terrific momentum.
Spring Offensive soon rectified that. Their acoustic post-hardcore Not Waving But Drowning was the clear highlight of the night inducing an entire room to sing-along. Elsewhere, the lovely breakdown on Worry For My Heart was the idyllic soundtrack to a crisp winters morning.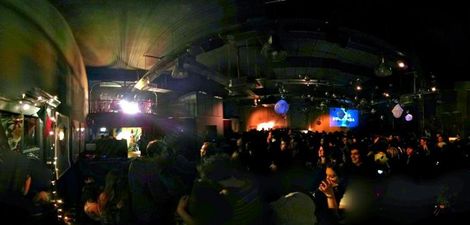 Leaf in bloom at the Fiesta by Tim Brennik
Secret guests, All We Are, emerged fresh from losing in the table tennis final of Noisy Table to Clinic at FACT.
Their surprise set from the balcony of Leaf was thrillingly polyrhythmic alt-folk which was simply breathtaking, despite playing to a noticeably emptier room. All that was left to wrap up an action-packed Bold Street Fiesta was Highfields, who completed the long evening in characteristically sprightly fashion. A triumph.
Getintothis on Fiesta Bombarda and the Williamson Tunnels.
Comments
comments