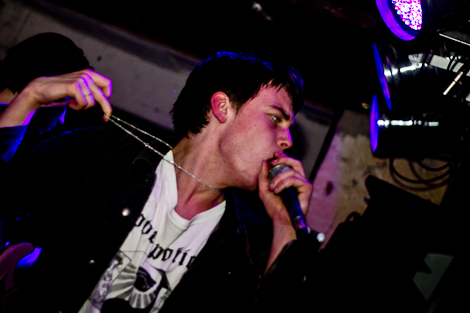 Iceage: pissed off, bored and showing little sign of growing up gracefully, Getintothis' Jonny Davis on the great Danes who steadfastly do it their way.

Post-punk, fascist imagery, Jewish drummer…what does it all mean!?
Well, frankly, not a lot. No level of conjecture surmounts to tangible fact and there are certainly no signs of Nazi sympathizing in the Shipping Forecast tonight. Just a f*ck-load of noise.
Eyes open with their own style of dissonant post-rock poetry, pivoting on hypnotic plucked distortion and ale-soaked tales recounted in anger.
Bad Meds attempt a more lighthearted approach with their gritty northern take on hardcore, going as far as closing with a song that recites a list of hardened towns (from Skem to Rotherham, the M62 and back up again to Maghull) followed by the shouted chorus 'It's grim up north'.
The characteristically ironic outlook of Hot Club De Paris' Paul Rafferty loosens the tension somewhat as the songs don't offer that much to cling on to. On a different bill, Bad Meds could enjoy a livelier response but they seem an ill fit amongst the oppressive seriousness of their surroundings.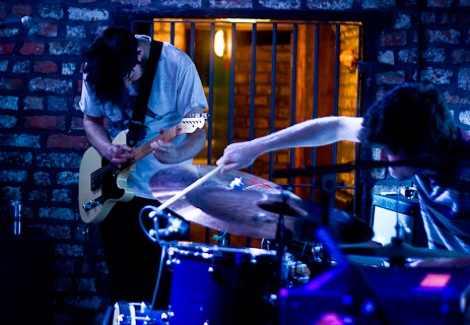 Bad Meds in full flight at the Shipping Forecast
Iceage tour support Puce Mary consists of Copenhagen-based Frederikke Hoffmeier and a stack of samplers and pedals.
He offers a pummeling set of harsh noise that undulates between curiosity and tedium. Mainly the latter. The intention is pure but the delivery lacks enough depth to hold the attention.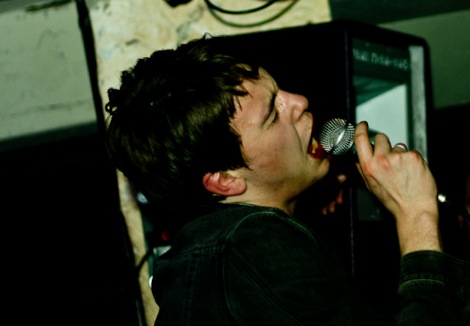 Iceage unleash the fury in Liverpool
The upshot of this punishing half-hour is that Iceage sound like the Beach Boys in comparison; a euphoria that is assisted by opening with Ecstasy from new album You're Nothing.
The single shimmers with pop sensibility coated in searing distortion; a statement of intent for their developing sound.
They continue to sonically tear the hold apart, manually instigating the pit when the crowd seemed stagnant.
Indeed early doors, it takes vocalist Elias Bender Rønnenfelt, assisted by an over-zealous member of their touring party, to energise a crowd distinctly redundant in enthusiasm.
For their part, the Danes remain indignantly indifferent. It's clear that they haven't changed since their electric Wolstenholme Creative Space performance last year. They still look fresh-faced, bored and pissed off.
Iceage have stared down the sophomore slump with teenage petulance. Let's hope they never grow old.
Further reading on Getintothis
Behind The Wall Of Sleep bring Iceage and sonics from beyond to Liverpool
Comments
comments