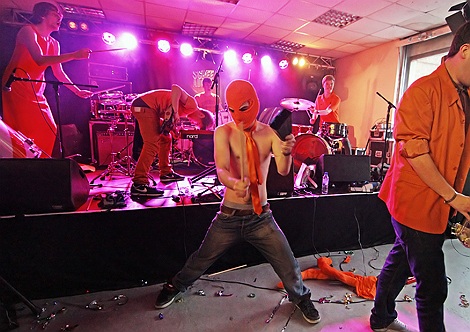 New Blood Club provides a second serving of fresh meat with Jazzhands and more providing juicy cuts.

New Blood Club returns to The Shipping Forecast on Wednesday March 13 with prog-noise heads Jazzhands and alt-rockers The Wretched Pearls heading the bill.
After a January sell out, New Blood Club promises to build on their debut bill which featured Coffee and Cakes For Funerals, Nadine Carina and The Cold One Hundred, with a new selection of Liverpool breakthrough artists and DJs.
Jazzhands return with their mixture of the brash and the bizarre bands blending rock, jazz and a four-strong rhythm section which makes them one Liverpool's most ferocious live acts.
The Wretched Pearls play ahead of the release of their debut single One Note. The six piece band cite a wide range of influences from Mogwai to Florence And The Machine, delivering a dark and theatrical alt-rock sound.

Bringing her own brand of infectious and unapologetic pop music is Israel-born singer Orian is no stranger to the Liverpool live circuit having featured at Liverpool Sound City and Threshold Festival 2012, as well supporting Willy Mason.
Completing the bill is baroque pop-rocker Polar Picnic, the creative brainchild of Highfields multi-instrumentalist Marius Rekstad, while 19-year-old Emilio Pinchi opens the night playing tracks from his new EP Popular Myth & Conflict. Tremendous.

Getintothis reviews New Blood Club featuring Coffee and Cakes For Funerals, The Cold One Hundred, Highfields, Collectors Club, Nadine Carina at The Shipping Forecast.
Getintothis Jazzhands picture gallery at Liverpool Sound City 2012.
Comments
comments