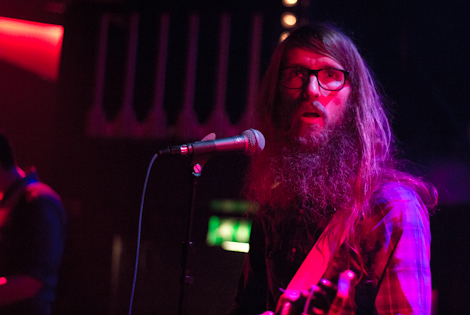 Maps & Atlases, Tall Ships and Ninetails provide three points of the prog-pop triangle, Getintothis' Emma Walsh rounds things up.

In need of an early-midweek pick-me-up and assured that The Kazimier's Tuesday night treat was unmissable, Getintothis gave up the golden opportunity to witness Manchester United's downfall and popped along just in time to catch Liverpool's champions-league-chasing Ninetails take to the stage.
Anticipation, among the so-far light crowd, was growing as the band tuned up, but we were more concerned that the drummer wasn't asthmatic as he was lost behind a dense cloud of dry ice.
Thankfully it didn't seem to put him off as the prog-pop-rock darlings sprang to life. However, after a strong instrumental flourish technical gremlins threatened to disrupt their set.
Undeterred, they set about weaving an incredibly fractured template which slipped seamlessly from the gentlest zephyr and tickling riff, to a surge of breathtaking noise. The audience were left so mesmerised they were too dazed to applaud the finale of their first offering – this is clearly a band that delight in keeping people on their toes.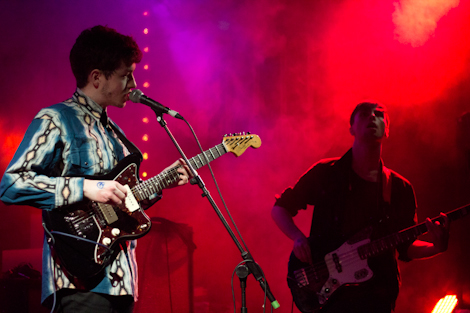 Ninetails' Ed and Phil under a blood red Kazimier.
Rocketing through their set, despite being crippled by a faulty microphone, it was disappointing to see them halted so abruptly – as bass player, Phil Morris appealed for one more, time was called and the zenith they'd been building up to was cruelly denied. But then, the first rule of rock, is always leave them wanting more.
Co-headliners Tall Ships bounced on stage with high energy at the get go, shaking everything they could get their hands on, from bells to tambourines to a couple of percussive eggs handily kept in their own cups balanced atop of the keyboard.
With huge math-rock sounds and ferocious intensity Tall Ships seem at war with themselves to monopolise the limelight at times. Yet everything works; every flurry of guitar and soaring chorus line compliments the next, though at times you really have to concentrate on the drummer to make sure he hasn't spontaneously sprouted an added dozen or so limbs.
The Battles influence is obvious but when lead singer Ric Phethean downed the guitar and took up the still temperamental microphone to sing a love song proceedings turned a tad MoR.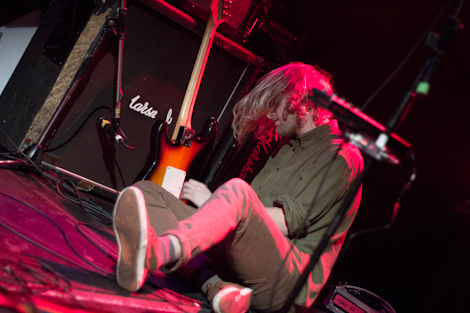 Tall Ships roll with it
With the backline hissing and the onstage sound close to awful, it was lucky the band had an armoury stock full of choice sounds, and thankfully when the rock anthems returned in full force – complete with a track about Phethean's mum – they were able to close with a full on assault of guitars. Oh, and plenty of rolling about on the floor. Not sure, mum would approve of that, boys.
It's always a promising start to a set when every band member takes to the stage armed with a fresh towel and some drumsticks. It equates to MEANING BUSINESS.
And with an elevated drum threatening to take out the front row of spectators, Maps and Atlases had the audience purring in anticipation.
Their softly-spoken introduction coupled with plucked twangy riffs hooked us in immediately; this was music to move your feet to – and so it proved as bass player Shiraz Dada practically moon-walked across the stage.
Mixing upbeat melodies, with heavy guitars, layered percussion, dynamic changes in pace and even a nod to some primal early Kings of Leon radio-friendly garage pop, Maps and Atlases soared from gentle lulls to ruptures of real rock-driven opuses.
Set highlight Fever showcased their inner Old Grey Whistle Test musicianship cloaked in a pop nugget which had you humming all the way home – sunny and sonically-challenging all the same.
They're easy on the eyes too, with lead singer Dave Davison's colossal beard radiating against the glowing bass drum beaming from the front of the stage.
With their mini-epic melodies inducing a spot of crowd swaying, and a spot of cowbell theatrics added to the mix, they bowl everyone over with a curveball cover of Tears for Fears' Everybody Wants To Rule The World. Bloody perfect – we've found a real treasure in Maps and Atlases.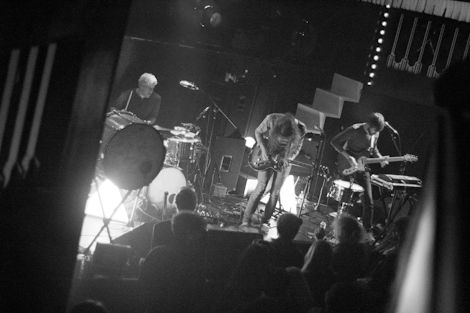 Maps and Atlases looking good, whatever the vantage point
Pictures by Getintothis' Matt Owen.
Further reading on Getintothis
Getintothis reviews Maps & Atlases' Perch Patchwork.
Getintothis reviews Tall Ships, Vasco Da Gama, Wot Gorilla? and Muto Leo at the Shipping Forecast.
Getintothis reviews Los Campesinos!, Tall Ships, Vasco da Gama at the O2 Academy.
Comments
comments