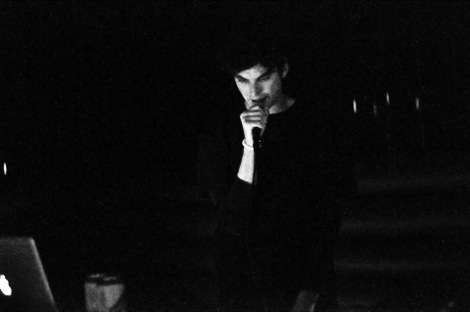 Liverpool's Deep Hedonia serve up a variety of electronic dishes in a new setting, Getintothis' Michael Everett has his appetite satiated.

The Deep Hedonia boys wait for no man and nowhere in their continuing sonic explorations.
Not only are they heading up their successful ARK nights at Dumbbells and bringing the likes of Laurel Halo and ITAL to town but now they're having a gander at the space beneath new Duke Street venue Brooklyn Mixer.
Tonight Palmistry, the London-based artist, brought his beats, a microphone, a sore throat and reverb. Lashings of reverb.
Before him was GhostChant, whose DJ set fitted right in with washed out spacious synths and straight up loyal garage beats. It induced feet tapping straight away.
A lot of bedroom producers leave the immediacy behind in favour of building atmospheres but GhostChant manages to play tunes that combine this aesthetic with a catchiness that serves him well. This was observed in his re-edit of Vegas by Taches. Classy stuff.

Tomasu, meanwhile, is a different kettle of fish. He creeps and creeks through the speakers. His sound is a little bit eerie. Coming off the back of an odd but compelling remix of Monsters by Wirral's own Bird he's one we'll be keeping tabs on for sure.
Palmistry eased his way in with songs such as (RIP Southhouse) Cutt; a hot R&B slow synth jam changing the direction of the night once again.
There are some real classic songs hidden beneath the wash of his plug-in laden effects. The poor blighter was running low with the dreaded lurgy but he still managed to vocally do the business.
In fact, such is the quality of his vocal tones, it could be brought to the fore a touch more. There's no shame in showing off a good voice; showcased beautifully on another corking tune Night Truths.
Strangely enough, remnants of The Commodores' Nightshift fed through some weird echo chamber kept springing to our already cocktail-addled mind. We loved it.
There was a constant ebb and flow of different people looking on which could work well here at t'Mixer. Dumbbells and The Kazimier are great venues in their own right, and they're strength lie in an often familiar, supportive crowd.
Yet, Brooklyn Mixer could introduce leftfield music to more than just the same people. Given how busy it is with passing trade upstairs, many people popped their heads in over the course of the evening and early morning hours, lending the evening a club night atmosphere rather than that of a live music, gigging venue vibe.
On the one hand, this worked well, on the other there was somewhat of an indifferent listening approach, with the music providing a mere background touch to those planning an evening on the ale.
It certainly was, however, a refreshing change to see such music being tried out in a more mainstream arena.
It was one long night, and by the time Sun Drums' Sam Twidale aka Acrobat took to the controls, we found ourselves enjoying proceedings a bit too much, as our hips engaged where our brain failed to.
It will be interesting to see what Twidale does next with Sun Drums being split geographically across the UK. Another success for the Deep Hedonia crew and hopefully they'll be plenty more to savour from Palmistry and co. in the near future.

Further reading on Getintothis
Deep Hedonia's ARK02: Lunar Modular, Afternaut, Bantam Lions, GhostChant, Acrobat, Kepla, JULIAN: Drop the Dumbells
Deep Hedonia drop ARK01 mixtape
Ital, Isocore, Forest Swords, Hive Collective: Shipping Forecast
Holy Other, Vessel, Fort Romeau: Blade Factory, at Camp and Furnace
Deep Hedonia's Acrobat drops new mix.
Comments
comments