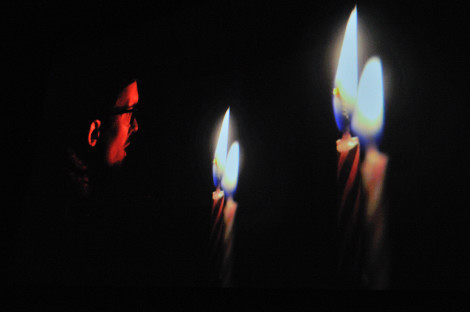 Loved Ones and All We Are premier new promo videos while Esco Williams, Wicked Whispers, Forest Swords and Stealing Sheep contribute to Getintothis' night of musical inspiration at FACT.

Liverpool musicians, artists and film-makers collaborated for a celebratory evening at FACT showing their new promo videos and reflecting on their inspirations.
Inner Visions, a night organised by Getintothis, brought together some of Liverpool's finest emerging music acts as part of FACT's The Art Of The Pop Video exhibition.
The evening, held as part of Liverpool's Light Night programme, was free and open to the public, saw All We Are, Forest Swords, Loved Ones, Stealing Sheep, Wicked Whispers and Esco Williams all introduce new videos alongside a selection of directors Ian Gamester and Mike Snowdon.
Each of the artists also selected one video which has influenced their music, visual identity, film-making or creative ideas.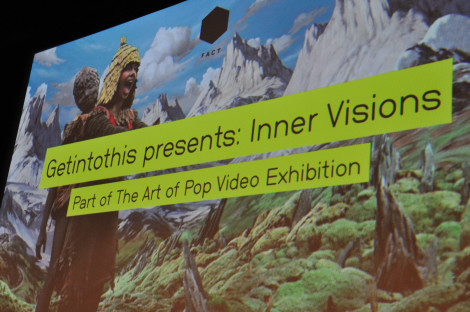 Getintothis' Peter Guy introduced the artists and explained why they were selected
MOBO Award winner Esco Williams kicked proceedings off recounting how he hooked up with Award winning film-maker Ian Gamester at the inaugural GIT Award at Leaf in April 2012.
Gamester, who's short-film Kitty's MES was shortlisted at the Virgin Media Awards, said it was Esco's charisma, live presence and affinity with video games inspired the debut promo Here Comes The New Challenger – which like most of the promos shown at Inner Visions were shot around various destinations in Liverpool.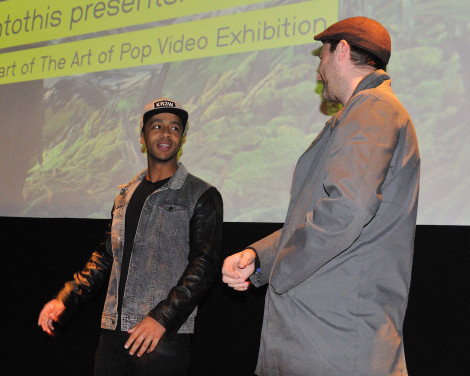 Esco Williams and Ian Gamester at Inner Visions at FACT
Esco, meanwhile chose Frank Ocean's Pyramids for it's fantastical and epic imagery – before apologising for it's 'naughty, explicit content'.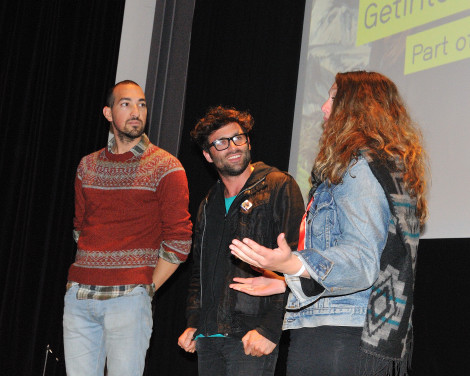 All We Are at Inner Visions at FACT
All We Are gave Inner Visions an exclusive premier showing of their debut single video Utmost Good which was shot in ultra DIY fashion by the band's Luis Santos and features many of the group's friends and contemporaries. The band chose to show Connan Mockasin's Faking Jazz Together because of the DIY aesthetic and haunting imagery.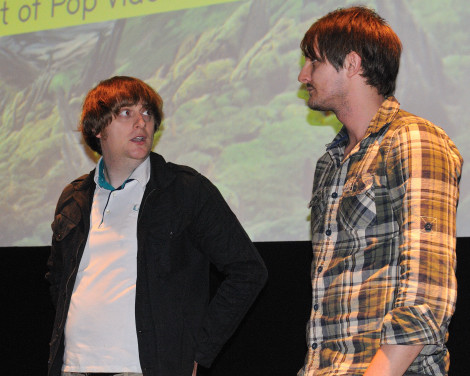 Wicked Whispers' Michael Murphy and director Mike-Snowdon
Psych-rock outfit Wicked Whispers injected a retro-futurist feel into the evening with their new video, Voodoo Moon, shot by director Michael Snowdon.
The art of storytelling, romanticism and Wirral's Thornton Manor in Thornton Hough all played their part in a beautiful piece. The band's Michael Murphy introduced his inspirational pick as The Beatles' Strawberry Fields Forever – a 'natural, obvious' classic which reminded him of why he started song-writing.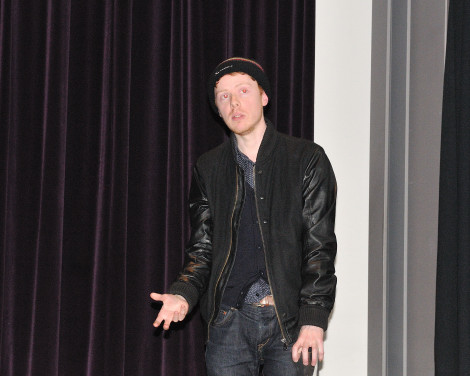 Forest Swords at Inner Visions in Liverpool
Forest Swords' Matthew Barnes recounted his love for found footage and how he constructed his videos from American public information videos given to him by a friend.
Through the use of his music choreographed to the strange, almost otherworldly footage of mundane, everyday life Forest Swords' Rattling Cage video was both hard-hitting yet compulsive viewing despite showing what was otherwise simple imagery. Matt chose to show Lana Del Rey's Video Games, again, for it's simple yet stunning use of found footage.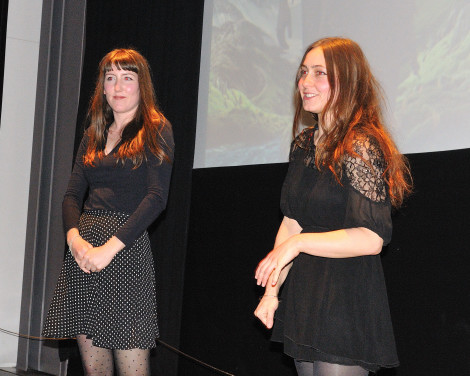 Stealing Sheep's Emily and Becky at FACT for Inner Visions
Stealing Sheep talked about the complex, often frustrating and costly process, that goes into making ambitious yet fiercely independent videos while noting how the collaborative spirit of Liverpool's arts scene contributes to such a healthy working scene.
Their video Rearrange, shot by long-time collaborator and director Jack Whiteley depicts an army of factory workers forever mining Diamonds for a beast with an insatiable appetite – a concept very much behind their debut album Into The Diamond Sun.
The group chose to show El Guincho's provocative promo Bombay which certainly provoked a reaction inside FACT's Box theatre.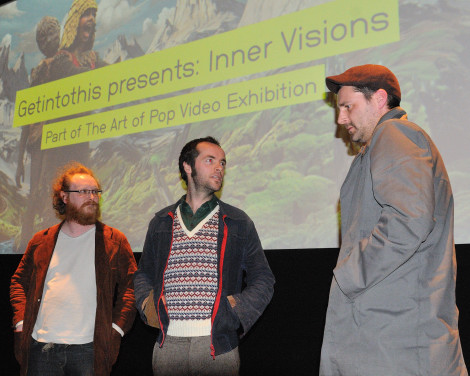 Loved Ones and Ian Gamester at Inner Visions
The final band of the evening was inaugural GIT Award winners Loved Ones, who surprised the audience with a premier of their own – showing new single Paper Crown – out in June on Liverpool label Baltic Sub.
The video marked the second collaboration with Ian Gamester, who shot their debut promo Weekends Are Ours as part of the prize for winning the GIT Award.
Rich Hurst and Ben Shooter of the band reflected on the effects used within the Weekends video which inspired the main theme used in Paper Crown – a stunning use of light and refracted colour twinned to the draining of birthday candles.
Songwriter Nik Glover, meanwhile, chose the hellish computer game imagery of Lorn's Weigh Me Down as their inspiration pick.
Fascinating, funny and hugely uplifting, Inner Visions provided a rare and thought-provoking insight into the mechanics of Liverpool's artistic world. An inspirational night indeed.

Pictures by Getintothis' Gaz Jones.
Comments
comments