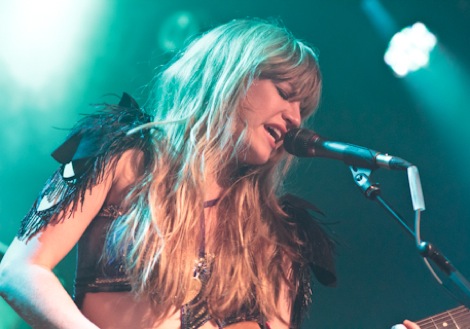 Deap Vally juxtapose their femininity with brash abrasive thrashing, Getintothis' Mike Townsend assesses the latest supposed saviours of rock and roll.

The lights dim on a thinly scattered audience as LA duo Deap Vally take to the stage. Having recently signed to Island, Lindsey Troy and Julie Edwards find themselves in the unenviable position of being this years adopted Rock and Roll saviours.
In a genre that, like it or not, is so often dominated by male bravado, Deap Vally play on their femininity to fascinating effect. The Daisy Duke hot pants, the broken love heart backdrop, all deliberately juxtaposing the brash, abrasive nature of their music in a way that says fuck you to anyone who thinks they don't belong.
They are aware that for some, their appearance will be the first point of comment, so in this way, by laying it all on the line, they are closing the conversation before it can even begin.
Baby I Can Hell provide the perfect outlet for Troy to flex her front-woman muscle, almost winking as she snarls, 'Baby won't you love me'.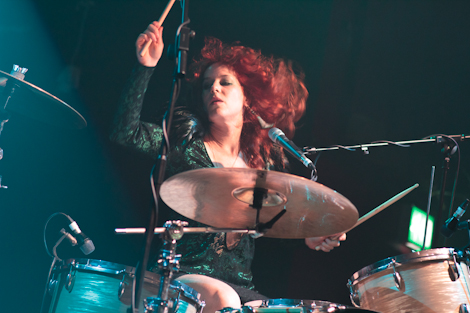 Deap Vally live at East Village Arts Club
The bluesy, scuzzy guitars of Lies certainly pack a punch, but those falling oohs and rising aahhs (see The Black Keys) are difficult to stomach after witnessing the wildly charismatic and exciting way they carry themselves.
There is a glaring lack of originality in some of these songs, and in a sub-genre with so few contemporary success stories, there aren't many places to hide.
An unnamed new song follows, as Edwards thumping bass drum kicks off a blistering display of bravado and energy. And this is where Deap Vally really excel; in 4/4 time, with a pounding beat behind them, ripping through the song as if they are playing ten times too quickly.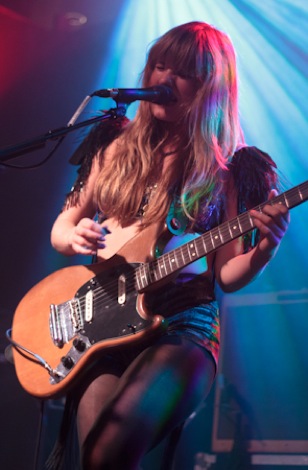 When annexing aspects of your contemporaries is what forms your sound, songs need to be judged on the energy they instil with the audience, the memories they provoke, the way in which they are delivered. No one has ever listened to The White Stripes and buckled at a moment of melodic beauty.
Tonight's best moments are when Deap Vally play like they're comfortable with their broken sound. There is a lot to treasure here, if they could step out of those enormous shadows.


Earlier we catch the last few gasps of a fleeting Sugarmen set which promises much from a band that have caught the imagination of their peers and the wider Liverpool music cognoscenti.
Sankofa must wake up every morning in despair that it isn't 1975. While it would be doing them a disservice to call them revivalists, there isn't much about them that belongs in this decade.
This is with the greatest of compliments of course. Bands spend careers trying to cultivate this kind of passé aesthetic that falls off these guys so easily.
With available recorded out put limited to one double A-side single, Sankofa have picked up a wide range of support among Liverpool press, culminating in a request from renowned illustrator John Van Hamersveld (Rolling Stones, Beatles, Grateful Dead) to design the artwork for their next release.
Sea of Sighs and Low Winter sun test East Village Arts Club's foundations to their limits, as galloping riffs provide a platform for Stephen Wall's remarkably clean vocals to soar menacingly above.
The decision to bring in Adam Daulby on keys reaps its rewards during Gutter Mouth and Makers Mark, with his meandering organ sitting comfortably alongside these brash, hedonistic guitars, keeping these songs rooted and more significantly; keeping them human.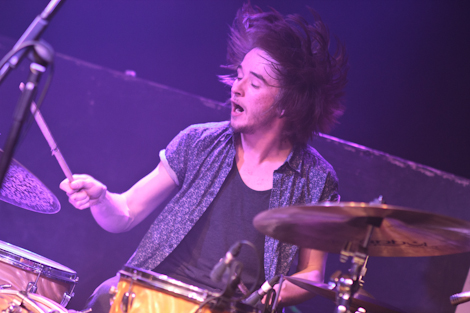 Sankofa live at East Village Arts Club
There is often a stigma attached to bands who revel in nostalgia, lumbered with terms like pastiche and escapism as if there only purpose is to remind audiences that clinging onto the past is better than drowning in the present.
Far from clinging onto this though, these guys are authentically and unashamedly emulating a classic sound with the assurance of a young band on their way to finding a more singular voice. This is demonstrated by their final number: the sprawling, raucous opus that is Siren Song (Part One and Two), as those overdrive guitars emerge from a sea of feedback to introduce the most ludicrous, the most outrageous yet most exhilarating ten minutes of live music.
There is a fine line between the audacious and the preposterous, and you wont find a song coming out of Liverpool this year that treads it so memorably as this one.
Pictures by Getintothis' Matt Owen.
Further reading on Getintothis
Deap Vally talk to Getintothis: 'Liverpool get ready we're going to melt some faces.'
Review: Deap Vally, The Wild Eyes, The Dirty Rivers: The Shipping Forecast, Liverpool.
Picture Gallery: Deap Vally, The Wild Eyes, The Dirty Rivers: The Shipping Forecast.
Comments
comments