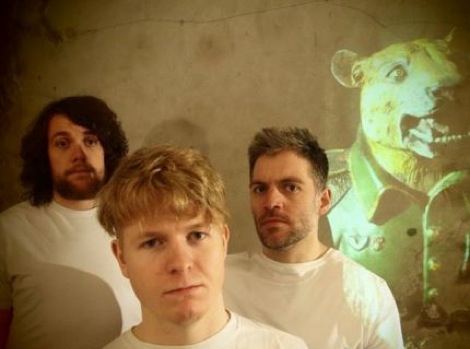 Alpha Male Tea Party are a little more than just cucumber sandwiches and silver service, Getintothis' Joseph Viney profiles the chaotic trio as their latest EP – the marvellously titled Real Ale and Model Rail: A Lonely Man's Guide To Not Committing Suicide – finds them mixing it with the national music press – and Nuts.

Getintothis first saw Alpha Male Tea Party (AMTP) on a cold midweek night at the Shipping Forecast two or three years ago.
Supporting Northern Irish madmen Adebisi Shank, the show wasn't without its problems. The headliners had locked themselves out of their van, their gear still inside.
With a call-out being too costly and time-consuming, Adebisi Shank resorted to more primitive measures and simply smashed their way back into their vehicle.
It might have been construed as a bad omen, but the show was good enough to live strong in the memory even to this day.
However, it was AMTP that made the strongest impression that night.
Guitarist Tom Peters strode out onto the stage as bold as brass in NHS specs, what seemed to be lederhosen and a shirt brighter than a solar flare at a Mensa meeting.
Only their second gig, they were rough and ready but there was enough in the foundations to warrant plenty of promise. Quite frankly ladies and gentlemen, perhaps against all the odds, it was love at first sight.
Fast-forward to the present day and AMTP are positioned to make a real go of it.
Not only have various quarters of the press slathered over them like ketchup on a brand new white t-shirt, but they've even awoken some of the 'less traditional' corners of the music reporting market; staunchly conservative and not at all softcore pornography for betas Nuts magazine saw fit to give them space and prominence.
Well, if that isn't an airstrike on an ammunition dump in the culture wars then we don't know what it is.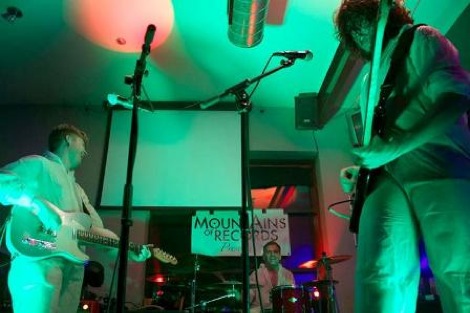 Another quiet night in for Alpha Male Tea Party
Comprised of Tom Peters (guitar/vocals), Ben Griffiths (bass/vocals) and Greg Chapman (drums/swearing), this most intriguing of trios are bringing about, in their own words, an "aggressive sexual calypso".
What does that even mean? It's hard to tell, but bizarre wordplay is very much a cornerstone of what they do.
Their music is a smorgasbord of madness; time signatures like prime numbers, gnarled riffs, frenetic drumming and, eventually, moments of calm so we can all catch a breather.
Their latest release, the fantastically-titled EP Real Ale and Model Rail: A Lonely Man's Guide To Not Committing Suicide (coming to fudge up a tweet near you soon!) contains all of these elements.
Songs such as Taste Like Dog, Go To The Ant, You Sluggard and Boris Bike Briefcase Man might sound like the kind of mental experiments bands like The Residents were capable of, but end up grabbing you by the face and launching you this way and that way.
The EP's centrepiece and outstanding track is the rather intimidating Truffles. If the apocalyptic mess that comprises it doesn't hook you, then the relentless nature of it will.
The video below is a perfect summation of Alpha Male Tea Party: studious but surreal, insane but intense.
Alpha Male Tea Party play The Caledonia with with cleft, Vasquez and Muto Leo on Sunday October 20, 7pm.

Real Ale and Model Rail: A Lonely Man's Guide To Not Committing Suicide is out now on Superstar Destroyer Records.
Further reading on Getintothis:
Fang Island, No Spill Blood, Alpha Male Tea Party, Clang Boom Steam: The Kazimier, Liverpool
Alpha Male Tea Party, Axes: Bold Street Coffee, Liverpool
Alpha Male Tea Party, Dead Sea Apes, Lost In The Riots, Some Rabbits: Mello Mello, Liverpool
Muto Leo, Alright the Captain, Hillary and The Democrats, Alpha Male Tea Party, Kusanagi, 8mm Orchestra: Mello Mello, Liverpool – Picture gallery
Liverpool Sound City 2013: Sheepy, Alpha Male Tea Party, The Not Amused, Palm Reader, Matzka, Enter Shikari: Mello Mello, Screenadelica, The Attic, O2 Academy
Comments
comments