Buke & Gase brought their dazzling batch of homemade instruments to the Kazimier, Getintothis' Jonny Davis cast caution to the wind and got with the flow.

The Harlequin Dynamite Marching Band bring sunshine into the Kazimier on this rainiest of evenings with their blend of circus grooves and liberal brass outbursts.
Featuring a healthy number of musicians semi-circling the ringleader (Barberos' Joel Murray), the Harlequin Dynamite Marching Band are a lot of fun.
Colourful, diverse and so very Kazimier.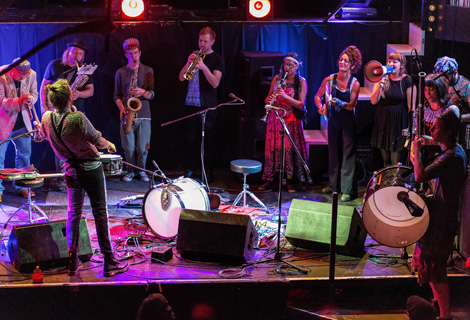 Harlequin Dynamite Marching Band at the Kazimier, Liverpool
For just two people, Buke & Gase make a rich tapestry of sound.
It is often difficult to gauge where each sound originates from so perhaps it's best not to try. Just let it pulse over you in all its spiky, cacophonous glory.
With homemade instruments pushed through octaver pedals, the sound is doubled and given a steroid injection.
In some respects Buke & Gase nestle in the sweet spot between Tuneyards and Dirty Projectors; DIY and dirty yet archly astute in both composition and melody.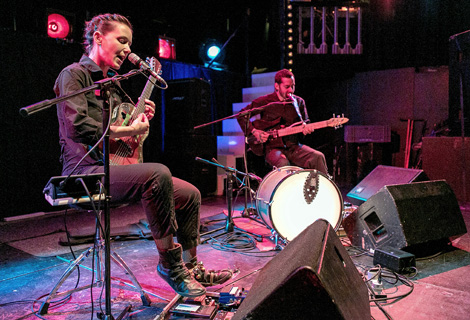 Buke & Gase at the Kazimier, Liverpool
Arone Dyer's voice is on top form, whizzing through scales and trills with ease and dexterity whilst the cleverly titled toe-bourine of Aron Sanchez keeps perfect time.
Tonight is a quirky event; a celebration of the off-beat and a demonstration of the potential achievements of a vibrant imagination.
Pictures by Getintothis' Tomas Adam.
Further reading on Getintothis:
Liverpool music 2013: Highs, lows and best of year so far
Liverpool's gig calendar 2013: Guide to essential gigs not to miss the rest of this year
The Kazimier Garden in bloom to save summer in Liverpool
Shangaan Electro feat Auntie Flo: The Kazimier Garden, Liverpool
Comments
comments