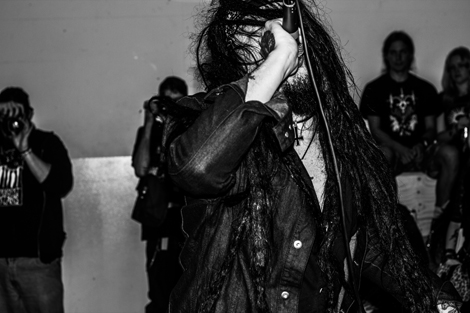 Prosthetic Records' Dragged Into Sunlight head up a disparate collective of metal outfits, Getintothis' Mark Greenwood slices through the mayhem to find a recycled art form undergoing a captivating change.

It appears apt that Getintothis finds ourselves in the post-industrial setting of Blade Factory for tonight's line-up of sonic violence.
The space, formerly a site where tools for butchering, cutting and slicing were manufactured from industrial waste, is sparse and understated – a cold block perhaps appropriate to tonight's labours.
After receiving an obligatory inverted, black cross on our left hand we settle down with a can of lager, eager to be initiated into a series of dark rituals evoked by skulls, shadows and a sublime backline of monolithic amps. Despite an early start, there's a decent turn out for openers Crypt Lurker. Living up to their description of 'subterranean ritual doom', the band delivers a steady and prolonged hammer blow to the lower intestines.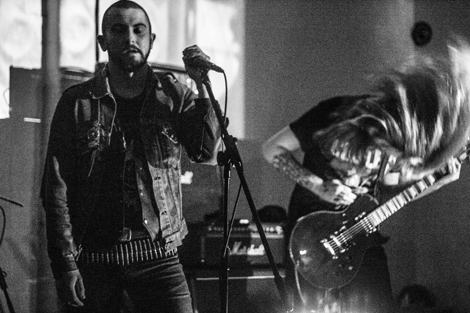 Crypt Lurker at Blade Factory
Steady black slabs of pounding percussion and slow repetitive riffs ensure assertive nods around the room, while a human skull casts eerie shapes on a montage of funeral processions and necromancy. Crypt Lurker show plenty of promise and need more gigs under their belt – they appear unconvinced of their own potential at times but we're sure that with more confidence they are more than capable of matching the intense energy that, performance-wise, their music deserves.
On our past visits to Blade Factory there have been some issues with sound quality. Tonight the venue has found the right balance between volume and clarity. This is pronounced by Manatees as the Cumbrian trio offer a more turbulent approach to an intense and malicious sonic groove.
Their music is as ominous as a ticking bomb, moving between precise mechanic assemblages and pummelling drones. Flashes of frenzied guitar inscribe intense shapes against layers of sludge, congealed around a visceral cacophony of dirty bass and massive drums.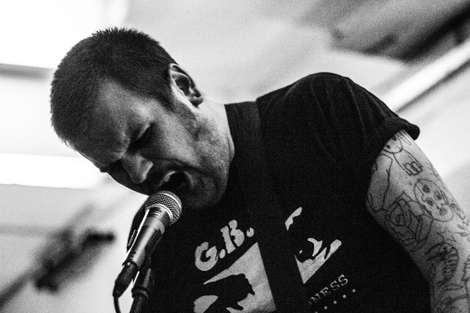 Manatees at Blade Factory
Manatees set a slightly different tone to the night, garnered more towards a post-punk sensibility than a strictly metal one. Nonetheless, the Blade Factory crowd appear ambivalent towards any forms of pedantic nit-picking as they warmly applaud an industrious set.
Squirming like thick black eels in a bucket of diesel, Lazarus Blackstar (main picture) are the next band to infest the audience with their vehement brand of poisonous doom. The band proficiently recites an unholy feast of frost-bitten gore while their vocalist pushes the crowd around like a demented scarecrow, a microphone hanging from his mouth like a crude breathing prosthesis.
Despite an uncomfortable silence from a nervous audience the band are undaunted and unrelenting as they pour more aggression into Blade Factory, proving themselves to be formidable exponents of plague ravaged noise.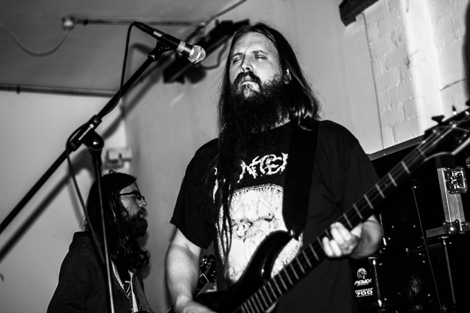 BONG at Blade Factory
With only the dark illumination of an emergency exit sign, BONG are the next band to invoke malevolent spirits into an atmosphere increasingly charged by Red Stripe and exotic strains of black pollen.
A blurred, broken retina of doom and psychedelia slowly blinks to a metronome inspired by a giant swinging pendulum. The audience appear locked in a mysterious drone, as bodies synchronise and sway to a hypnotic, visceral throb. We fall into the reverie of an opiate, minimalist darkness, abruptly disturbed by the glow of houselights that signal an end to BONG's magnetic incantations.
We've eagerly anticipated Dragged Into Sunlight for some time now. The media offered on their website allows disturbing insight into a sincere and intelligently articulated utterance of frightening metal. Their records describe the dark materiality of fear, with calculated writing that mirrors a Crowley-esque and De-Saden obsession with magic and torture.
In the flesh, the band members appear diabolically possessed as they push and strain with backs turned, on invisible leashes to an ominous pulse that eventually explodes into a cannibalistic mania of shock and awe. The band are framed by a structure of skulls, totems and candles that grimly flicker and dance to an unrepentant strobe.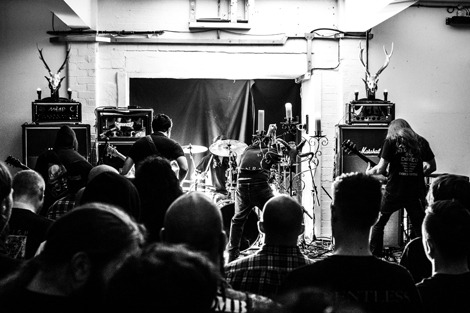 Dragged into Sunlight at Blade Factory
Boiled Angel and Buried with Leaches are savagely executed with the precision of a hot razor blade, as murderous confessions meander in foul vapours. Dragged into Sunlight are easily one of the most brutal and heaviest bands we've ever witnessed, effortlessly shifting through complex blast beats, to heavy death-core riffs, fastidiously focused on persistent pain.
Their set renders us a hopeless addict, hungry for more and impatiently waiting for the next time they play in Liverpool. This unforgettable gig faithfully demonstrated, that despite its necromantic tendencies and macabre fascinations, the alchemic and mystical practice of recycling metal into new forms continues to thrive in Liverpool's Baltic Triangle.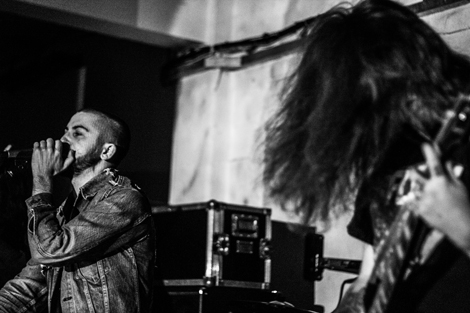 Crypt Lurker at Blade Factory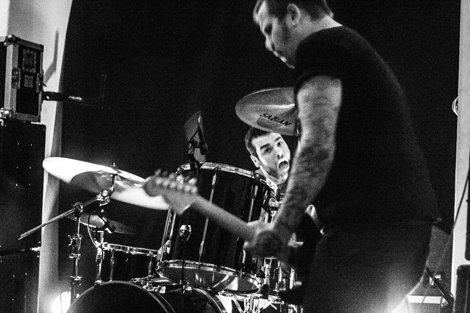 Manatees at Blade Factory


BONG at Blade Factory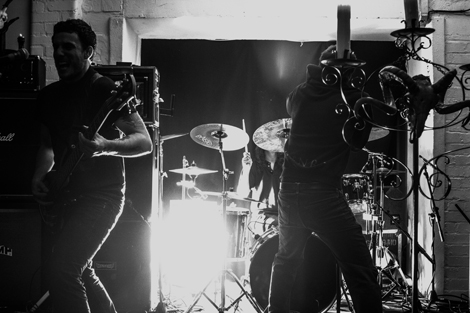 Dragged into Sunlight at Blade Factory
Pictures by Getintothis' Chris Everett.
Further reading on Getintothis:
Conan set for Zanzibar Liverpool homecoming as they open Skyhammer Studios for business.
Trash Talk, Alpha and Omega, Asteroid Boys, Iron Witch: Blade Factory, Camp and Furnace, Liverpool.
Unloved and Unrepentant: Liverpool's metal scene unpicked.
Getintothis Top 100 Albums of 2012: A Year In Review.
Comments
comments