Drenge are riding high as one of the acts to watch, Getintothis' Laurie Cheeseman found the duo happy to play the game, but maybe a bit ahead of schedule.

Excitement is riding in high in Liverpool as the latest band to roll off the hype-wagon, Drenge, come to town. Are they worth the hype?
We'll have to see, but first Dirty Rivers throw their tuppence worth of noise in. Some would say it's a bit too noisy, but isn't that what you want from Liverpool's favourite dirty rock'n'roll band, or any rock'n'roll band for that matter?
Especially one whose singer's on stage bravado is your classic garage-Jagger, all yelps and backed up by some dirty-as-you-like hairy riffs and spiralling, swirling cosmic guitars.
All too often at gigs these days, there ain't no fear. Fear of being stomped on. Fear of being leapt on. The fear that anything could go down. It won't like because this is gig life in David Cameron's Britain, but still it's nice to have that rare feeling danger.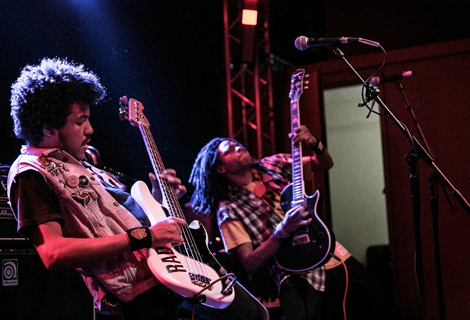 Radkey at East Village Arts Club, Liverpool
Radkey, on their first UK tour, at least project some of that fear, something you should really have garnered from their bassist Isiah's OFF! t-shirt and the frankly ridiculously amazing Bad Brains-aping beats.
But really they're just adorable. Isiah's bouncy banter is in brilliant disconnect with the music they peddle.
It certainly says something when even a band's slower moments are more frenzies and psychotic than the other two bands could produce, and typically for an old-school hardcore band there's no designated singer (how refreshing), leaving Isiah free to yelp and provide the histrionics all he likes. All of this leaves everyone asking, how can Drenge top that?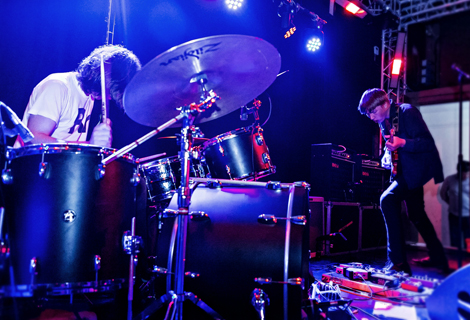 Drenge at East Village Arts Club, Liverpool
Initially, the machine gun drums, unintelligible groans and hellfire riffage blow Radkey outta the water. Even the un-understandable lyrics manage to pack an emotional punch, if only for Eoin's dramatic yelps and groans peppering their slender set.
Imagine if Jack White had listened to less of Kick Out The Jams and more Back In The USA, that's sort of it.
They also crib some of that old fashioned danger and surliness which comes to a head in the nights only respite in high energy hijinks; droneathons Fuck About and Let's Pretend which bring about a genuine lull damaging the carefully maintained momentum.
Still it's nice to see rock doing it's live thing properly again, and given Drenge are in their infancy we can forgive these minor missteps in a hugely entertaining evening which can be measured in the amount of liquid our bodies lost. Gallons.
Pictures by Getintothis' Tomas Adam.
Further reading on Getintothis:
Liverpool Sound City 2013 round-up feat. Drenge
Dirty Rivers: The Kid
Mystery Jets, The Dirty Rivers, The Razz, Sankofa: East Village Arts Club, Liverpool
Comments
comments