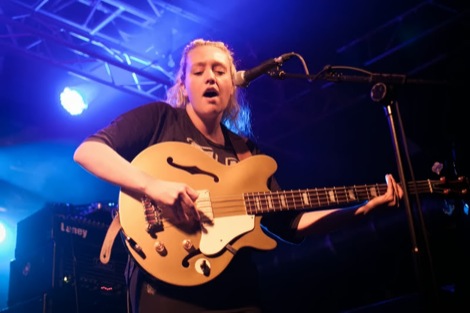 Everything Everything's last-minute cancellation had the potential to scupper the night, but Getintothis' Emma Walsh found two support acts more than willing to step up.

Following two sold out nights at The Ritz in Manchester, Everything Everything were expected to sail into their headline slot at the O2 Academy on the crest of a big buzzing wave.
With not one but two stellar supports on the bill, Sunday was shaping up to be one of the most anticipated nights in the gigging calendar.
But with singer Jonathan Higgs' voice apparently shot after their powerhouse performances in Manchester, it was not so much Everything Everything but Nothing Nothing as the band pulled out of the performance right at the very last minute.
Apologies and reassurances of a rescheduled gig on Thursday December 5 did little to lift the now very damp spirits of the Academy.
But thankfully before all the disappointment the crowd enjoyed a sublime homecoming performance from All We Are and a blinding set from Dutch Uncles (interpretive dance included as standard).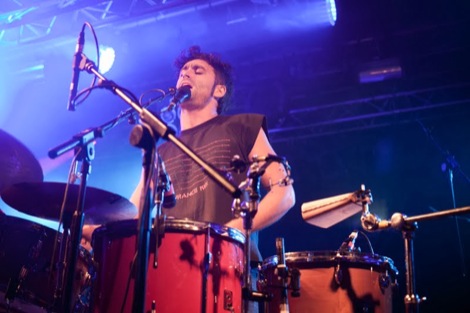 All We Are at O2 Academy, Liverpool
Perhaps tired of explaining the various national origins of their members, All We Are introduced themselves last night as being from "Tocky", and while their accents might give them away, their genuine delight to be 'home' after touring with Everything Everything confirmed them as honorary scousers.
Delivering characteristic astral-psych sounds and singalong pop melodies bathed in the pinks and blues of the stage lights, there's almost a dreamlike atmosphere to All We Are's performance.
The crowd rock from side to side almost as one entity, lulled into a happy trance by the trio's charm. It was a shame then to hear the band announce their final song, but you can hardly complain about any excuse to hear Utmost Good again.
Even in the absence of Everything Everything, there isn't time or space to truly do justice to the moves and shapes thrown on stage by Dutch Uncles lead singer Duncan Wallis, who I assume has been transported to the O2 directly from the 1980s physics classroom where he belongs.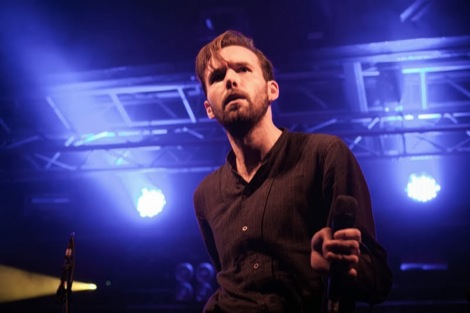 Dutch Uncles at O2 Academy, Liverpool
Despite dressing, sounding and dancing like your dad, Wallis is something of an indie rock god, so much so he once had an Almost Famous Burger named after him in his native Manchester.
The band have been making valiant efforts to bring back the xylophone, even double-teaming on Threads and orchestrating the audience's applause with the sticks.
Besides Wallis' interpretive dance moves and bassist Robin Richards' bowl cut, there is something undeniably 80s about Dutch Uncles' sound.
There are shades of The Boys of Summer in some of the licks but with an edge that plants the band right back in the noughties, if a little left of the mainstream.
As Dutch Uncles reached a buzzing climax the crowd had reached excitement levels so primal that David Attenborough could have made them the subject of a BBC nature documentary, only to be shot down dead by the sorry announcement of Everything Everything's withdrawal.
It seemed a shame the announcement couldn't have been made early enough for either All We Are or Dutch Uncles to perhaps fill the void, but then it was also very nice to get home in time to catch Downton Abbey on the plus one. Swings and roundabouts.
Pictures by Getintothis' Marie Hazelwood.
Further reading on Getintothis:
Everything Everything: O2 Academy, Liverpool
Stealing Sheep, All We Are: East Village Arts Club, Liverpool
Summercamp Festival 2013 feat. Dutch Uncles
Comments
comments