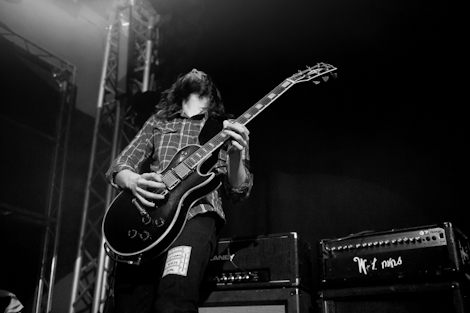 Wet Nuns play Liverpool during their farewell tour, Getintothis' Mark Greenwood revelled in their carcrash of amphetamine fuelled blues rock ebullience.

One of the best things about the East Village Arts Club is that it's relatively close to The Swan, which is the perfect place for a pre-gig pint, despite the flies.
We say this because EVAC's bar is very limited and vastly over-priced which doesn't put Getintothis in the best of moods for an event which sadly marks the last appearance of Wet Nuns in Liverpool.
Aeroplane Flies High (AFH) are in full swing as the night's first act, soaring through a brief yet tight set of grungy sub-pop.
The two guitars/drums line up is unusual but functional, as the band successfully marries chunky chords with intricate and catchy melodic hooks. The sound is very good tonight, though the volume could be notched up a bit in order to enhance the rawer elements of the three-piece's sound.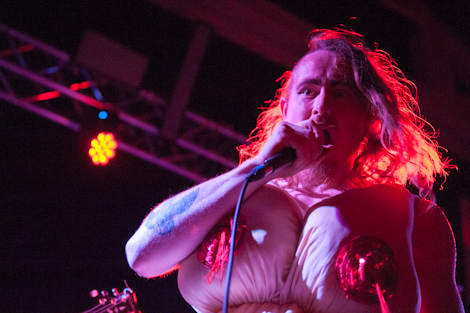 Metro Manila Aide live at East Village Arts Club
Nonetheless, AFH neatly execute a faultless set that has heads nodding, feet tapping and it's a mystery as to why the band are bottom of the bill given their proficiency. The venue is pretty full and appears to be thriving, so it's a shame that the place still feels a bit sterile.
EVAC isn't a bad venue, but a lot could be improved, as such, it comes across as impersonal and lacking character.
Metro Manila Aide are next up and they are a huge disappointment. Yes, the band are talented musicians, but their half-baked brand of 90's pop metal funk (or whatever you'd like to call it) soon has us baffled and wondering what we're doing here. A lot of this sense of disconnect is down to the singer who comes across as a third rate David Lee Roth low on crystal meth; his hyperactive stage exploits more alienating than entertaining.
The rock clichés and Bad News histrionics are unbearable as the band stumble around a bland and forgettable set.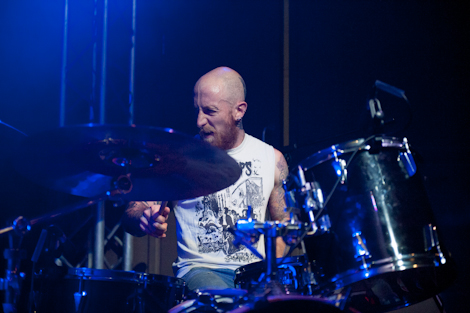 Wet Nuns at East Village Arts Club, Liverpool
Thankfully Wet Nuns come to the rescue with a sweaty concoction of whisky drenched blues and heavy beats.
There's a refreshing cynicism and arrogance about the two piece that makes them strangely endearing as they smash through piledriving tracks such as the brilliant Broken Teeth.
Wet Nuns are pure, unadulterated rock 'n' roll and it's not long before there's a sizable mosh pit on the go, fuelling our desire to don trucker caps, snort cheap speed and drive recklessly along the M62.
Sadly, it appears the band is splitting up after four years which is a great shame. But let us hope the band members go on to form equally provocative and intense music in the future. Meanwhile, we'll pray that the East Village Arts Club acquires some kind of effective personality and a range of decent beers.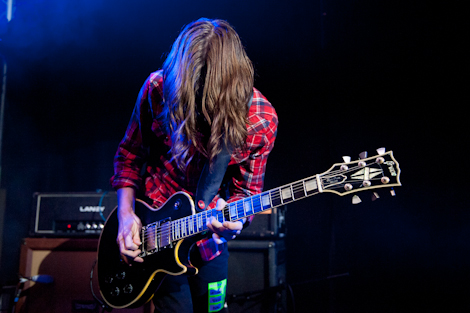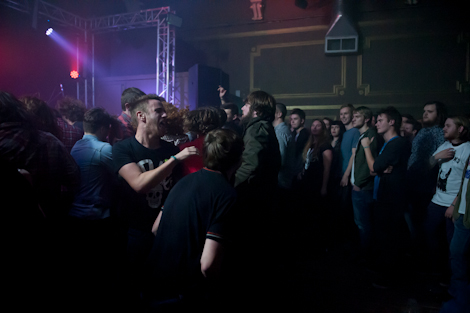 Pictures by Getintothis' Mike Noble.
Further reading on Getintothis:
Liverpool's gig calendar 2013: Guide to essential gigs not to miss the rest of this year
Wet Nuns, Salem Rages, Stereo Virgins: The Kazimier, Liverpool
FestEVOL Part Two feat. Wet Nuns: The Kazimier, Liverpool
Comments
comments