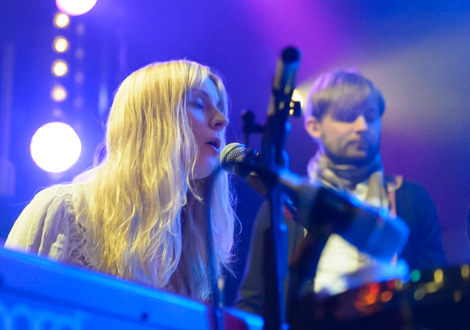 Lanterns On The Lake came to Liverpool looking to make a big step up, Getintothis' Andy Kelly found them struggling to bridge the divide.

Well, it went from the sublime to the really uncomfortable.
A few nights before Getintothis had been lucky enough to witness a band and crowd in perfect harmony, when Phosphorescent played what must have been one of the gigs of the year in this very venue.
This couldn't have been more different. The problem started with the crowd which, for some reason, decided to sit themselves on the raised steps round the back of the Kazimier leaving a completely empty dance floor between band and audience.
It was a physical gap which produced an emotional one and the night ever really recovered. A more confident band might have ushered everyone forward and solved the problem in an instant but it never happened.
Lanterns On The Lake have been on the radar for a couple of years now and sounded full of potential when Getintothis caught up with them at a showcase for their Bella Union label during Liverpool Music Week 2011.
The north east based five-piece arrived at the Kazimier with new album Until The Colours Run having collected positive reviews and despite the problems they can still produce some beautiful music.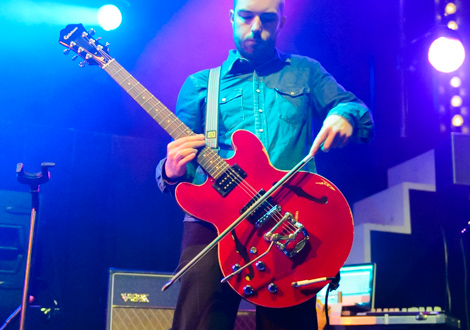 Lanterns On The Lake's Paul Gregory in action at the Kazimier, Liverpool
Waif-like singer Hazel Wilde is at the centre of it all, switching between piano and guitar and stirring evocations of Laura Marling.
Her solo turn at the piano for Sapsorrow has the crowd spellbound, one of the two standout moments tonight, albeit delivered after what seemed to be an aborted walk-off for an encore which was virtually met with indifference by the smallish crowd.
The other is Green and Gold, dedicated to her late (Liverpool-born) grandmother, as she urges a lost lover to see how she's changed, though she's still living alone and 'doing the music'.
Violinist Sarah Kemp and Paul Gregory's often bowed guitar bring a nostalgic folkie air to their atmospheric indie soundscapes, although they have toned down their more post-rocky elements.
The song titles have a wonderfully evocative feel: Elodie, Another Tale From Another English Town, The Ghost That Sleeps In Me.
They sound like the sort of things that normally make us swoon but tonight they just don't.
Mostly they drift over without making any contact with the heart strings. Maybe it was the (lack of) occasion, maybe this collection of songs just aren't quite good enough.
Tonight the gap between Lanterns on the Lake as they are currently and going on to fulfill their undoubted potential still seems pretty wide.
Pictures by Getintothis' Simon Lewis.
Further reading on Getintothis:
Comments
comments