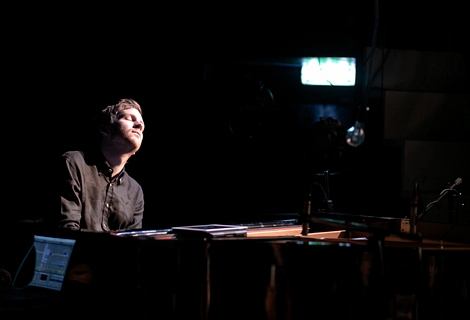 Olafur Arnalds provided a masterclass in serene and glacial song craft, Getintothis' John Gibbons almost heard a pin drop

The Kazimier is seated. We haven't seen that before. But it soon becomes apparent that this isn't an ordinary show.
First up is the dashing Douglas Dare who plays a most enjoyable set, mainly featuring songs from his recent EP Seven Hours to a warm, appreciative audience.
His voice is effortlessly haunting, and strikes us whilst listening to it as the type that would go well with Arnalds' music.
Given Arnalds is an artist seemingly fond of collaboration, and the fact they are on the same label, it seems possible that they may do something together in the future.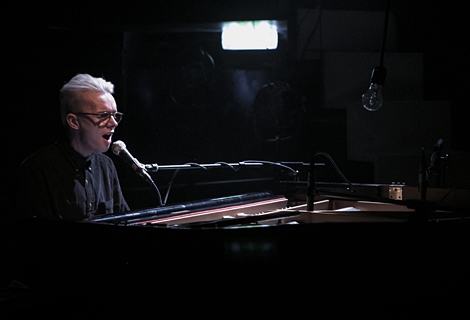 Douglas Dare at the Kazimier, Liverpool
Whilst Douglas Dare actually lived in Liverpool for three years, this is only the second occasion Olafur Arnalds has visited.
He later tells us that on the first occasion, whilst drumming for a hardcore band in 2004, his show was actually cancelled and so they "ate some fries and left".
It's not only an amusing story, but one which makes you realise what a remarkable musician he is. What was a 17/18 year old Icelandic lad doing touring the UK with a hardcore band anyway? And how do you go from that to writing so much beautiful music, as well as film scores, before the age of 27?
Arnalds is accompanied on the night by a violin, a cello, and much later a singer. He also uses an iPod to add bass, depth and beats to some of the songs, and even records and uses a vocal note from the crowd, who he teases for being out of tune.
That note, apart from applause, is about the only sound you hear from the crowd all night, the brought in seats very much encouraging a theatre style obedience from the audience. Such is the extreme level of silence, you almost feel uncomfortable moving at all.
When someone accidentally knocks a plastic glass over it sounds as loud as thunder. The songs themselves feel like journeys. In fact he describes how one of them was written after a long bumpy ride through Poland.
Each one contains something magical, with the music building up to a climactic point and then fading away. He is a great example of how music doesn't always need words to describe emotions and tell a story.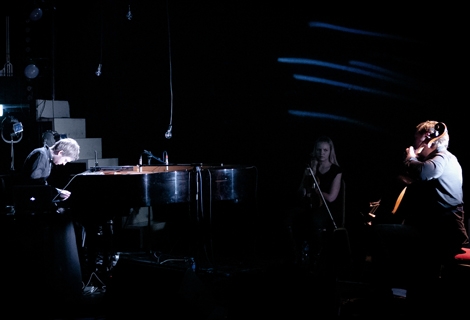 Olafur Arnalds at the Kazimier, Liverpool
The crowd are often left transfixed, seemingly taken to another place. Two gentlemen on the top floor turn a sofa round and decide to take in the music lying back facing away from the stage so they can only hear.
They are almost certainly stoned, but they are possibly on to something. Only The Winds is particularly gorgeous, but it seems wrong to single out favourites, in what was obviously a well thought out set of music.
The show is a triumph for the Kazimier, which Arnalds admits to not being sure about when he first arrived, but seems to have charmed him once the lights have been dimmed and he'd turned off anything that makes any noise (It wasn't the weather for a slushy anyway).
He had earlier spoken about the perils of touring an album written about winter across sunny California. But on a cold Liverpool night in December it sounded just about perfect.
Pictures by Getintothis' Tomas Adam.
Further reading on Getintothis.
Comments
comments