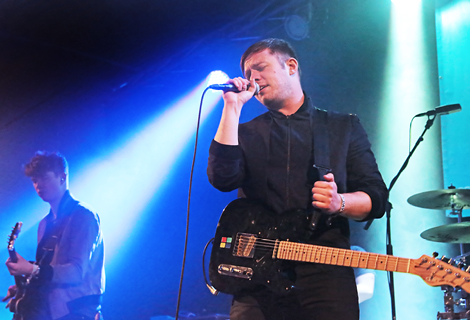 A rescheduled gig can bring you everything you ever wanted in the first place, Getintothis' Elizabeth Brown heads back up Hotham Street.

It was the ultimate tease. The end of the weekend, you're two opening acts and two drinks in and all geared up for Manchester based rock/pop quartet Everything Everything…
When the band's presumed manager takes hold of the mic and – despite your hopes that this is an over-thorough sound check – announces to the crowd that the gig must be cancelled, as singer Jonathan Higgs has no voice and would be unable to safely perform his famed falsetto melodies (read all about the night, saved by All We Are and Dutch Uncles, here).
But, not to worry, the band and the venue have just agreed to satiate the expectant fans that'd been let down, the gig will take place. According to the band's twitter, this is the first show they've had to postpone in six years.
At long last, Everything Everything graced us with their presence and didn't disappoint, playing a nice spread from their two albums Man Alive and Arc.
Lead singer Higgs, perceived to have made a full recovery, raised his voice to belt screaming crescendos and fast-paced falsetto lyrics, which the crowd – ranging from just-shy-of OAPs to kids who should have well been at home in bed on a school night – joined in on during hits Kemosabe and Cough Cough.
Band mates Jeremy Pritchard, Michael Spearman and Alex Robertshaw brought the unique riffs and backing vocals that give Everything Everything that interesting sound that is easy to listen to, yet doesn't sound quite like any other artist you can put your finger on.
All this, while bass guitarist Pritchard managed to impress by successfully playing and running his fingers through his coiffed quiff at the same time.
At times, the overzealous lighting schemes and frenetic strobe lighting made it feel as though some stage producer was trying a bit too hard.
They really needn't have bothered – Everything Everything's bold sounds do all the work to keep the audience engaged, while Higgs' stage presence and raw vocal talent made the gig every bit worth the long and teasing wait.
Further reading on Getintothis:
Liverpool essential gig guide for 2014
Cast: O2 Academy, Liverpool
Stealing Sheep presents Mythopoeia – Night of the Ice Dragon: The Kazimier, Liverpool.
Comments
comments