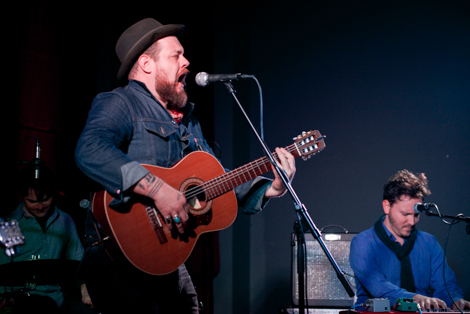 Nathaniel Rateliff brings new album Falling Faster Than You Can Run to Leaf on Bold Street, Getintothis' Emma Walsh reflects on a songwriter that delivers warmth from the wilderness.

If music be the food of love, Harvest Sun served up a mouthwatering three course feast at Leaf last Friday – with a decidedly Colorado spiced flavouring to pique our interest.
Denver native, Decca-signed Nathaniel Rateliff and full band made their entrance in uncharacteristic fashion; inflicting excruciating ear-torture on the unsuspecting audience as feedback plagued the first few bars. Mercifully, pausing until the problem was rectified, Rateliff and his contemporaries provided timely interval music, complete with ad libbed sound effects, much to the crowds' amusement.
Thankfully the second attempt went off without glitch as Rateliff introduced Liverpool to his wonderful new album with the title track Falling Faster Than You Can Run. On record, it is a beautifully atmospheric swell of a tune, complete with Leonard Cohen overtones and a gentle brilliance; performed live, it is even better.
Keeping things on just the right side of country, there is raw kind of twang to Rateliff's style; honest rhythms married to subtly simple acoustic strums. Don't Get Too Close in particular a stand out.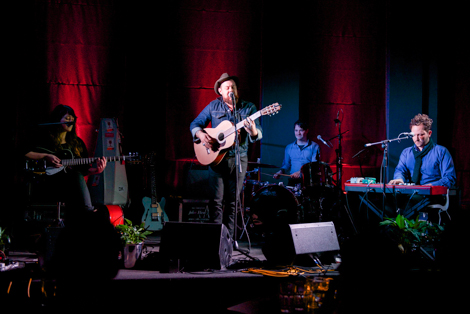 Nathaniel Rateliff and his band at Leaf Tea Shop
However, it's the eponymous track from his 2011 EP, Shroud, which really dropped jaws with spine tingling cello. There's a bluegrassy feel to Rateliff's stuff, refreshingly different and perfect for his rough and tumble voice. The easy listening element of his set that draws you right into the actual poetics of the songwriting with gentle whispers is matched by moments of sheer glass shattering noise as Rateliff thunders to climatic moments such as in the impassioned Still Trying.
As a special treat, Rateliff gave a solo performance of a track that wasn't quite good enough to make to on the album – Closer sounds like it came from the same school of songwriting frequented by James Vincent McMorrow or even Bon Ivor. We can assume it was also written in some solitary cabin; it has a taste of wilderness about it that perhaps doesn't translate to the recording studio.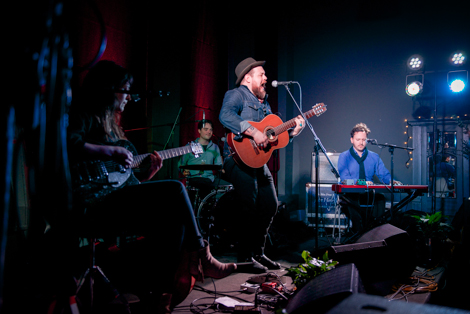 Earlier, new Liverpool singer-songwriter, Lewis Veakins admitted his songbook is fairly melancholy but failed to inject the requisite flavouring to add power to the maudlin majority of his set. Closing with his most cheerful, and appetite-whetting, tune he revisited the spirit of the Futureheads' take on Hounds of Love; pleasant albeit a work in progress.
Thomas J Speight made his return to a Liverpool stage and clearly felt very much at home on Leaf's low-lit stage.
He and the lovely Evelyn Burke fell into easy conversation with the crowd as they introduced their first song Far Away. And despite a shaky start they recovered with a breezy set which married melodies to the type of songcraft employed by the likes of Ryan Adams – a sure-fire way to win over this particular reviewer.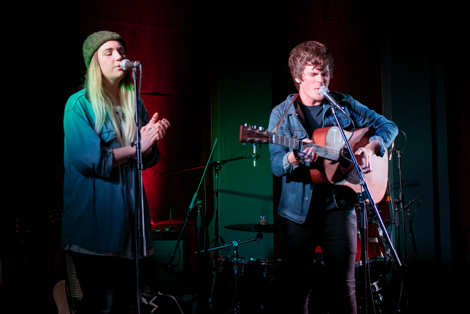 Thomas J Speight and Evelyn Burke live at Leaf Tea Shop
Were the world still being tortured with endless series' of teen drama One Tree Hill there's no doubt Speight would slot seamlessly into it's eclectic soundtrack with set highlight, Tom's old faithful, Joanie executed in typical wander round the crowd fashion. Speight's been employing this kind of rousing display in Liverpool for sometime, yet he is breaking through on a national scale now with debut single proper, Just Where I Want to Be making gentle waves – s'pose if it ain't broke, why fix it?

One sour note to proceedings, saw Speight have his guitars stolen after the gig. Thankfully, after an appeal, the instruments were anonymously handed in at a Liverpool police station.
The theft follows on from a spate of criminal activity Getintothis reported on in 2013, as thieves targeted a host of artists in the city – for the full report read here.
Further reading on Getintothis
Kraftwerk Uncovered heads for Liverpool Philharmonic Hall in February.
Vasco da Gama to play final gig with Tera Melos at the Kazimier.
Liverpool Sound City 2014 announce headliners Kodaline plus Gruff Rhys and Fuck Buttons.
Interpol set for NME Awards Tour 2014 at Liverpool's O2 Academy.
Getintothis reviews Bobby Womack at The Philharmonic.
Comments
comments