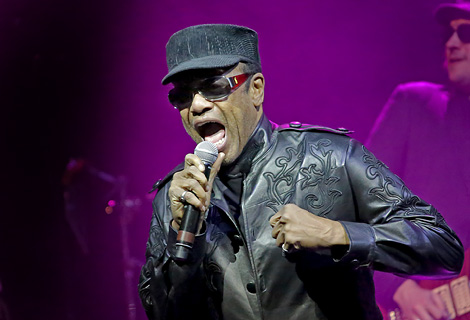 Bobby Womack brings his stellar back catalogue and The Bravest Man In The Universe to Liverpool, Getintothis' Jamie Bowman finds a soul superstar whose body maybe faltering but his spirit still burns bright.

Few can claim to have lived a life like Bobby Womack. Now approaching his 70th birthday, Womack's career runs through rock's history like a badass Kevin Bacon.
Every artist who has ever mattered seems to have had a link with the Cleveland-born soulman. The Rolling Stones? Womack wrote their first number one. Jimi Hendrix? Womack was in his band. Janis Joplin? Bobby recorded with her the day she died. Elvis? That's Bobby playing on Suspicious Minds.
But far from being a museum piece, content to trot out a few anecdotes, Womack is today as vital as he's been for over 40 years thanks to his 2012 album The Bravest Man In The Universe – a collection of songs written with Blur's Damon Albarn that has prompted a Johnny Cash-esque late career revival.


It's a shame then that tonight's performance initially seems to concentrate on his past glories with a sense of anti climax surrounding Womack's choice of probably his best known song Across 110th Street as an opener. It's brilliant of course, with the 69-year-old's talk of "a day to day fight" chiming with a life that's been full of tragedy and poverty in equal measures, but with both the crowd and 10-piece band yet to find their feet it seems a waste.
Thankfully, Womack's exceptional back catalog and the singer's love of the dramatic make for a never less than diverting first half of the show. A brilliant version of his 1972 hit, That's The Way I Feel About 'Cha extends into a rich monologue about Bobby's loves and losses while I Wish He Didn't Trust Me So Much has him waxing lyrical on more earthier pursuits.
At the same time, Womack's three female backing singers, including his daughter, add to the lasciviousness of the occasion with a selection of low cut dresses that ensure they're a wardrobe malfunction waiting to happen.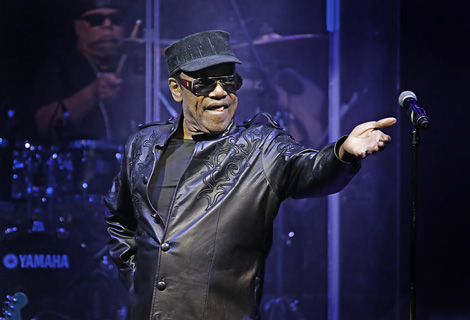 Throughout the show, Womack pokes fun at his health which after years of cocaine abuse and a recent bout of colon cancer is finally letting this proud man down.
"If I stay up here too long, my birthday's gonna catch up with me," he laughs but as the gig unfolds it's clear that Womack is far more frail than he's letting on. All thoughts that the presence of be-suited personal assistant constantly helping the singer on and off his stool might be a James Brown-style live stunt are suspended as Womack slumps further and further in his chair.
There's genuine concern from the crowd who quickly cotton on to what is happening and begin to will their stricken hero on as the concert takes an astonishing turn.
Despite his distress, Womack's voice never once falters: as he launches into a valedictory version of his mentor Sam Cooke's A Change Is Gonna Come there is barely a dry eye in the house. Fifty years previously a teenage Womack played guitar on the original and the poignancy of him struggling for breath as he sings "It's been too hard living but I'm afraid to die," is almost too overwhelming for both artist and audience.
With worried band members surrounding their frontman, Womack continues to sing as he led off and into a corridor adjoining the stage.
The lights come up and the drained crowd head for home but there's Womack again imploring them not to forget him as he pokes his head round from the stage door still singing that beautiful voice. How anyone could is not up for debate.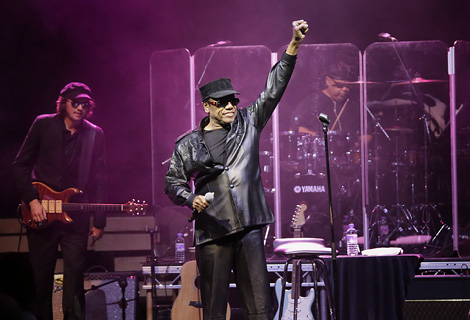 Pictures by Getintothis' Sakura Zilla.
Further reading on Getintothis:
Elvis Costello & The Imposters: Philharmonic Hall, Liverpool
Ray Davies: Philharmonic Hall, Liverpool
Bright Phoebus Revisited: Philharmonic Hall, Liverpool
Richard Hawley: Philharmonic Hall, Liverpool
Comments
comments