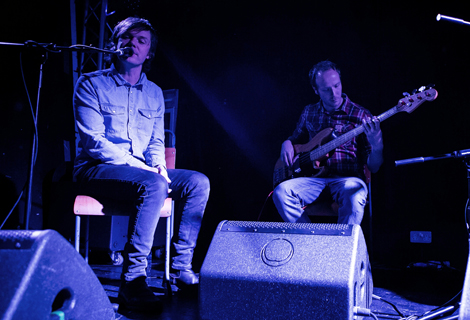 Ex-Idlewild man Roddy Woomble brought his homespun folk to town on a cold Monday night, Getintothis' Alan O'Hare gripped his drink with fingerless gloves and tried to get a warm around the campfire.

Tickets are £17 and the room is freezing. And we wonder why great live music is getting its arse kicked by TV talent shows.
The 60 or so of us who made it to the old Barfly loft of the East Village Arts Club on a cold Monday night in December are huddled together listening to a great singer sing some good songs, backed by a cracking band.
But it just doesn't feel right. We feel a little bit neglected. Ex-Idlewild (the band are officially 'on hiatus') main man Roddy Woomble agrees – and comes on stage apologising for the lack of warmth in the room.
True, the venue won't dictate the ticket price – perhaps Roddy should tour solo with his intimate laments – but the assembled gathering can't bring itself to let go and enjoy the evening.
It's a shame, as the band provide a little heat as the night moves on. Strummed acoustics, a bit of bass, some lovely fiddle and a sprinkling of piano are all that is needed to bring Woomble'ssolo songs of homespun wisdom to life.
The sound is lovely and, once the singer relaxes and stops apologising, the crowd settles too. Woomble has been touring his folk songs for a few years now and has slowly built up a dedicated, if select, following.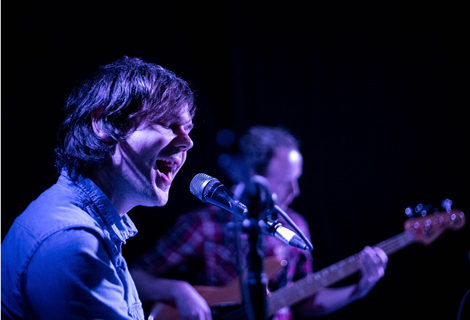 Neither idle nor wild, Roddy Woomble sings on
The music is charming, if lacking in variety, and the songs from his latest release Listen To Keep are lovely.
My Secret Is My Silence is a stand out and has that Caledonian lilt that inhabits all the greatest tunes from north of the border – but Woomble's melodies keep that relationship his old band had with R.E.M. alive and the strummed urgency of Every Line Of A Long Moment could have come straight off of Automatic For The People.
"But your face held the stories full of dreams it can't contain," sang Woomble on the aforementioned – and truly gorgeous – My Secret Is My Silence.
His own look couldn't contain his disappointment at a half full room full of people stood in coats either. A real shame, as there was quality on offer here. Sign of the times? Perhaps. But you can't help feeling that those of us who choose to attend, play or promote 'selective' gigs on a cold Monday night could do a little more too.
After all, it can't all be Simon Cowell's fault.


Roddy Woomble and his band listen to keep
Pictures by Getintothis' Tom Adam
Further reading on Getintothis:
Comments
comments