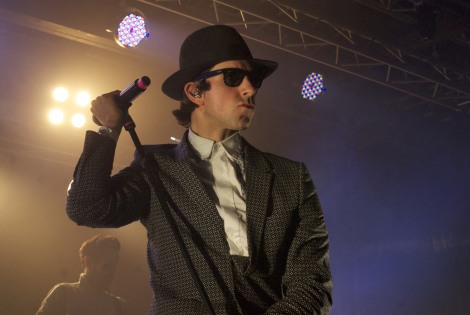 Paul Smith's eye operation fails to stop a relentless Maximo Park taking the Academy by storm, Getintothis' Luke Traynor is blown off his feet.

The kinetic Paul Smith bounces onto stage sporting a black Fedora hat and dark sunglasses, looking like a very passable understudy for a Blues Brothers theatre production.
Infused with a wispy energy and a constant bundle of hand gestures and quirky oddities, we're kept in the dark as to why tonight he looks like a Suggs throwback from the 2 Tone and ska revolution.
One hour into this exuberant set at Liverpool's O2 Academy, Geordie Smith lets us in on the secret.
"In case you're wondering about the glasses,' he declares, "I had an eye operation and the doctors said I shouldn't play this concert," he grins. "But I'm here anyway….Just in case you were thinking we were Jesus and the Mary Chain or something."
No chance of that, Paul. Not when the music being thundered out is so refreshingly optimistic, incessantly driven and spewing out tangible excitement with every rhyming couplet.
Maximo Park are certainly adept at putting on a wholly enthused performance, or rather Smith is.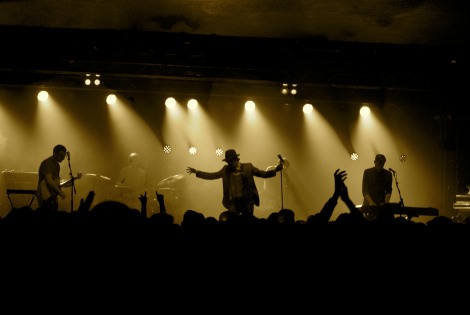 Maximo Park live at The Academy, Liverpool
And his complete commitment to his unorthodox demeanor on stage tends to overshadow his compatriots, whose musical excellence, Duncan Lloyd on guitar and Lukas Wooller on keyboard in particular, is all too clear.
Misty white smoke often obscures Liverpudlian bassist Paul Rafferty (ex Hot Club De Paris) as the five-piece launch into Too Much Information opener Give, Get, Take with trademark gusto before a rabble-rousing hammering through High Velocity.
It's a set list delicately balanced between old favourites and new material from February's Too Much Information LP, as even the unquestionably cringeworthy lyric of 'I am young and I am lost, you react to my riposte' can't dampen the sheer effervescence of The Coast Is Always Changing.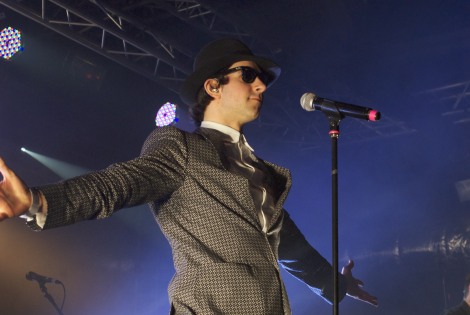 Paul Smith of Maximo Park live at The O2 Academy, Liverpool
Smith's livewire antics never abate, a man seemingly born for an audience, every hand movement expressive, and palms beating his chest as he clatters his way through My Bloody Mind.
Maximo Park's sound is impressively meaty at this stage with very prominent wedges of treble guitar and synthesizers, wholeheartedly oozed into this sweaty arena by the talented Wooller.
Questing Not Casting from third LP Quicken The Heart is one anthemic tranche of upbeat pop rock while new track Leave This Island testifies these post-punk revivalists can adeptly pull off wistful melancholy, with dreamy keyboard underpinning all we hear. Lovely stuff.
Smith's easy and inviting Geordie lilt goes down well in Liverpool and his patter that he's spent a lovely day basking in the Merseyside sun during the day before the gig, guided by Scouser and bassist Rafferty, is always going to result in shared bonhomie.
And the music just gets better with Books from Boxes encouraging raptures from a sweaty crowd, the mid-paced organ injecting some beautiful stateliness while new track Drinking Martinis show off some brilliant heartfelt soaring vocals from Smith.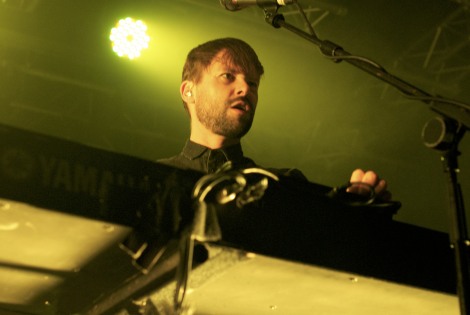 Lukas Wooler of Maximo Park live at The O2 Academy, Liverpool
The hits are not in short supply with surely the best ever tune written about a Cypriot coastal city (Limassol) and mass finger pointing signalling the advent of our Earthly Pleasure highlight Girls Who Play Guitars.
Signature track Apply Some Pressure is so full of joyful abandon that even I was considering slipping on a frock to satisfy Smith's pleading refrain: 'You know that I would love to see you in that dress.'
Maximo Park are one of those rare bands who can coax untapped optimism to sprout in even the most downtrodden of hearts and that truly is a treasured commodity.
We're warned there'll be no encore, but we get one anyway, and not even an error-hit version of We're Were Going derails this rocking juggernaut. Going Missing is the show-stopping finale. 'This can't go on so I should just regret it, regret it," Smith implores us.
He's lying. And everyone knows it. We're delighted we came.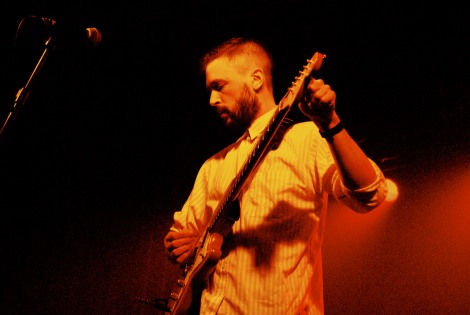 Support on the evening was provided by Teleman, ahead of their debut album "Breakfast" on 26 May 2014
Pictures by Getintothis' Gaz Jones
Further reading on Getintothis:
Maximo Park take it outside with new album and Liverpool date for 2014
Guide to essential gigs not to miss in the first third of 2014
Icelandic sensation, Ásgeir, comes to East Village Arts Club, Liverpool
The GiT Awards in detail
Comments
comments