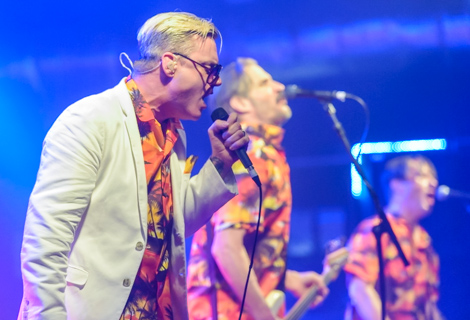 Big, dumb and full of fun, the world's best karaoke band prove there's an art behind belting out the covers, Getintothis' Chris Burgess is left beaming.

On a quiet, average Sunday at the Academy, the best damn karaoke band in the world showed up. Taking to the stage in their hallmark matching Hawaiian shirts, the Californian punk rock supergroup received a rapturous welcome, launching quickly into a blistering cover of I Will Survive.
Singer Spike Slawson, bedecked in iconic white suit and sunglasses, with a mop of highlighted hair, showed no hint of nerves, striding on stage just in time to sing the opening line.
Alongside Slawson were Lagwagon's lead guitarist Joey Cape and drummer Dave Raun, Face To Face guitarist Chris Shifflet and – standing in brilliantly for founder member Fat Mike from NOFX – Bad Religion's legendary bass player Jay Bentley, who is nothing short of punk royalty.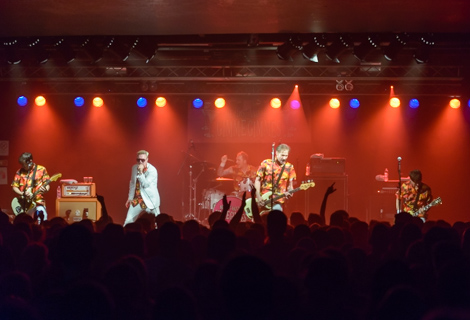 Me First and the Gimme Gimmes live at O2 Academy, Liverpool
For those who don't recognise them, Me First and the Gimme Gimmes are quite easily the greatest cover band on the planet, taking songs you know and love and playing them fast and furiously. Some people may call it sacrilege, but you'd be hard pressed to find anyone complaining tonight.
"This next one's a cover," Slawson ironically declared on more than a dozen occasions, as the hits kept flowing. Me and Julio Down By The Schoolyard, Leaving on a Jet Plane, Danny's Song, each delivered at breakneck speed, over in a couple minutes.
Sloop John B ("a song about boats") got the crowd singing along quite impressively, but then so did everything else. We heard punk covers of songs by Dolly Parton, Olivia Newton John and Paula Abdul among others – the latter taken from their upcoming new album of songs by musical divas. There were far too many classic songs covered to name them all here.
For a band that do nothing but cover versions, it's kind of a strange irony that they have a few songs that are crowd favourites. The big numbers, judging on the crowd reaction, were the frankly emotional Nobody Does it Better, the barnstorming Somewhere Over the Rainbow, and the simply glorious I Believe I Can Fly, started by Slawson playing ukulele before the band came crashing in.
There was even a nod to Liverpool's 'hometown heroes' with their cover of The Beatles' All My Loving, a song to which only the Gimmes could get an audience to start a full-on moshpit.
And that's the very heart of the appeal of the Gimmes. Everything is played out in such good humour and with a spirit of joy, with the band obviously enjoying themselves as much as the crowd, that you get swept up in it, cheering and shouting along to each song.
The current wave of synth-based, 80s-revival, shoegazer bands could never hope of holding a crowd's attention as much as The Gimmes did tonight, and they'd get nowhere near the sheer volume of their audience singing along. It may be loud, dumb rock and roll to some, but it's bloody great fun for those of us who like it.
The only complaint we could have about this gig is the fact that it wasn't another hour longer. With songs flying by at breakneck speed, it's hard to catch your breath before the next one hits you full in the face.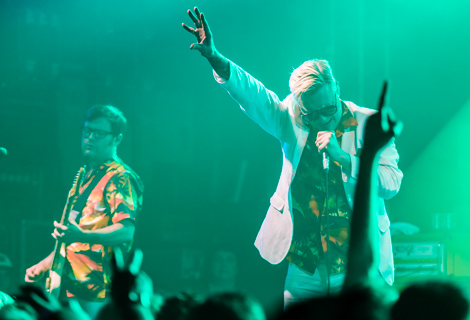 Me First and the Gimme Gimmes live at O2 Academy, Liverpool
With a perfect encore ending with Rocket Man by Elton John and the big, dumb, massively fun singalong of End of the Road by Boyz II Men, every person in the Academy left with a smile on their face and two dozen great songs stuck in their heads for the next few days. Gigs aren't always perfect, but this one was as close as it gets.
Support came from The Roughneck Riot and Old Man Markley. Sadly we missed the former, arriving to see the latter take to the stage.
With an assortment of old-timey instruments, including double bass, washboard, zither and violin, Markley warmed the crowd up admirably.
Performing bluegrass and skiffle songs in a punk style sounds like it should be awful, but with high-energy, rambunctious songs – including one about crossing borders with a boot full of weed – the crowd were bouncing along before the end of their set. If post-skiffle isn't already a genre, it should be.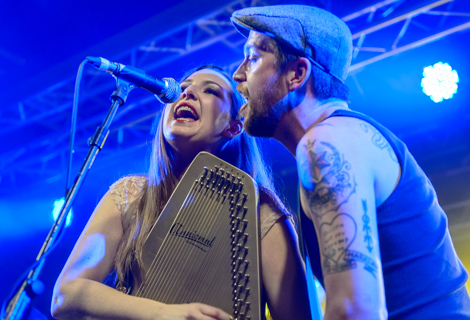 Old Man Markley live at O2 Academy, Liverpool
Smart enough to give the crowd what they want, Markley finished with a quartet of covers by No Use For A Name, NOFX, Screeching Weasel and, magnificently, Dr Dre's Forgot About Dre.
Bluegrass-punk-hip-hop isn't a genre you hear a lot, but you know what? It's glorious.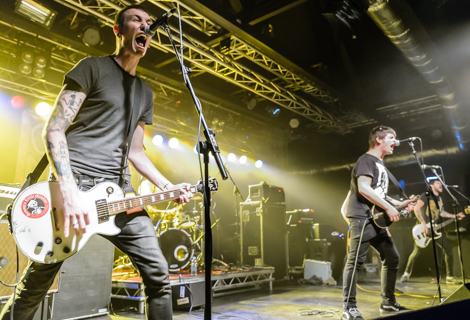 Rough Neck Riot live at O2 Academy, Liverpool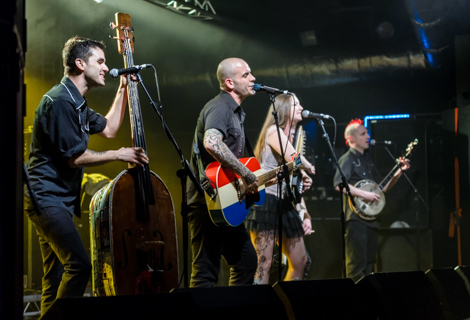 Old Man Markley live at O2 Academy, Liverpool
Pictures by Getintothis' Simon Lewis.
Further reading on Getintothis:
Getintothis picks Roughneck Riot at Threshold Festival 2013
Getintothis picks Liverpool music's ones to watch in 2014
The GIT Award 2014: the shortlisted nominees in detail
Getintothis Guide to essential gigs not to miss in the first third 2014
Comments
comments