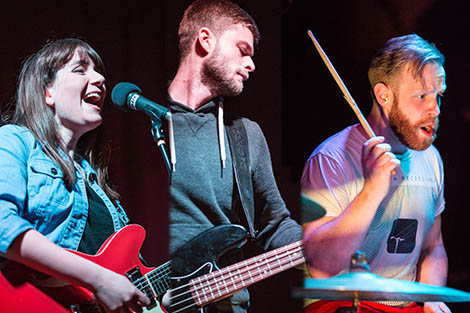 Off the back of new record Motto, Sky Larkin return to Liverpool for a rare live date, Getintothis' Laurie Cheeseman finds it's not just the lasagne doing the business at Mello Mello.

Tonight marks the return of Wichita darlings Sky Larkin to Liverpool.
It's been a while hasn't it? And with a last minute venue change to Mello Mello ('the band demanded delicious vegetarian lasagne in their rider', the most legit reason for a venue change ever – Mello's lasagne is notoriously delicious), it looks to be a suitably interesting and intimate night.
Especially as this is everyone's first chance to catch a glimpse of last year's critically acclaimed Motto live in the flesh.
Squally yet earthy is the order of the day for much of their set; tracks like Newsworthy and Brave Dodo are old school slacker rock by another name; Sleater-Kinney with men.
Superchunk with less scuzz. You know where this is going, right? Frankly, it's been a while since a band have played in Liverpool and made guitars sound so (whisper it) fun.
Sheer unadulterated, unaffected fun, which is epitimosed by an ebullient cover of The Day the World Turned Day-Glo towards the end of the set.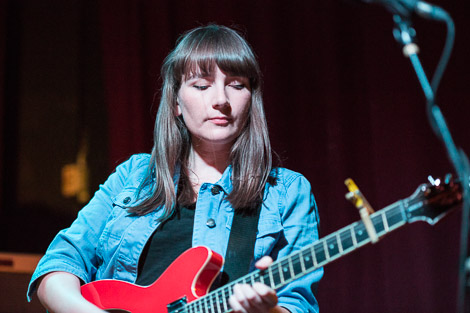 Sky Larkin live at Mello Mello
Other tracks, such as Still Windmills, prove rather more comfortable sounding, invoking hazy memories of some half-forgotten moments, much like an old jumper. Yet even these remain strangely awkward and angular, preventing things from becoming mushy sounding.
Ultimately, it's most fulfilling watching how Sky Larkin have developed from critically acclaimed power-pop mongers to critically acclaimed indie rockers (of the old variety, Archers of Loaf not Kaiser Chiefs) and all the extra musical meatiness that comes with it. And have fun doing it.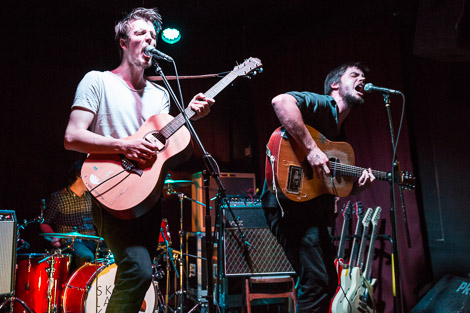 Rory and Ned playing live at Mello Mello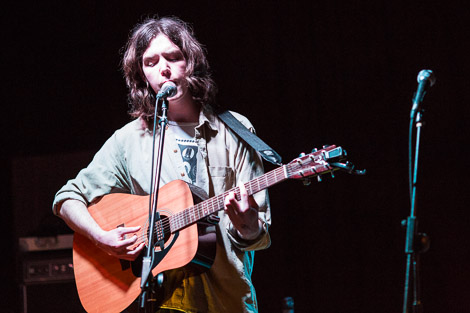 A.J.H.D playing live at Mello Mello

Pictures by Getintothis' Keith Ainsworth
Further reading on Getintothis:
Liverpool Sound City 2009: Sky Larkin: Barfly
Singles Club #87 picks Sky Larkin: Newsworthy
GIT Award 2014: The Kazimier, Liverpool featuring Lapsley, Africa Oye, Bill Ryder-Jones, Mad Brains, Forest Swords & more
Liverpool Sound City 2014: Getintothis presents Jon Hopkins and stellar Merseyside show at Nation
Liverpool Music Week 2014: 10th edition of city festival announced
Liverpool International Music Festival 2014: 'LIMF will be *the* UK festival for global music'
Menace Beach: Lowtalker EP
Giant Drag, Seawitches, A.J.H.D.: The Kazimier, Liverpool – picture gallery
Comments
comments