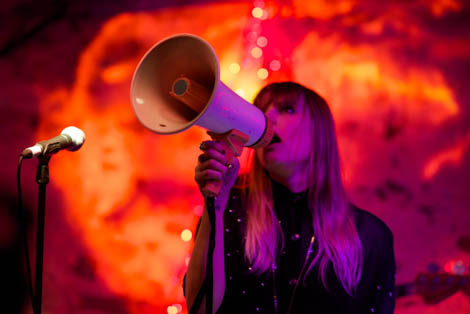 Buzz band Coves bring dream fuzz to Liverpool but as Getintothis' Adam Lowerson reports there's some new home town new boys doing the business.

Fresh off the back of the release of their debut album Soft Friday, and a UK tour supporting blues rockers Band of Skulls, Midlands duo Coves brought their dream pop sound to the Shipping Forecast, alongside two of Liverpool's hottest prospects in VEYU and Oxygen Thieves.
Ahead of releasing their debut EP We Found The Thieves, Oxygen Thieves showcased their dark indie sound, which although still raw, really packed a punch.
Kicking off with latest single To Boast their set was an intense piece of grunge packed with layers of fuzz soaked guitars, hook laden bass lines and snarled vocals, creating a gripping atmosphere. Even tuning their instruments sounded evil.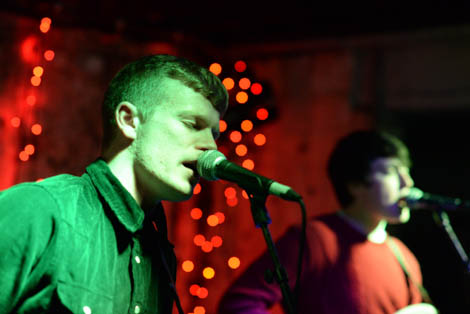 Oxygen Thieves performing live at The Shipping Forecast
Perhaps the most exciting prospect of the night were GIT Award 2014 nominees, and one of Liverpool's most exciting new bands VEYU.
Unbelievably, this was only the five-piece's sixth gig in their short time performing together, and the first with their new bassist, Ash Hopkins.
It doesn't show, as their sound is that of an accomplished act. These boys know what they're doing.
Their combination of punchy bass hooks, lifting keyboards, huge pounding drums and droning guitars creates an atmospheric spectrum of sounds surrounding frontman Chris Beesley's soft, reverb drenched vocals.
Battle Cry did just what it said on the tin, using layers of intricate guitar riffs and electronically enhanced vocals, culminating in a euphoric climax.
Set closer Still Dancing featured a killer keyboard hook and eerie distorted vocals in an sound reminiscent of Wild Beasts and Talk Talk. VEYU are certainly ones to watch.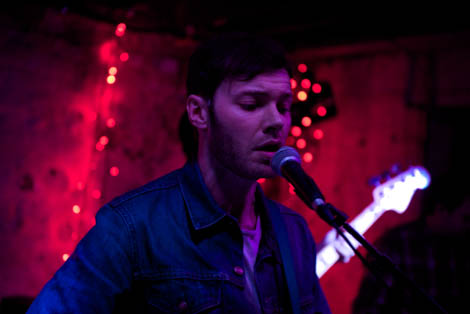 Chris Beesley of VEYU performing live at The Shipping Forecast
Coves brought the psychedelic inspired sounds of their debut album Soft Friday to the mix, layering siren-like vocals with tribal drumbeats and grunge guitars.
Latest single Beatings was a stand out track, using more pop influences to create a catchy chorus and a sound that isn't heard enough throughout the set.
Their psych-tinged grunge sound is interesting in places, but at times felt too much, with not enough tracks standing out from the haze of guitars. It is perhaps telling that the most memorable track was a haunting cover of Chris Isaak's Wicked Game.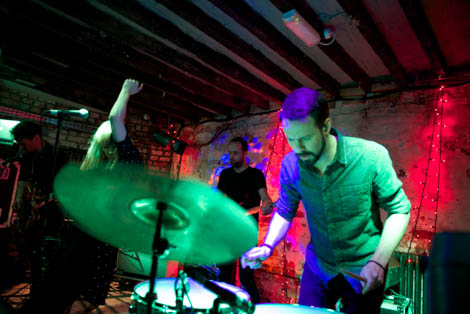 Coves performing live at The Shipping Forecast
Pictures by Getintothis' Gaz Jones
Further reading on Getintothis
Liverpool Sound City 2014: Review round up and top 10 bands of the festival.
Liverpool Sound City 2014: Picture gallery from all three days of the festival.
Liverpool Sound City 2014 – all the bands reviewed from the three days.
Getintothis on The Label Recordings: Hooton Tennis Club and The Inkhearts.
Cyclist.
Moats.
Elephantom.
Nelson.
The new breed of tomorrow's LIPA artists.
Comments
comments