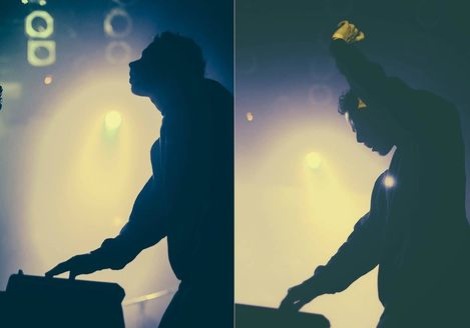 It's been a very good year for Forest Swords – aka Matthew Barnes. He's played sell-out shows across the globe, thrilled audiences at SXSW, supported Mogwai on their Euro tour, teamed up with How To Dress Well for a North American tour and then landed a little additional extra, The GIT Award 2014. Getintothis' Paul Baker caught up with Matthew to see if his head's stopped spinning.

Getintothis – You're just back from a tour of the US, sell out UK shows, national radio exposure… Any thoughts on all this? Is it scary? Has the past month been life-changing for you?
MB – It's felt very gradual, which is probably a lot easier to deal with than being thrown into the deep end. I've been doing music for a couple of years now, so the fact that shows are starting to sell out is great, but it also means I can deal with the pressure a bit more because I'm used to gigging and being around people.
It's still on a fairly small scale, so I don't feel a massive amount of stress about it all. I'm just pleased people are connecting to it all, ultimately, and getting to play different cities is a huge privilege.
Getintothis – We've not had chance to catch up with you properly since you won the The GIT Award 2014. How did that feel? Tell us about getting Lee Scratch Perry to do a video acceptance for you.
MB – I'm pretty camera shy, so when I found out I couldn't attend the ceremony I asked Lee, who worked on one of my tracks earlier in the year, to do an acceptance video for me. He did it in the way only Lee 'Scratch' Perry could – slightly bizarre, and cooler than anything than I could ever come up with.
It's very flattering to be given the GIT Award, and I like the fact the shortlist was a great cross-section of everything that's going on in Merseyside music right now. People are doing their own things in their own way, and it's really encouraging. The place is as fertile as it's been in a long time.

Getintothis – You've gone from bedroom musician to festival stage in a relatively short time. Tell us about your early noodlings. What equipment did you have at home and how did you get your first official release, Miarches, out there?
MB – My set up's very rudimentary, incredibly basic. I've got a tiny home studio. I like working with the challenge of only having certain equipment to play with – I've never been a huge fan of having walls of keyboards at your disposal – I find it difficult to make decisions at it is, so I don't need extra stuff to complicate things. I just try and keep it all as streamlined as possible.
Getintothis – How did you get from there to getting yourself signed up and your recent EP and LP's out there? Is it true that you nearly quit music during this period?
MB – Music's always just been something I've done for fun, creatively. I'm totally prepared to give it up at any point if I don't enjoy it any more.
It was a fairly slow build to get to this point though – I put an EP out a couple of years ago, the reaction was great and it snowballed over about 18 months. It felt very word of mouth. From there I got offered a deal with a bigger electronic record label to release a full album, Engravings.
Getintothis – How would you describe your music? I know you could say it's up to journalists to categorise it, but as far as I can tell, no-one has quite nailed it down. What sort of music did you set out to make? And is that the direction it went or have you blown somewhere unexpected?
MB – I guess at its core it is electronic music, but I try to use natural and organic sounds in there too. I'm not really attracted to music that sounds completely synthetic and computer based – I'd rather it sound more human than artificial.
I didn't really set out to have a particular sound, so in a way it's been a very natural process to have it sound like it does. The music steered itself, I guess.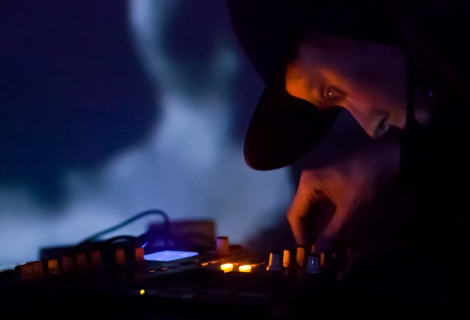 Forest Swords in full flow at Sound City in 2011
Getintothis – Whereabouts in Wirral are you from? Does much of the landscape, people, culture of Wirral and Merseyside seep into your music?
MB – I'm from the west side of the Wirral, and grew up here. I think there's something fascinating about the history of the place. It feels pretty ancient – lots of obvious and not-so-obvious Viking and Norse history around. I like to think that all seeps into what I'm doing somehow.
I definitely took inspiration from local places for this latest record. Thor's Stone is named after a landmark that was, some say, used for Norse sacrifices.
Getintothis – What are your influences, musically and artistically? Is it easy for you to draw the inspiration to create your music?
MB – I like all kinds of music and art, and I don't really limit myself. I've got surprisingly mainstream tastes for someone who makes slightly weird music, I suppose. I'm just as happy listening to Smooth FM than some weird Japanese punk band. I like to think everything I'm exposed to, however small, filters down into the type of music I'm making.
Getintothis – You've been asked to remix some big artists. But what does remixing a track actually involve? It's something you hear bandied around all over the music press, but what do you actually do when presented with a remix job and how do you make it sound like Forest Swords?
MB – I approach remixing just like making a new song. That's all it is, ultimately, but I do it the hard way compared to other people. I'll listen to the original song and pick out a tiny fragment of it – maybe a vocal line, or a word, and craft an entirely new song around that in my own style.
It's very time intensive, but it's very satisfying building something from a small building block.
Getintothis – Do you think you'll stay on Merseyside or relocate elsewhere in the UK or abroad?
MB – I love it around here, and I like watching Merseyside gradually become an improved and more exciting place. There's better spaces, culture, and places to go than there were five or 10 years ago. It's better than I can ever remember it, but there's still work to do.
In terms of making another record, I'm curious about trying somewhere else and seeing how it affects the music I'm making. But I can't see myself relocating permanently in the near future.
Getintothis – You make your own cover art and you've been critically acclaimed for the cover of Engravings; we know you're also a photographer. You play all your own instruments and write and produce your own music. Tell us about your background as a graphic designer and how it has allowed you to combine your music with your art. Do you think the successful musican/artist has to be a bit of a polymath these days?
MB – I studied graphic design at art school, and until recently I've been working full time as a graphic designer. I juggled both music and design for as long as I could but both were suffering, and I had to make a choice, unfortunately.
Music has won for now, but I suppose the good thing is I get to make all my own artwork and visuals.
They're pretty natural companions – I know a lot of designers who also make music, and vice versa. They use different parts of your brain.
Design is a lot more about problem solving and communicating, whereas music is a lot more free and expressive. They're both as enjoyable for me.
Getintothis – So, what does the rest of the year have in store for Matt Barnes and Forest Swords?
MB – I'm playing festivals across Europe until the end of summer, and then taking a bit of a break to think about a new record. I'll be doing some production for other artists in the meantime, too.

Lead image by Sara Lynn Paige. In article image by Getintothis' Sakura Zilla.
Further reading on Getintothis:
Forest Swords wins GIT Award 2014
GIT Award 2014: Artist nominee profile – Forest Swords
Lee Scratch Perry remixes Forest Swords' Thor's Stone
GIT Award 2012: Artist nominee profile – Forest Swords
Forest Swords: Thor's Stone
Lee Scratch Perry remixes Forest Swords' Thor's Stone
Forest Swords: The Weight Of Gold
Getintothis' Peter Guy interviews Forest Swords.
Top 10 Remixes: Digging through history for music's finest reworkings.
Liverpool Sound City 2014: Review round up and top 10 bands of the festival.
LIMF 2014: By The Sea, Baltic Fleet & more set for Getintothis & Bido Lito! stage in Sefton Park.
LightNight Liverpool 2014: Cathedral, Black-E, FACT, St Luke's Church – picture gallery.
Comments
comments