The Gottwood roadshow leaves it forestry setting and heads into Liverpool, Getintothis' David Michael samples this mobile electronic wonderland.

Now in it's fifth chapter, Wales' Gottwood is known for it's intimate underground festivals.
For their Merseyside launch party, they teamed up with Red Bull Music Academy (RBMA) and Liverpool's Waxxx to bring a taste of what their about to Haus, promising a one night music art festival.
Playing an early set at the much-travelled caravan stage are Dense and Pika, although only one of the members is present (Chris Spero aka House and techno producer Glimpse), the set largely features, the stripped back club-ready tech-house the duo are known for.
Mid-set they drop arguably last year's biggest track Colt, with it's simple but lush piano warmth it brings a smile to everyone present, and only set closer, Oni Ayhun's OAR003-B, a track that's been known to bring people to tears, comes close to the euphoric feeling it brings.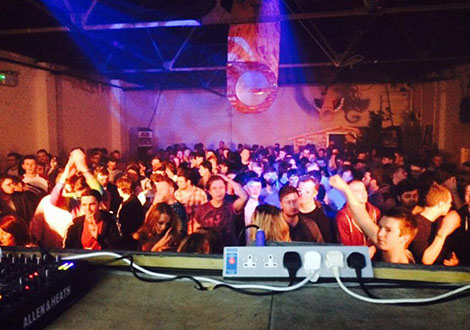 Walking past the vast Gottwood art mural and through the trees we find ourselves at Waxxx's outdoor stage.
Instantly feeling more like a festival, with it's large tent canopy and changing colour cubes, we're greeted by Waxxx resident Mr Paul, who over the next three hours (due to the shock last minute pulling out of Kris Wadsworth) keeps the constantly increasing crowd more than content with a selection of bass pumping techno with a flavour of melody.
Meanwhile in the main room, dutch duo Detroit Swindle with their enthusiastic stage manor transmitting to the now capacity crowd oscillate through deep house and funky electro, their soulful vocal samples and bouncing bass lines, ensuring the night stays in full swing.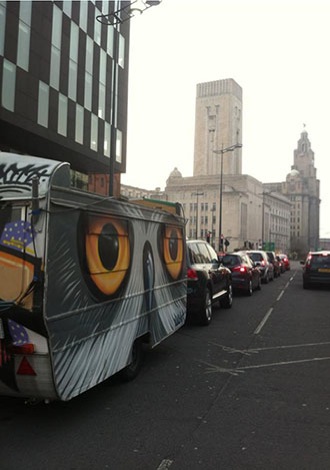 Gottwood DJ console on the move out of Liverpool
To close the events proceedings we head back to the Waxxx stage, to see one of the biggest names in techno today, London based producer Perc. Perc, here as part of his The Power and The Glory album tour, doesn't waste any time, and soon we're swept up in the relentless onslaught of his industrial-strength beats, pounding kick drums all whilst maintaining a powerful hypnotic groove throughout the closing hour and a half set.
Further reading on Getintothis:
Cold Booded present Randomer, Allen and Hutch, Greg Farley, Josh Hewitt: HAUS, Liverpool
Liverpool X and Getintothis presents: Baltic Fleet, Nadine Carina, Bantam Lions, Kalax: HAUS, Liverpool
The Haxan Cloak, HIVE & Adam Cooke present: DIN 19643: HAUS, Liverpool
Liverpool Sound City 2014: Review round up and top 10 bands of the festival.
Liverpool Sound City 2014: Picture gallery from all three days of the festival.
Liverpool Sound City 2014 – all the bands reviewed from the three days.
The Label Recordings: Hooton Tennis Club and The Inkhearts
Dan Croll: The Kazimier, Liverpool
Moats: Snakepit
Liverpool Music Week 2014: 10th edition of city festival announced
Comments
comments