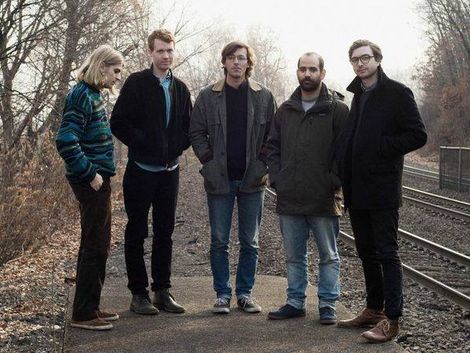 New Jersey's Real Estate ready Autumn date at the Kazimier.

Real Estate have announced an Autumn date at the Kazimier.
The Domino Records New Jersey quintet, who play Liverpool on October 21, released new album Atlas in March building on their reputation as one of North America's finest songwriting teams.
The most collaborative Real Estate record to date, Atlas was written by Martin Courtney, Matt Mondanile, Alex Bleeker and Jackson Pollis while cruising through the Arizona desert and during a presser in Madrid, in a practice room in Greenpoint, Brooklyn and in an attic in the band's hometown of Ridgewood, New Jersey.
Atlas is also the first record to include former Girls member Matt Kallman on keyboards.
Intimate while conjuring images of late-night drives down wooded highways, Atlas recalls the likes of Galaxie 500, Neu!, Nick Drake, and Pavement, and should prove another awesome night when Harvest Sun bring them to town.
Support comes from Canadian dreamers Alvvays whose Chad VanGaalen produced debut will be released via Transgressive Records on July 21.
Tickets £14.50.


Further reading on Getintothis
Getintothis reviews Real Estate, Outfit: The Deaf Institute, Manchester.
Liverpool bands line up for Brazil World Cup 2014.
Forest Swords: From Norse sacrifices to Smooth FM and making the follow up to Engravings.
Twilight Sad to play cult debut album in full in Liverpool.
LIMF 2014: By The Sea, Baltic Fleet & more set for Getintothis & Bido Lito! stage in Sefton Park.
LightNight Liverpool 2014: Cathedral, Black-E, FACT, St Luke's Church – picture gallery.
Comments
comments