After a two year hiatus, Above The Beaten Track returns celebrating Liverpool's emerging artists, Getintothis' Laurence Thompson and Steph Niciu were there to soak up the atmosphere.

The Above the Beaten Track Festival, the grassroots event returning to Liverpool and the Bluecoat after a two year absence, generally attracts two types of people: initiated post-2008 scenesters, and Merseysiders attempting to connect with that scene. Musically, we feel the latter category would do well not to get fatigued by the predominance of folk, folk-pop and other folk derivatives.
For instance, Sunstack Jones opened the Garden Stage's set, his sylvan psych-folk cohering into the cello-assisted dreampop of Silent Cities, whose rather excellent celloist Luke Moore stayed on for the first of the country pop tunes of Thom Morecroft, who also plays with Silent Cities' drummer Chris Cousineau.
For the outsider, it would have been hard to penetrate the tight community feel had the acts not been of a high enough standard to distinguish themselves admirably. Silent Cities' strings-charged serenades such as Petrichor (lead singer Simon Maddison's typical vocabulary-flex – see also Eigenlicht and Haptophic) are different enough from the Thom Morecroft Band's pulsing bass and simple, effective lyrics for the audience – by now enjoying a slice of the Bluecoat's delicious carrot cake in the belated August sun – not to feel like a jaded interloper at someone else's birthday party.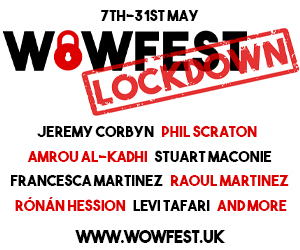 Later came the Irish-folk-influenced fearlessness of Only Child, another highlight – though they suffer somewhat from the same affliction of their successors, Broken Men, in that they sometimes sound too 'busy'. There's little to suggest Broken Men benefit from being a ten-piece, the additions of singer-songwriter Natalie McCool and psych-folk vocalists Cheskimo seeming especially like overkill, though at least their brass inclusion and being "less exclusive than the average English are" sets them apart. The trumpet employed by Only Child, on the other hand, sounded weak and redundant, and Alan O'Hare's Americana inflections didn't reconcile the violins and flutes that lend his band authenticity.
Also on the Garden Stage were all girl duo ME & Deboe, who used only their guitars to produce a unique sound which was fast, playful and percussive. Emerging talent, Oliver Gosling, had a powerful vocal which was somewhat mismatched by the intimate setting that he played in.  But even still, he managed to belt out versions of the self-penned songs Debut and Run For Cover which left us captivated.
Closing out the day, Merseyside supergroup The Viper Kings capitalised on Broken Men's brass injection by turning the night into blues, a few strands of doo-wop vocal harmonies and heavy bass rhythms a welcome finale.
The Sandon Room offered a quieter contrast, hosting mainly acoustic acts. The colourful Cheskimo lent a Pocahontas vibe to proceedings complete with a smidgen of red crayon to her face while performing in her bare feet. Her brand of autoharp-assisted freak-folk chants about indigenous attitudes to land tenure and mystic telepathy had added variety to the event before we settled down to listen to  Sophia Ben-Yousef.
Her voice, a technical astonishment, has yet to gain texture while emotional investment in her songs can be hard to detect. Perhaps that explains the fact that most of the audience were rudely playing on their phones by the time of her moving cover of Drake's Hold On, We're Going Home. We suspect this will come with time, as will opportunities to show she is as varied at the piano keys as she is in her octave range – here, she was solid, rarely leaving the middle of the instrument, rather than virtuoso.
Two more 17-year-old prodigies, Dominic Dunn and Niamh Jones, followed, before folk-pop singer Alex Hulme ended the acoustic sessions with aplomb. A fine day out.
Getintothis' Martin Saleh brings you a choice selection of the days images.
Comments
comments