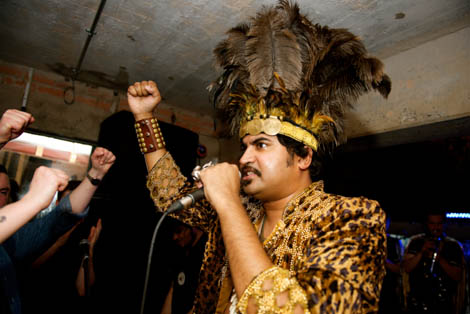 King Khan and his gang of bezerkers bring sex, voodoo and homeless dudes to the Korova for a night of unbridled abandon, Getintothis' Jamie Bowman reflects on one of the live music nights of the year. Or any year.

A quick glance at King Khan's biography suggested this was not going to be the most normal of nights.
Born to Indian parents in Canada, but now operating out of Berlin, Khan has been a larger than life presence on the international garage rock scene since his mid-nineties outfit The Spaceshits did their best to recreate in Khan's words 'Jonestown without the killing and Kool Aid'.
A reputation for violent live shows featuring food fights, smashed TVs and a band dressed in choir robes only added to Khan's legend as did his penchant for wandering Montreal's nightspots dressed as a chicken. A 2009 tour of India saw his band narrowly escape arrest after exposing themselves on stage.
Unsurprisingly then, Khan's cult following continues to grow and it's a sizeable crowd that greets openers, local band The Strange Collective.
They're rewarded with a fantastically sleazy set of garage rock and glam flash courtesy of one of Liverpool's finest new bands. Despite only a handful of gigs to their name there's a confidence surrounding the Strange Collective (a ragtag bunch made of members from some of Merseyside's other fine new-somethings; Sankofa bass player Michael Robinson, WYWH's Andrew Parry on drums) that suggests they know they're really good – a fact backed up by their riff laden tunes and the gold lame shirt twinned with impressive moustache of guitar player (and sometime Sugarmen bass player), Ali Horn. Great stuff.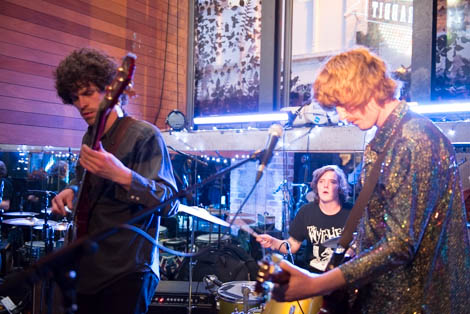 Strange Collective performing live at Korova
As if the King Khan roadshow was not enough, tonight's second supporting act comes in the form of ten piece soul punk extravaganza Broken Men whose rama lama set of brutal brassy rock stompers recalls the likes rock & roll preachers Rocket From The Crypt in both style and threads.
With a three piece brass section backing up some superb bass playing and whirlwind Michael Bennett on drums, Broken Men have tunes in spades with highlight The Outsider managing to sound like Dexys playing Blackstreet's No Diggity. Playing like their hearts depended on it, this is music for the heart, head and soul.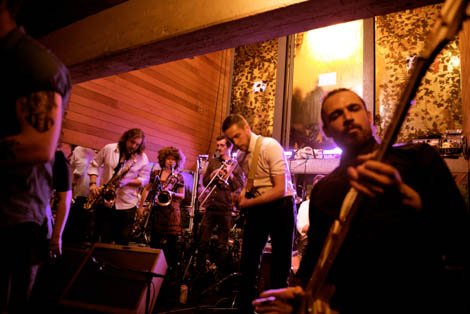 Broken Men performing live at Korova
By now Korova has become a sweaty pit of noise and expectation with a crowd fuelled by Red Stripe and the kind of urgency only a chronic lack of toilet facilities can provoke. The disembodied face of a homeless man peering through the venue's upstairs window only adds to the surreal atmosphere. He's licking the condensation as steamy fills the room below.
Into this feral morass strides the sizeable mass of King Khan wearing a huge feather headdress, a donkey-toothed neckalce and a leopard skin cloak making him look like the love child of Dr John and Pat Butcher.
Musically Khan and his band the Shrines draw from funk, psych and soul to create a maelstrom of voodoo vibes and sex machine swagger with Khan doing a fine impersonation of the hardest working man in show business as he directs and cajoles his crack band of pipe-cleaner thin German troops.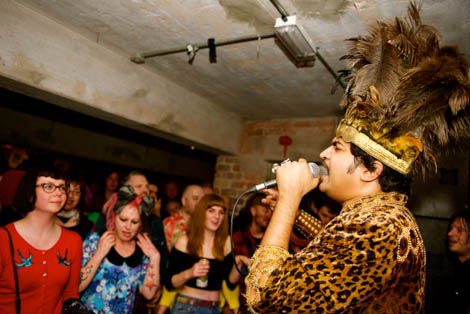 King Khan and the Shrines live at Korova
Of course this sort of things has been done before with obvious templates for the rock & soul sound from Jon Spencer, The Make Up and the Black Lips all prefacing Khan's grab bag of influences which even take a pinch of Las Vegas Elvis.
But despite these likenesses Khan is undoubtedly a one off. Songs like Pickin' Up The Trash and I Wanna Be A Girl ("I want to be held to God's early light / I want to know how it feels to be tight") already sound like stone cold classics worthy of inclusion on any Nuggets or Pebbles compilation of yore – as a performer he manages to transcend the gimmicks with a voice that's genuinely soulful at times.
Striding out into the crowd on regular occasions, Khan's group are equally at home off stage with both guitarist Till Timm and organist Frederic Bourdil joining their spiritual leader in the throng; during one particularly frantic moment the organ is passed from the front row right the way to the back of the bar with wires curling around the sweaty mess of bodies below.
Even more bizarre is the presence of the sage-like Ron Streeter, sat in the corner of the room throughout, whose barely audible bongos belie the fact this veteran dude was once the percussionist for Curtis Mayfield and Stevie Wonder. He's flanked by a multitude of flags, trinkets and oddities as all around him goes completely crackers. That is except for a portly, bearded percussionist – whose zen-like calmness is married to metronomic precision – he's like the real-life Dude. An aura of cool as everything around him goes batshit crazy.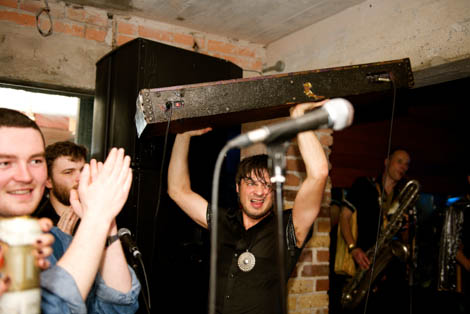 King Khan and the Shrines live at Korova
In the wrong hands this would all seen horribly contrived (as say the Hives found out to their cost) but Khan always walks the right side of the showbiz line.
This was quite simply a wonderful, energising gig summed up by the encore which sees the band drag the aforementioned homeless guy into the venue and plant him at the front with a beer.
Inadvisable? Perhaps. Surreal? Definitely. Cynicism is dead. A gig of the year contender. In any year. Long live the King.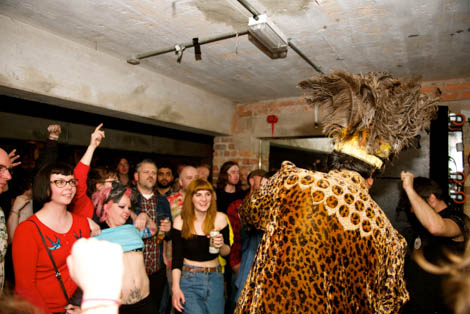 King Khan and the Shrines live at Korova

Pictures by Getintothis' Gaz Jones
Further reading on Getintothis:
Liverpool Sound City 2014: Getintothis' guide to the venues.
Liverpool Sound City 2014: Top 10 international bands to watch.
Liverpool Sound City 2014: Top 10 UK bands to watch.
St Vincent to play O2 Academy in August.
Liverpool Record Store Day 2014: Word from Probe, 3B Records and Dig Vinyl.
Liverpool Sound City 2014: He used to come round wearing make up and strange Japanese Kimono clothing – David Pichilingi
LightNight 2014: Guide to music and performance highlights
Cyclist.
Moats.
Elephantom.
Nelson.
The Sundowners: Medicine
Comments
comments