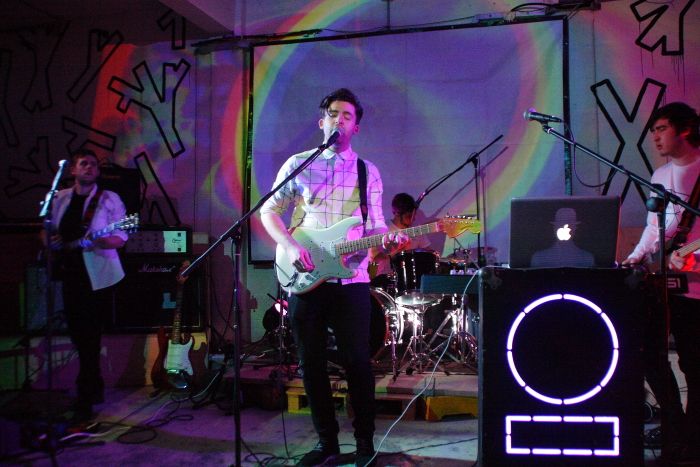 On a dark and wintry January evening, Getintothis' Zach Jones sought shelter from the storm in the Blade Factory as Colour triumphantly launched their new EP.
On a freezing cold January evening opening act, Kingdom, found tough competition from the sound of the hailstones pelting down on the roof and the steady stream of punters arriving and heading straight to the bar to sort their first drinks of the night.  Unfortunately for the band, this proved too much with most of the crowd deciding to spend their set clustered around the corner, possibly for warmth, rather than forming anything that resembled an audience.
Not to be deterred, Kingdom started softly, with reverb-laced classical piano ringing out across Blade Factory and, when the band kicked in, you got a sense that all of them are incredible musicians in their own right. Effortless guitar leads and precise bass lines were accompanied by brilliant vocal stylings from a scouse Jack Black, which we can assure you is a visual resemblance only, as Kingdom do anything but rock hard.
The acoustic guitar stayed out for most the set, and it's only after four songs that someone kicked a fuzz pedal and things started to sound interesting. It was a hit and miss set that never quite gained enough momentum to take off, but if you like your singing soft and rock radio-friendly these guys might be your next Stereophonics.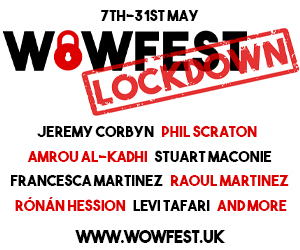 As we moved deeper into the night the weather worsened and a sheltering crowd, reluctant to head outside, started to mass. It's at this point the aural offerings of Stoke's Camp Stag began to fill the increasingly busy room. Delicate guitar pop melodies interlaced with each other, mirrored by dance inspired drum beats as we were transported back to early days of Caribou and the indie pop explosion.
To pigeon hole Camp Stag in such a way would be to do them an injustice as it hardly scratches the surface of their sound, as witnessed with the introduction of post-rock tinges over intricate pop lines. It might not be a totally original sound, but one that's been expertly realised.
Overall it was very impressive, and provided a soundscape that will turn out not to be matched this evening. Unfortunately, much like Kingdom before them, the set felt disconnected to the audience, with only a few in attendance managing to pull their attention away from Saturday night banter to take notice of the five piece.
With smoke machines in place and some new lights rolled out, Colour took to the stage and, having released their death grip on the bar, the crowd turned from a cluster of people standing in a room and into an audience.  Audible cheers signalled the start of the band's set.
Tonight Colour confirmed their obvious promise. With a rhythm section to rival the best and augmented by disjointed math rock guitar lines, it looks like Foals could be out of a job. Comparisons aside, Colour have found their own sound, their own style and, from the evidence of dancing fan girls and proud parents, their own fan base.
The band are joyously received and the chemistry between band and audience we'd been missing earlier in the night is there for the entirety of the set. Refreshingly, they played with energy, not necessarily in a physical sense, but like a band swelling with confidence.
Colour handle themselves with class. There were no awkward onstage mumbles or quiet pauses between songs that you might expect from a relativity new ensemble. This is a band that might not be all the way there just yet but, wherever there is, Colour will be visiting soon.
Photos by Getintothis' Glyn Akroyd
Comments
comments