In the week her début album soars into the charts at number 9, Getintothis' Phil Morris catches Rae Morris on a busy night at The Kazimier.
On an emphatically busy night at The Kazimier we found ourselves wedged between Dan Croll and a lady with merciless elbows as we vied for the perfect vantage point.
Eager-eyed patrons crammed into every corner of our amphitheatrical spiritual home, lining the walls in anticipating droves as tour support Fryars took to the stage in assured and strangely esoteric form. The aloof, pop-producer auto-tuned his way through a series of mid-tempo tracks taken from his 2014 Power album, including Prettiest Ones Fly Highest and In My Arms.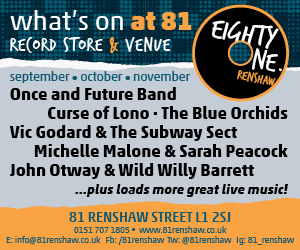 "I've worked on two albums in the top 10 tonight," Fryars boasted, after milking his Rae credentials. "Can you guess the other one? It's not Meghan Trainor. Or me"
Fryars, also known as Ben Garrett, has produced and co-written for George Ezra, as well as Rae Morris. There was an air of pretence between songs and his remarks sounded oddly juxtaposed to his effects-laden performance. Stylistically, we would say he is of the James Blake pop lineage, but he also reminded us of Bear in Heaven, who were excellent at Sound City a few years ago.
All was impressive, but final track Cool Like Me was sabotaged when the drummer accidentally triggered the wrong sample, setting off a moment of pure dissonance, followed by a flurry of cymbals. Fortunately, the unflappable Ben Garrett was able to laugh it off and bring his set to close.
The ensuing Rae Morris was in sensational form. Clearly buoyed by her chart success she galvanised us all with an array of material mostly taken from her new album Unguarded and a few crowd favourites from her repertoire, including Grow and Clean Bandit single Up Again.
What struck us most about the young songstress, apart from her obvious abundance of curly brown hair and inherent star quality, was her ability to pitch. Her vocals were immaculately delivered from start to finish with a maturity that defied her years. For You conjured the syllabic acrobatics of Kate Bush while Closer came across as a sophisticated pop gem close to Katy Perry territory. It is within this myriad of references that Morris sustains her appeal. Looking around the room that night, there were people of all ages and demographics in attendance.
Unguarded producer, the omnipresent Ariel Reichtshaid, has undoubtedly moulded Morris' sound. Fans won in her Hallé Orchestra days will be relieved to find the chamber-pop element that made her so endearing is still present, albeit now obscured amidst saccharine Reichstshaid beats. Morris has still managed to smuggle a rather cumbersome looking acoustic double bass into her well drilled rhythm section.
Morris maintained a genuine and humble demeanour throughout the performance, insisting Liverpool still felt like a far away city from her Blackpool home. As her confidence grew she left the comfort of her piano stool to finish her set in front of an adoring Kazimier. Fryars briefly returned to perform their enigmatic duet Cold, before Morris closed the set with another nod to Clean Bandit.
Pictures by Getintothis' Gaz Jones
Comments
comments