Peter Wilkinson lays on the thick, dark texture on his latest outing under solo moniker Aviator ahead of an upcoming full length album and Liverpool live date, Getintothis' Patrick Clarke gives his verdict.
Comradeship with not one, but three of the most important groups in Liverpool's already rich cultural history, Shack, Cast, and Echo & The Bunnymen, should be more than enough to set Peter Wilkinson apart as one of the city's most important musical stalwarts. Though it's a clichéd expression, cult hero comes to mind.
Yet beyond even that predominance just beside the spotlight, in solo project Aviator there's an understated finesse to Wilkinson at centre-stage too, his first two albums under the moniker, Huxley Pig Parts 1 and 2, swimming in a woozy perfection of distinctly northwestern acoustic pop and drifting but determined vocals.
His new album No Friend of Mind, to appear later this month, and third as Aviator, takes a denser slant. There's a thicker, lurching brood to Wilkinson's characteristic detached roam developing, evidenced on the foreboding cinematic stride of The Dove, his latest track to appear online.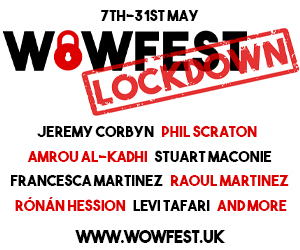 Layered in instrumentals, a driving thud of woebegone drums and a repeating scratch of acoustic guitar are the only callbacks to his former minimalism, while launch after launch of distorted squalls of acid-western guitar soar in perpetual rockets of intensity.
A subtle counter of looping, tumbling piano lends a menacing, mysterious edge, and chimes and wails of buried texture bestow yet more to a sinster edge less common in Aviator's former output, yet vocally we're still on familiar ground, Wilkinson's detached rushes taking to a more experimental backing with the same nomadic coast as on his former, more acoustic-led material.
Aviator will be taking the sounds of their new progression to Liverpool's Bridewell on October 17 with support to be announced for a one-off, intimate live performance to celebrate the launch of the new album.
A strictly limited amount of tickets for this one off intimate event are now on sale and available from http://www.liverpoolonebridewell.com/product-category/tickets/ priced at £7.50.
Comments
comments