The majestic LoneLady is the latest addition to the Loud in Libraries campaign when she descends upon Liverpool Central Library as Getintothis' Craig MacDonald explains.
The elegant splendors of Liverpool Central Library will once again play host to the Get It Loud In Libraries project in what is fast becoming a galactic series of gigs. The extraordinary talents of Mancunian music maker LoneLady will be creating thunderous soundscapes with the tracks from her tremendous new album Hinterland on September 12.
With Hinterland, LoneLady has created one of the standout albums of the year. Enriched in visionary textures of sublime pop, the whirling synths and funk heavy post punk brilliance that flows through every track shows the creative genius of Julie Campbell at her expressive best.
With tracks like the sinister Into The Cave bringing engaging bass hooks and off kilter vocals, LoneLady manages to pull you into her world and refuses to let you go. The retro funk of Groove It Out is delicate yet  bombastic and clearly shows Campbell's love for George Clinton & Parliament Funkadelic to the point where you could imagine the great man popping along to its rhythmic delights. The maturity in LoneLady's latest work shows the dedication that Campbell goes to, to achieve her desired aim with breathtaking effect.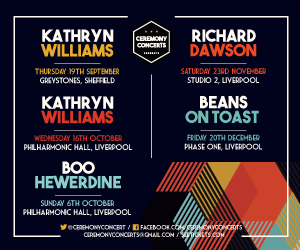 As with the likes of Blossoms and Frank Turner, the show aims to make audiences aware of diverse acts within the surroundings of a unique venue while helping to encourage the use of libraries. The accomplished songwriting of LoneLady serves as the perfect companion for such an occasion.
The quintessentially Northern diamond in the rough oozes with talent and those that saw her at Sound City earlier this year will already know that when in the flesh, LoneLady can deliver her dynamic escapism in bucket loads.
Comments
comments