Chuck D & Co make their way to the O2 Academy, and Getintothis' Shaun Ponsonby is hyperventilating.
You saw that headline right.
Public Enemy – arguably the greatest group in the history of hip-hop – are making their way to Liverpool's O2 Academy on December 2. Yeeeah, booooyyyyyy!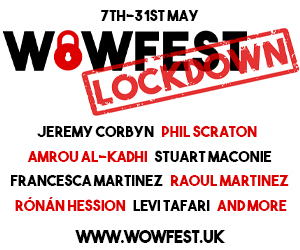 With their new album Man Plans God Laughs receiving acclaim across the board, Chuck D and co are making a rare appearance in the city, following a series of dates with The Prodigy.
Formed in Long Island, New York in 1982, Public Enemy are known for socio-political lyrics of Chuck D, the hilarious light relief of Flavor Flav, the militant attitude of Professor Griff and the S1W Group, along with the genuinely awe-inspiring, revolutionary and influential sampling of production team the Bomb Squad and DJ Terminator X, who left the group in 1998 to be replaced by DJ Lord.
Breaking through in hip-hop's Golden Age, release delays of debut album Yo! Bum Rush The Show in 1987 meant that by the time it was released, the record appeared a little outdated. This was rectified with the following year's It Takes a Nation of Millions to Hold Us Back, which was so far ahead of the game that nobody else could touch it. Perhaps they still haven't.
The sampling on It Takes a Nation of Millions… isn't even legal anymore. This wasn't sampling a mere riff, this was making turntablists true virtuoso artists. Any given track on a Public Enemy record could include any number of samples, interwoven into a collage that created a sound of its own.
Take Welcome To The Terrordome from Fear of a Black Planet, for example. The known samples on that song alone are;
AJ Scratch by Kurtis Blow
Mother Universe by Soup Dragons
Bon Bon Vie by S. Monk
Seventh Heaven by Gwen Guthrie
Operator's Choice by Mikey Dread
Jungle Boogie by Kool & the Gang
Train Sequence by Geoffrey Sumner
I Got My Mind Made Up by Instant Funk
Hum Along and Dance by The Jackson 5
Psychedelic Shack and Cloud Nine by The Temptations
Cold Sweat, I Got to Move, Give It Up or Turnit a Loose, Soul Power, Get Up, and Get into It, Get Involved by James Brown
Their own You're Gonna Get Yours
Add this to Chuck's preaching on top of it, and you have a powerful combination that has never, ever failed to pack its punch.
Let us be abundantly clear; this show will sell out.
Public Enemy play Liverpool's O2 Academy on Wednesday December 2.
Comments
comments